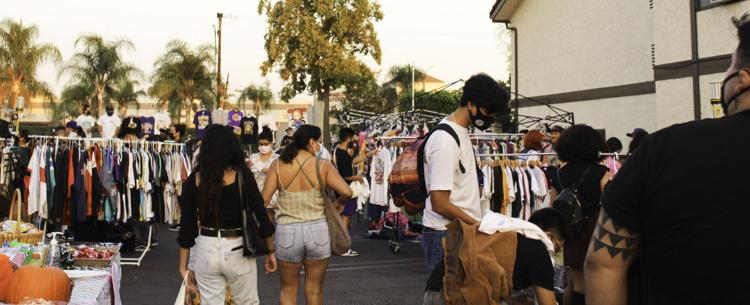 562 Flea in Whittier held a Halloween-themed night market on Saturday for its second event. The new flea market, started by vintage clothing reseller, Andres Vega, seems to be a big hit already with over 400 people in attendance.
It is located in a small alley on Whittier Boulevard, and had around 30 vendors ranging from clothing to handmade goods to plants.
After selling on Depop and Instagram (@mandarkmarket) for two years, Vega had an idea to sell in person. His vision was to create a space where young people could have a good time and support small businesses all in one place, and as a local Whittier resident, he said he wanted to create that space in his hometown.
Overall, the event was successful. The vendors are all mostly online sellers, and interacting with them in person shows the amount of passion and work they put into their craft.
He included seasoned vendors with big followings to help promote the event and new up-and-coming vendors, like Kaylee Camacho, owner of the art shop Honey Baked Resin, where she sells custom coasters, trays and jewelry.
Camacho said she enjoys doing pop-up events and flea markets because of the personal aspect as she is able to physically interact with her customers and hear their feedback.
"I get reviews on Etsy, but it's different when someone's there," she said. "I get to really hear what's out there and what they want to see."
Like many of the vendors, Camacho does all the work for her business, from customer service to design and social media. She said she has realized how much work goes into being a small business owner. Camacho said she was happy to see the community of store owners getting good business, with herself contributing too.
"It was hard not to spend everything I made," Camacho said.
When Vega was starting out, he said he not only wanted to include people he personally knows, most of which are male clothing resellers, but he also made sure that there was something for everyone in the limited space he had by making sure women resellers were represented as well.
Vega said his first event exceeded his expectations, as he has held two successful events. Since the number of applicants is more than double the amount that the space allows, Vega said he plans to find a new location and expand his market to include more vendors at future events.
Because of the limited amount of space, Vega has included different vendors at each event to give as many people the opportunity to participate and include as much variety as possible.
Cal State Fullerton student Cassie Barnett said her first experience at a flea market was at 562 Flea, and it was a bit different than she expected. Instead of people just reselling old stuff, she was met with tons of small businesses all in one place. Barnett said she tries to shop through small businesses, but they are not always easy to find online.
"I think it makes it easier when you actually go somewhere like a flea market and they have small businesses there because not everyone can find small businesses," she said.
While Barnett said she enjoyed the event, she hoped it was bigger and is among those anticipating the market's expansion.
Vega said he plans to host his next event on Nov. 15. Remember to bring a face mask and prepare to hit the $5 deal racks.