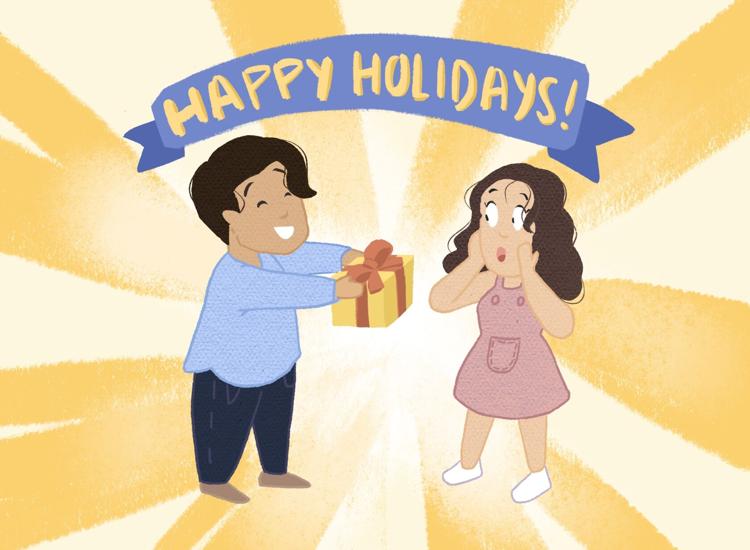 Handing out gifts this holiday season may feel inappropriate when we consider the magnitude of what many people have lost because of the pandemic, but gift giving is an act of love, and love is always an essential item.
However, with the ongoing economic crisis and a second relief package in limbo, many Americans are strapped for cash. With these circumstances in mind, here is a roundup of affordable, practical and thoughtful gift ideas for your loved ones. 
Personal Protective Equipment
While a COVID-19 vaccine is hurling forward, the fight is not over yet. It is still critical that everyone continues to take protective measures as vaccines are distributed.
Give the gift of peace of mind this season with personal protective equipment including masks, face shields and gloves. 
Though the coveted N95 masks remain in shortage in some areas, various forms of masks are now in stock at most major retailers. Also, consider supporting a small business by purchasing masks from one of the many good samaritans who sprung into action this year by crafting their own masks.
Cleaning supplies 
If you can get your hands on them, cleaning supplies like disinfectant spray or antibacterial surface wipes will show your loved ones just how much you care about their health and well-being.
Help them protect themselves on the go with travel-sized hand sanitizer and electronic-safe screen wipes which can be found at most retailers. 
For bespectacled friends and family members, check out the popular anti-fog spray for glasses. This spray ensures that glasses don't fog up while wearing a mask. 
Be aware that the market has also been saturated with companies that want to cash in. Make sure to check with the Centers for Disease Control and Prevention and the Food and Drug Administration to make sure the products are safe and effective before making a purchase. 
Toilet Paper
In any other year, giving out toilet paper as a present would be awkward and insulting. But this year, it's the must-have gift of the season. Whether just a roll or a whole pack, toilet paper will have those on your gift list feeling relieved. 
Zoom production gear
This year turned our homes into offices and classrooms almost overnight. In the rush, many were left with slapdash setups. 
Help the hard worker in your life adjust to the new reality by upgrading their virtual gear. This can include tech add-ons like a mini tripod for smartphones, a pair of headphones, or blue light blocking glasses for long periods of screen time, all available through Amazon and other major retailers.
If you want to help those on your list improve their production value, buy them a ring light for recording videos which will have them looking as professional as today's most popular YouTubers.
Restaurant, food delivery and grocery store gift cards.
An unsettling number of Americans are experiencing hunger and food insecurity for the first time this year.
While in-person holiday celebrations may not be an option this year, we can still share a meal by helping feed our loved ones. 
Give your friends and family gift cards to their favorite restaurants. Find small, local restaurants that offer gift cards to help their business as they endure another shutdown period. 
Food delivery companies like UberEats, Postmates and DoorDash offer gift certificates that can be redeemed digitally. 
You can also feed loved ones by getting them a gift card for a grocery store. Check which grocery stores are in their area and get them a certificate so they can buy what they need. Many grocers, including Stater Bros and Whole Foods, offer gift cards. 
Though it may seem unthoughtful to give gift cards, you may be making a difference in someone else's life without realizing it.
Office supplies
Snagging a pen from a neighbor's desk is no longer an option.
Equip your family and friend's home offices with basic office supplies like writing utensils, paper and mini-staplers which can be bought online or at most stores. 
For the busy-bees in your life, get a calendar or weekly planner so they can stay on top of their tasks. 
Whether or not you give anything this holiday season, make sure you remind those in your life how much you love and appreciate them for making it through 2020.