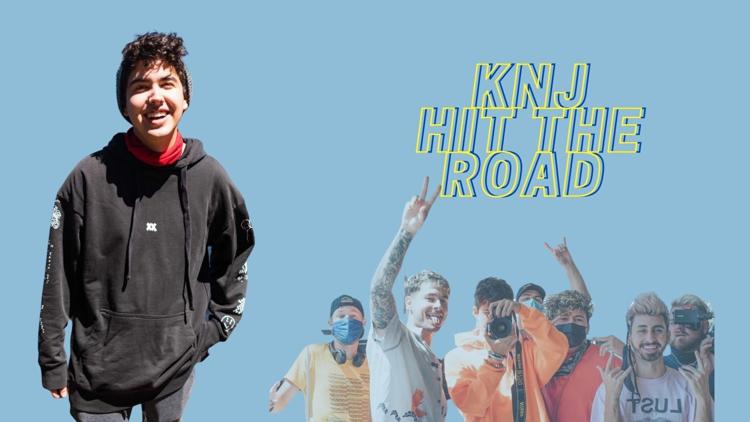 For Daniel Garcia, a first year pre-business major at Cal State Fullerton, photography is much more than a hobby. His passion for capturing moments on film shines through his Instagram account, @captured.times, which has over 20,000 followers. 
When it came to choosing a school to attend, Garcia said that location played a big role in his decision. Being close to Los Angeles was crucial for him because of the potential connections and networking opportunities, he said.
Aside from being a student, Garcia travels with YouTube influencers, JC Caylen and Kian Lawley, known as KianAndJc online. The influencers' YouTube account has 3.7 million subscribers, with an average of 4,000 to 700,000 views for their series, "KNJHitsTheRoad." 
Garcia said that traveling with the duo is very chaotic, but a lot of fun.
"It's kind of dangerous sleeping in a car full of YouTubers because there's just a lot that happens. If you fall asleep once then you'll get Sharpie on your face and you'll get water poured on you," Garcia said. 
Caylen and Garcia began talking around May 2019, but did not meet in person until this year for Caylen's C4 house photoshoot. 
"I've been a fan of Kian and JC for quite a while now," he said. "It's kind of crazy that I'm friends with them now."
Garcia said he has been a fan of Lawley and Caylen since they were in the collaborative YouTube channel, O2L, which was created in 2012 and consisted of six members. 
One day Caylen tweeted that he was playing the video game Fortnite with viewers and wanted more of his subscribers to join, and Garcia joined. Garcia said that the game went well and the pair hit it off. Caylen figured out that Garcia was a photographer and told him that he loved his work and wanted to shoot with him. He said that without Fortnite, he might not be where he is today.
"I'm super grateful for that. They kind of just took the chance on me because I was a 17-year- old kid playing Fortnite," he said. "He didn't have to take the chance on me, but he did."
Garcia's journey as a photographer isn't a typical story. Although he did start photography for fun around four years ago, Garcia said that he had no iPhone or professional camera.
"I had an iPod touch that was not able to support Instagram; so when I finally got a phone I was like, 'Oh my god,'" he said.
It wasn't until eighth grade when Garcia gave a speech in class about his passion for photography that his parents gifted him his first professional camera, which is when he started to take it more seriously, he said. 
"I'm literally in love with it. There's nothing else that I would want to do," he said.
When it comes to charging people for his work, Garcia said a cost can be difficult to figure out. 
"You need to take a look at your work and ask yourself 'How much would I realistically pay for my own work? Would I hire myself? Where do I value my work at?'" he said.
Garcia said that people might say no, but some people are bound to say yes and that's when you know you are doing something right. 
"My main goal is to be somewhere in the position that Bryant is at," he said. "He's freaking talented."
Bryant is a photographer on Instagram with over 7 million followers. He shoots a lot of influencers including Hype House members and other TikTok influencers. He produces content for his social media every day, which is at a level that Garcia said he wishes to be at as a creator. 
Garcia's word of advice is do not give up. He said that people shouldn't give up if they don't see results on something they are passionate about; just keep going forward. 
"By no means do I consider myself having made it, but I'm still working towards just my goals in general," he said.