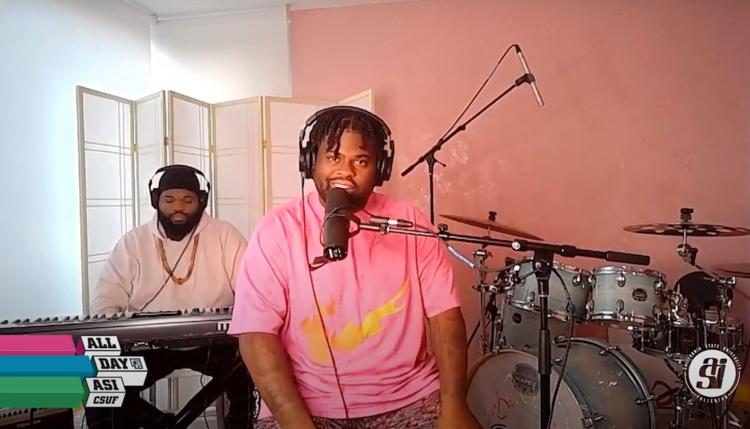 Like many events being held in the midst of a pandemic, Associated Students' annual event,  All Day ASI, debuted on Sept. 17 to a virtual audience via Youtube Live. 
Instead of crowding the Becker Amphitheater to enjoy food and music, students gathered virtually for four livestream sessions, each with unique topics and methods of encouraging audience engagement. 
"In 2020, like so many other things, we're doing All Day ASI different, but in a safe way," said Marcus Reveles, the ASI president.
Even before the festivities began, ASI took to its Instagram to promote the event with giveaways where students could win prizes such as an Amazon Fire TV Stick and a ROKU Streaming Stick. 
The series started with a section called "Meet Your ASI CSUF Student Leaders." The short kickoff included introductions from Reveles, and vice president Skylar Soria as well as other student leaders including Janica Torres, Nicole Gillespie and Lauren Loeb. 
Khai Hoang, ASI's chief communications officer, spoke about the upcoming semester and the ways that ASI plans to keep students engaged with the organization during virtual instruction.
"My team and I are working to make sure that the town halls are still going to be accessible for students despite being in a virtual format. On top of this, we're also making sure that you are up to date and well in the know of all of our events, meetings and programmings that are going to continue to happen throughout this academic year via our social media channels," Hoang said. 
After the first introductions, audience members jumped over to a second livestream at 4 p.m. entitled "Get to Know the Student Recreation Center." Students may not have been walking around campus perusing tables, but the SRC staff ensured that they got students moving at home with workout tutorials ranging from barre workouts to zumba and a yoga class. Students were encouraged to follow along with staff as they led multiple workouts throughout the hour-long session. 
The livestream promoted Titan Recreation's transition to virtual services while showing students how to gain access to health and fitness programs from the safety of their own home. 
"We know this school year looks different, but one thing that hasn't changed is Titan Recreation's commitment to your health and wellness. We want to let you all know that we still provide programs and events you can attend from anywhere," said Aaron Tapper, dDirector of Titan Recreation. 
Cathy Higa, a master teacher at CSUF's Children's Center, kicked off the third session, "Get to Know the Children's Center," at 3 p.m. with a ukulele in hand and a song to welcome the audience. The livestream featured sing-alongs and book readings led by many different teachers from the center. Aside from the fun stories, the session also gave students a look into the Children's Center. 
"The Children's Center really invokes a lot of passion, inspiration and collaboration. Families, children, staff, everybody makes the center come together," said Sonia Nunez, the center's assistant director. 
To top off the event, ASI invited R&B singer-songwriter Pink Sweat$ to perform for a virtual audience. His first single, "Honesty" ranked 23rd on Spotify's Global Viral Chart after its release in 2018. His soulful ballads and quick rise through the charts led to a profile about him being published on Rolling Stone's website in 2019 after he released his first EP, "Volume 1" in November 2018. 
Positive praises poured into the comment section of the livestream as Sweat$ performed with a pianist in the background. He encouraged audiences to take a break and let the music move them. The performance included originals like "Would You" and "Cocaine" which spoke of love and longing. 
Despite the happy comments, the number of people watching from home remained under 100 throughout the performance. 
For students who missed the live premieres but still want to learn about the various promoted programs, each session of All Day ASI is posted on CSUF ASI's Youtube page.