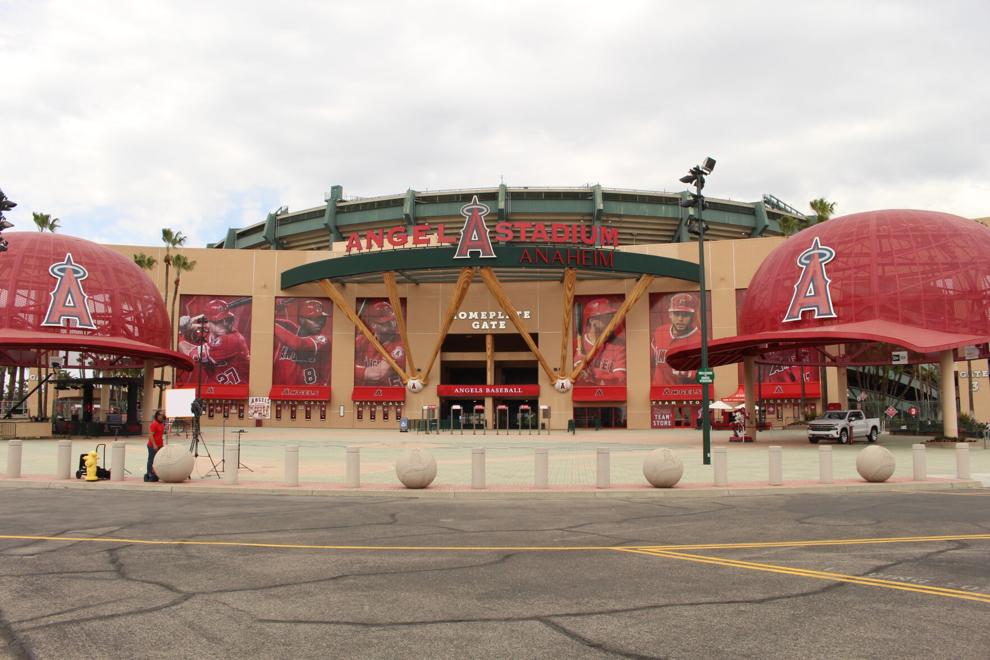 With the smell of freshly mowed grass, fans with masks flooding the stands and music blasting through the night air, the Los Angeles Angels of Anaheim welcomed fans back to Angels Stadium on Thursday for their season opener against the Chicago White Sox. 
While the Angels' victory was certainly a highlight of the night, spectators also got a first look at the new safety guidelines and how the baseball organization will protect audiences as the season continues. 
Alex Jauregui, an international business major at Cal State Fullerton, said that she is excited to catch a game in person and enjoy her favorite concessions. 
"I'm definitely excited to head back to the stadium, it's gonna be really cool to actually be somewhere again — anywhere honestly. Mostly, the food. I do like the stadium food even if it's kind of expensive," Jauregui said. 
According to state guidelines, the stadium is allowed to fill 33% of the seats, which is about 15,000 people. Fans in attendance will be required to wear a mask at all times except when they are consuming food or beverages at their seats. 
CSUF alumnus Nick Alcala said he has been an Angels fan since he was a kid, and the new safety guidelines bring him peace of mind. He said it's a small price to pay if it means being able to return to the stadium.
"I know the Angels announced that they are gonna be at limited capacity, so I'm all for it. Any way that I can get myself to a game, I'm all for it. I'm definitely looking forward to attending a game this season," Alcala said.
Alcala also said he is unsure whether these restrictions will affect his experience, but he is ultimately looking forward to the positive outcomes like shorter lines.
"Lines to get food or drinks won't be long. Lines, in general, won't be long. So, it being not as packed — that should be nice and I'm looking forward to. The only thing I'm a little bummed about, typically we do like to walk around and hang out at different parts of the stadium. So not sure how that's gonna be, that would probably be the only downfall," Alcala said. 
While Alcala and Jauregui both expressed excitement for the baseball season, other fans said they have concerns, and they won't be attending anytime soon, despite the stadium's precautions. 
"As of right now though, me personally, I'm actually not comfortable with going to an Angels game right now. Even though I'm vaccinated myself, I just want to wait until everything has the green light," said Randy Kurosawa, a CSUF alumnus.
However, Kurosawa said he is excited to see baseball's return, and he looks forward to attending a game when the time is right. 
"That saying 'It's America's favorite past time,' it is one of my favorite past times. So, definitely, hyped. I wish it could come sooner but how long they need to vaccinate enough people to make it happen. I'm definitely excited," Kurosawa said. 
Other fans like Lucy Nguyen, a psychology major at CSUF, said most of her concern revolves around whether people will follow stadium guidelines. 
"Watching spring training with everyone around, not a lot of people are wearing masks. I feel like we've been trained for about a year now to keep it on our faces. But when you see a lot of the people in front of the batting area are people not wearing masks, that's really the only thing," Nguyen said.  
Like most fans, Nguyen said she has loved the game since she was young and is hoping to visit the stadium once she receives her second dose of the vaccine.
"I'm hoping for just a good experience which sounds so cliche but everyone has been staying home and just cooped up. So I think everyone is gonna be in the crowd just excited to watch and there's no other worries hopefully, just that overall fanbase experience," Nguyen said. 
Although some people are still wary of attending in-person games, fans seem to agree that they are excited about the return of baseball and the opportunity to attend a live game.