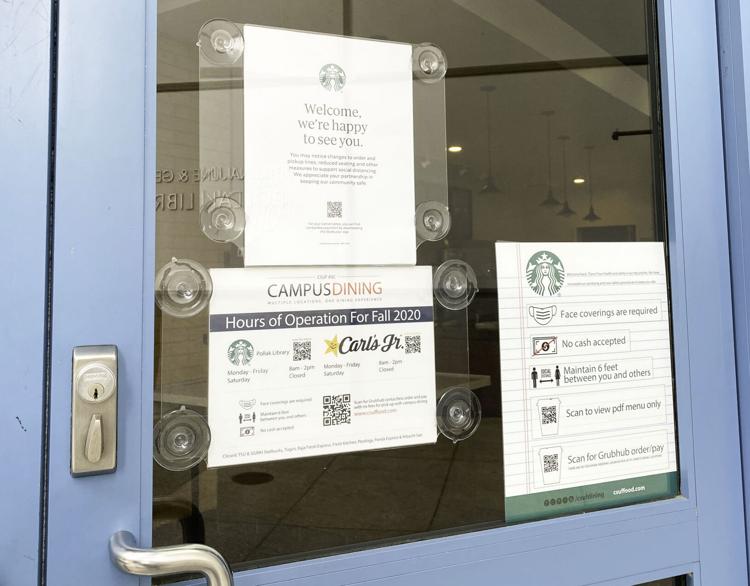 For most people, life at Cal State Fullerton changed dramatically. The usual packed hallways, elevators and staircases are now completely desolate, leaving only the sounds of cars speeding by on the 57 Freeway echoing throughout the campus.
Juliana Moreno, a CSUF student,, has seen these changes happen first hand, as she and the Titan Shops workers have been able to work on campus since May, after they were furloughed in March due to the school closure.
For Moreno, coming back to school while everyone is gone brought a lot of mixed feelings, since in the past, the first few weeks of school were the busiest times of the year for the bookstore.
"Normally, I would be helping hundreds of customers in a day, and so it was definitely a weird vibe., Moreno said. "For me to go through that week of school, it didn't even feel like the first week of school."
Student workers across campus saw the repercussions of not only the school shutting down, but also their workplace.
Moreno said that Titan Shops remained open two weeks after President Fram Virjee sent out a school-wide notice about non-essential personnel having to leave campus in March.
Moreno said the bookstore isn't affiliated with CSUF, but through Auxiliary Service Corporations, a non-profit organization that oversees the employment of students at CSUF, also known as ASC.
Nevertheless, in the beginning the support from ASC and the CSUF administration was scarce while everyone was transitioning.
"(ASC) did offer to pay us until they realized it was a bit too much, for about a month we were all furloughed, and then people started coming back," Moreno said. "We all had to rely on unemployment."
However, for Mehfuz Stationwala, his seven-year post as a security guard in College Park has been unaffected by the ongoing pandemic.
His work day begins at 4 p.m. and ends at midnight, Monday through Friday; with no one on campus, work can be challenging.
"You still have to watch the building," Stationwala said. "Somebody still needs to do the job. There are still duties to do."
Stationwala is part of the group of essential workers categorized in the Emergency Services Sector by the California Department of Public Health. This list came after Gov. Gavin Newsom issued a stay-at-home order, except for those who are needed for day-to-day maintenance of infrastructure.
The state public health officer said that designating the work helps "state, local, tribal and industry partners as they work to protect communities, while ensuring continuity of functions critical to public health and safety, as well as economic and national security."
Stationwala's position is essential to the safety of the school grounds, and he said that the school has been very helpful in maintaining his safety as well.
"If I see something that needs to be handled by the more professional, then I would call our University PD," he said.
The Department of Information Technology at CSUF has also been a vital part of everyday operations on campus. The team has been present on campus to lend devices to students who need it.
Armando Acosta, a student worker at the Pollak Library, said that his current work situation feels the same, besides having few limitations.
Acosta said he and his team had trouble in March with the transition to virtual instruction since everything was so hectic.
"Now going into this semester, for example, it was much easier and we seemed to figure out what to do," Acosta said.
The campus operations for Acosta's team are different from Stationwala's in terms of how they work and follow COVID-19 guidelines. Acosta and his coworkers had been doing their part in protecting each other during this time.
"We take each other's temperature and we sanitize," Acosta said. "The bathrooms are also highly sanitized, we see a lot of the custodial help helping out with that stuff."