With Christmas right around the corner, there are several ways people can safely gather with family without leaving the comfort of their own home.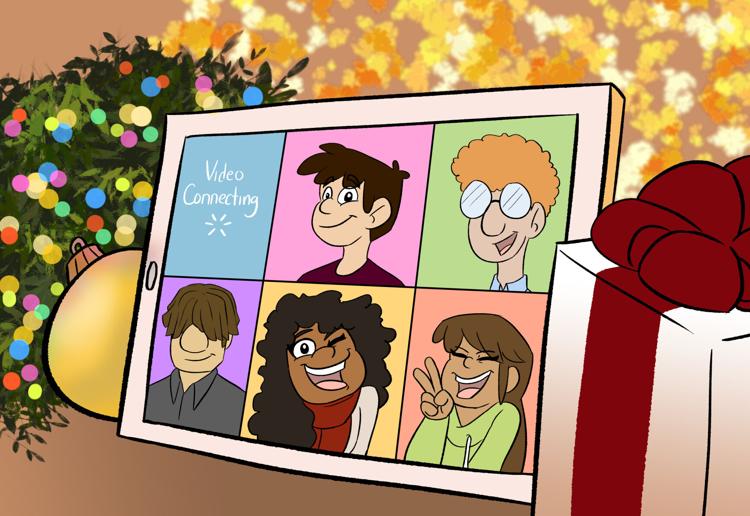 As the coronavirus continues to keep loved ones at a distance, people have to adjust to holidays without extended family and resort to using FaceTime and other video apps to communicate.
According to the Center for Disease Control and Prevention, "Gatherings with family and friends who do not live with you can increase the chances of getting or spreading COVID-19 or the flu."
Limiting the number of people you have over this holiday season and only celebrating with those close to you can reduce the risk of catching the coronavirus. However, you can still have a safe and special Christmas at home with your immediate family or roommates.
There are several ways you can get creative this season, celebrating the beloved holiday does not have to end.
Enjoy the great outdoors.
If you plan on inviting a small group of your extended family, try to host an outdoor gathering rather than a normal indoor one. You should still require guests to wear masks when they are not eating or drinking and set up outdoor seating under a pop-up open-air tent. A negative COVID-19 test might also be a good addition prior to the event.
You can turn the outdoors into a Christmas oasis with all the right tools and planning to ensure guests are comfortable. Get creative with the decor, place blankets on each seat for guests, set up string lights or set out pillar candles to add a dose of style. Add as much holiday decor as you want and can — make it your own winter wonderland.
You can keep your family warm with an outdoor tent, wearable blankets, hot hands, a fire pit and outdoor heaters. Set up fun outdoor activities; it'll help to keep warm and get a nice workout in for those planning to start New Year's resolutions.
Just remember to limit the number of attendees as much as possible to allow people from different households to remain at least six-feet apart at all times.
Create the indoor day of your dreams.
Who said you could leave building pillow forts in the past? Grab all the items necessary for this endeavour and lose yourself in the magic of Christmas and pillow architecture.
Search your local Target for holiday pajama sets you can buy to match with your family or roommates. Dress up and take photos to send out as the family Christmas card. It can serve as your new 2020 holiday card and you can send these virtually to everyone you know.
Get a little crazy and throw tradition out the window by having your own karaoke night, there's no shame in singing a bit out of tune since you'll be out with your closest friends and family.
Virtual is the word of the year.
There are several ways you can have a holiday movie night and still be far away from each other.
Zoom offers the share screen feature, grab some family members and friends and host a virtual movie night. Take turns on sharing all those streaming accounts like Netflix and HBO Max. You can also utilize the video conferencing service to play games like trivia.
Get crafty and create your own family trivia, using all the juicy gossip your mom called to tell you about.
If there are kids at home, you can have a virtual decorating party and hold a competition for the best-made cookies. You can also have a virtual crafting hour so that families can color, craft and bake together right from their respective homes.
Though the coronavirus has changed how some will spend the holiday season, one thing is for sure, Christmas will still happen and it's up to you to make new memories with the ones you love the most.
Safety is the number one priority, and if there's anything this year has proved is that anything can happen, especially virtually.