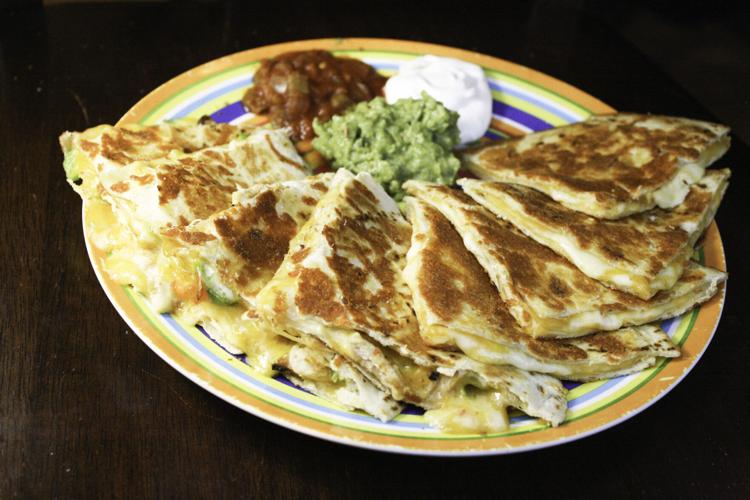 In celebration of National Quesadilla Day on Sept. 25, and National Hispanic Heritage Month being celebrated from Sept. 15 to Oct. 15, Tuffy's Table is teaching you how to make the perfect loaded quesadilla.
Quesadillas are the perfect food to make while you're stuck at home this fall semester. They require very little effort to prep, and they cook in minutes, making them the ideal meal for in-between classes.
With a wide variety of toppings and fillings to choose from, quesadillas are perfect for your entire family and their unique tastes. They can be personalized to adhere to different diets or food restrictions. Those with dairy allergies or vegan diets can replace cheese with a non-dairy cheese alternative, all while maintaining the dishes' gooey greatness.
This cheesy meal is better paired with several topping options, such as guacamole, pico de gallo, sour cream, cilantro, lemons and limes. For spice, sriracha, salsa and chipotle sauce add great flavor.
Tuffy's rendition of a loaded quesadilla contains several additional fillings to the usual cheese and tortilla mixture, as well as a cheese crust on the outside.
This recipe uses fluffy, medium-sized tortillas, red and green bell peppers, jalapeños, savory onions and shredded chicken breast, mixed with a shredded mild cheddar cheese and Monterey Jack cheese.
These ingredients can be located at most local grocery stores, and this recipe can be used to make several servings.
A quesadilla of this size provides about one to two servings, depending on how hungry you are, but because they're so easy to make, getting another on your plate will not be hard.
Tuffy's recipe will help you easily make the perfect loaded quesadilla, but I implore you to change the filling ingredients around to satisfy your tastebuds' desire.
Cooking Time: 10 Minutes
Ingredients:
2 thick medium size tortillas
⅓ cup diced red bell-peppers
⅓ cup diced green bell-peppers
⅓ cup diced onions
½ cup shredded chicken
1 whole sliced jalapeño
1 cup shredded cheddar jack cheese
1 cup shredded Monterey Jack cheese
Directions:
1. Heat up a non-stick pan over medium heat.
2. When hot, sprinkle some cheddar cheese and Monterey Jack cheese on the pan and place your first tortilla on top.
3. Place all of your ingredients evenly onto your tortilla that is now in the pan. Start with sprinkling both cheeses, then lay both types of bell peppers across the cheese, as well as the diced onion, jalapeño slices and shredded chicken, ending off with another layer of cheese over all your fillings.
4. Lay your other tortilla on top of your fillings and press down on it with a spatula. Wait three to four minutes as your cheese melts.
5. When your cheese has melted on the bottom side of your quesadilla, pick it up with your spatula to flip. Before placing it down sprinkle a little bit of cheese again on the pan to crust onto the quesadilla.
6. Now flipped over, wait two to three minutes for the bottom layers of your cheese to melt.
7. When fully melted, take the quesadilla out of the pan and place onto a large plate.
8. Cut into your desired size and number of slices, and now it is ready to serve and eat.