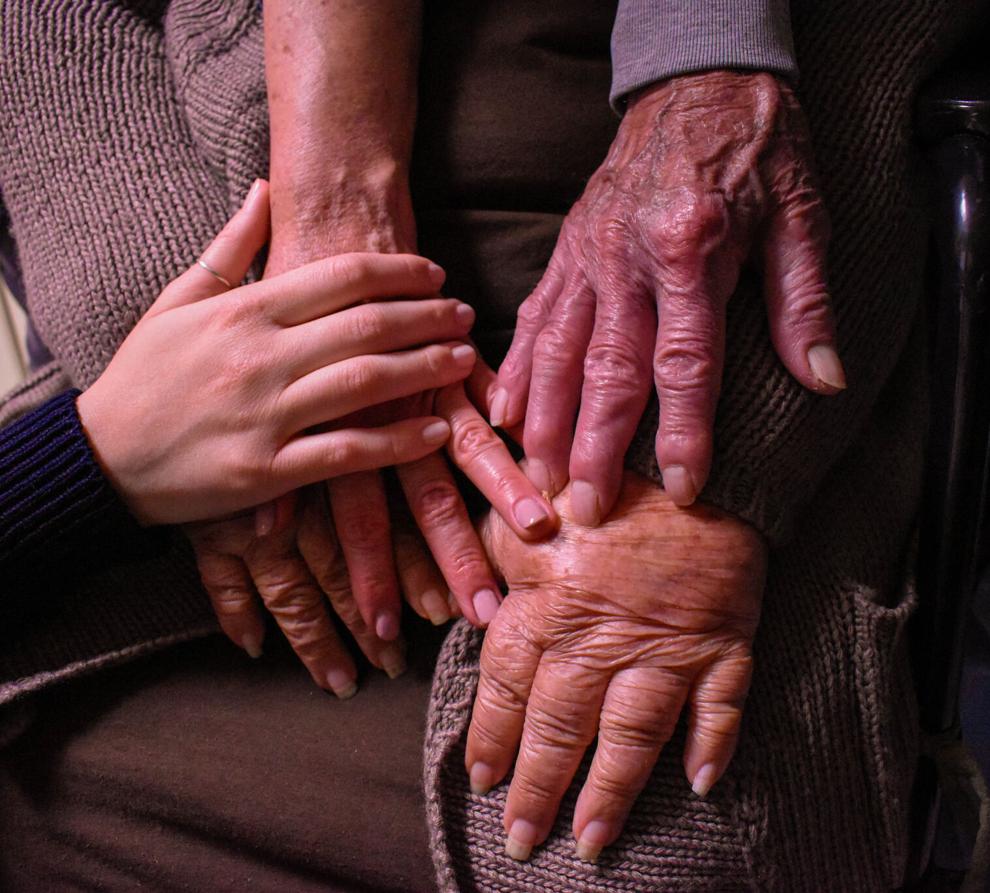 Trying to get a traditional Mexican household to acknowledge the importance of mental health can feel like trying to break a curse. It's like a jinx that has been weaved through generations, masked by religion and left to the children of immigrants to crack open.
My grandparents and mom immigrated from a rural farm in Mexico to the bustling city of Los Angeles in the '90s, and living with them means that carrying generational baggage is an expectation. But I have found that constant communication and assurance helped me pry open a sealed bag of emotions that my family has been carrying around for centuries.
The Latinx community faces unique barriers to mental health assistance such as language, stigma and legal status that directly impacts insurance coverage, according to the National Alliance on Mental Illness. More than half of young adults ages 18-25 do not receive treatment for their mental illnesses. 
The Latinx culture tends to be private. It's a culture that rarely talks about their own issues at home but loves to gossip about others. The phrase "la ropa sucia se lava en casa" is embedded in the community which makes it difficult to talk to others, even specialists, about mental health for fear of being labeled "crazy." 
My family is not exempt from this kind of behavior. Often, they would tell me to keep going or "echale ganas" when I felt stuck. They would tell me that they felt the way I did, which was a way to belittle both of our struggles. 
When their words of "encouragement" were not enough, they would tell me to pray and while it might have worked for them, it absolutely did not work for me. Faith communities can also be a source of stress if they are not well-informed or do not know how to handle mental health situations, according to National Alliance on Mental Illness.
Social support from friends and family also plays a critical role in the mental health of Latinx students, according to Tara Suwinyattichaiporn, an assistant professor in the Department of Human Communications who conducted a study on the Cal State Fullerton community.
While it is not a cure, positive social support from family does help you feel less isolated and I achieved, at least a sliver, of it.   
Although older generations are less likely to be open-minded, my very Mexican grandparents became a lot more understanding than people 30 years their junior. This may be due to my grandma's constant attempts to wear me down, as she soon realized it was futile when I chopped off my long brown hair, the standard for Mexican beauty, and wore baggy clothes — something she simply hated. 
Despite that, she came to accept and love me for who I was, no matter my hair color. This became more true after my grandparents saw me in a deep depressive episode. 
They saw how every single task was a chore. They saw how scraggly my hair was from not brushing it because I just couldn't bring myself to get out of bed. They saw how hard it was for me to simply exist. 
The biggest attitude shift came when my mom witnessed me have a severe panic attack. She knew that I experienced them quite often, but after watching me struggle to breathe and fight my way back to reality, she finally understood that it was something that we couldn't ignore. 
Although it's unfortunate that my family had to see me at my most vulnerable, a state that I wish no one would experience, it did allow us to open that dialogue. They accepted that my mental health was something that I will have to deal with for the rest of my life, and they wanted to support me through every stage of this expedition to good health.
Now, I openly speak to them about my emotions. I tell them about how stressful life can get; they reciprocate and there is no judgement. 
It's important to note that this journey was not easy. I did not begin to communicate my feelings until things got really bad, and I am still trying to break down those barriers. Progress has been made, but there is a lot more work that needs to be done. 
For now, I know that I am setting an example for others in my family to care for their own mental health, and with that, the curse can be lifted.