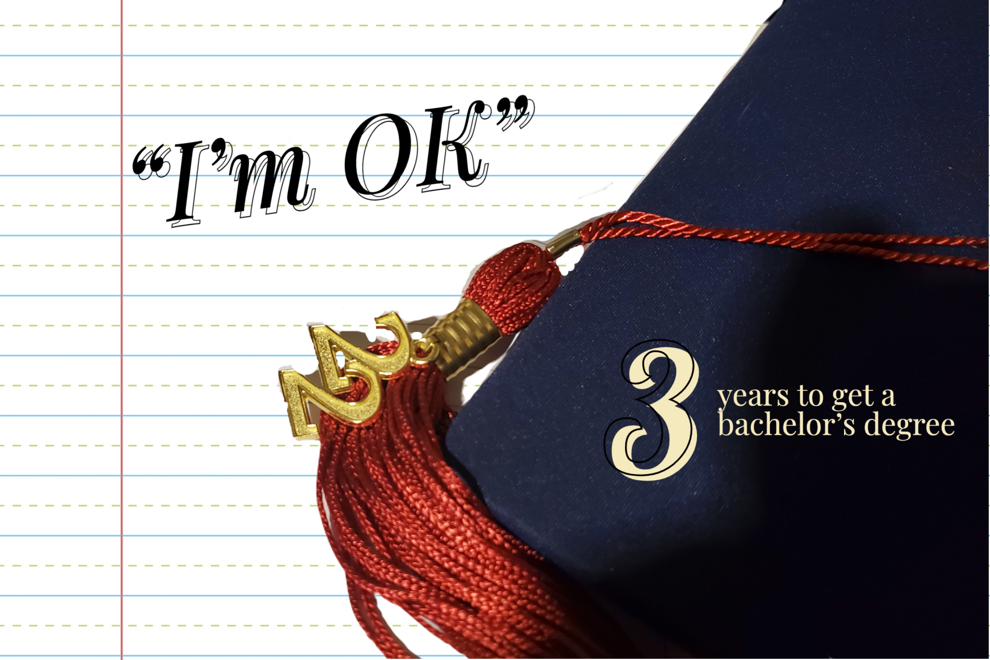 Every first-year student enters Cal State Fullerton with the same old spiel from their counselor: take 15 units a semester, and you'll earn your 120 units to graduate in four years. It's a tip that many take to heart, given that almost three-quarters of the university's undergraduates earn their degree in four or more years. 
Not for me, though. At age 18, I entered Cal State Fullerton as a freshman and I'm now about to walk out with a Bachelor's in Communications at 21. Within three years, I earned a degree in higher education, and it was a long road.
To get an undergraduate degree in three years would require a student to earn all 120 of their credits in a shortened amount of time, not to mention the commitment it would require altogether..
My approach to my classes was unconventional. I packed in as many units per semester as I could — 19 — and took on winter and summer coursework from nearby community colleges. After meeting with my academic advisor and setting up a list of classes I'd need to register for over the next three years, it was just a matter of committing to it. 
It shouldn't have been that hard, right? According to the all-important plan, it's just six 3-unit classes a semester.
Taking 18 units a semester is a task many have opposing opinions on and their fears are not unjustified. I can tell you firsthand that eighteen units a semester is an arduous undertaking, and I wouldn't recommend the path to those who aren't fully ready to accept the workload. Motivated by my family and the backing of a state veteran program my stepfather was entitled to, you can't blame me for seeing this as a no-brainer decision.
I've been writing for the Daily Titan for about five semesters, from News Editor to Deputy Lifestyle Editor. I enjoy writing stories about various things, as producing content for this newspaper helped me sharpen and hone my skills as a journalist and a writer, which have proven invaluable for my three-year endeavor. I've taken internships that further developed my skill set, demanding additional time and focus.
Packing on classes and internships could be considered a brute force task, and while said brute force will ultimately get me through my undergraduate program, I would be lying if I said that I didn't suffer through any of it. 
I can't count the nights I've stayed up silently crying, yet I never budged. I poured all of my time into my studies; I forgot to make many friends. I spent so much time writing for the newspaper that I forgot to join a club. So much time was spent escaping reality through video games that I forgot to ask myself, "How am I really doing?" I've received so much of the same praise from those close to me to the point where it's all just so numb. 
I psyched myself into the toxic mindset that nothing matters if it means getting the mission done. This mindset had been drilled into me not by my family, not by my instructors, but by the overwhelming workload I had taken on — I hated it.
Yet, despite hope getting me into this situation, it's also what got me through. While I was numb from the constant praise, it did serve as constant reminders that I wasn't alone. My high school friends were visiting me constantly, and even some personal conflicts I had with an old acquaintance ultimately taught me that it can always be worse no matter how bad things can get for me. 
Let's also not forget the upsides to this path, with the biggest benefit being how cost-effective the overall bill will be. Theoretically, taking this path will only result in paying for three years' worth of units, with no more than a thousand dollars in classes from summer and winter courses at community colleges. You're still saving quite a bit of change, and that might be the only reason you'd pick this path.
Take my experiences with a grain of salt. I am not here to condemn this pathway, nor am I advocating for its consideration. With sacrifices of time, money, mental health and energy, it's a long winding road that no student should even think of lightly. It'll all be worth it when you walk, shake the dean's hand, and hear "Pomp and Circumstance" air alongside your name.
I plan to return to CSUF soon to earn a graduate degree, though I hope I don't do the same thing then. 
But in reality, who knows? After all, rest is never promised for the weary.