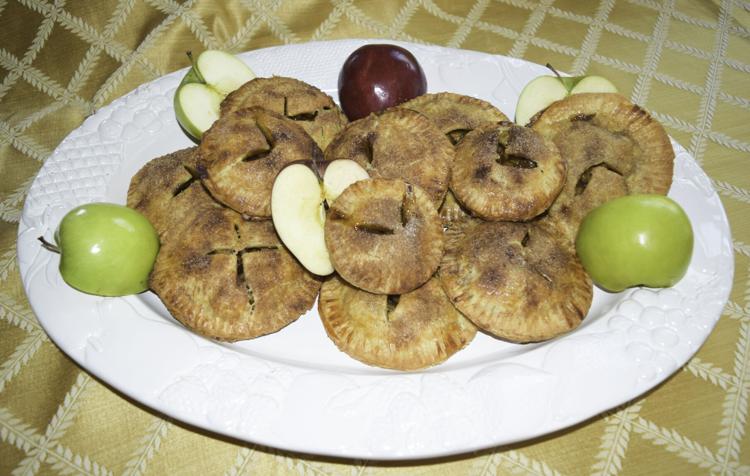 Fall is here, and that means it's apple season! To celebrate, here is a great recipe for hand apple pies to make with the family.
This recipe takes quite some time, so enlisting help from family members or friends is a fun, interactive and easy way to speed up the process.
To prepare the recipe, you will need a few items to bake with and a large cutting board to prepare on.
You will need three bowls: a medium-sized bowl and two small-sized bowls, two cookie cutters: one that is 4 inches and another cookie cutter that is 3 inches and a rolling pin.
If you lack cookie cutters in those sizes, use similar sized bowls. The fun thing about baking is that you are able to experiment with the shapes of the apple hand pies, allowing you to make any shape you would like.
A way to bring out everyone's creativity during preparation is by decorating the hand pies. One possible way is through the method you use to close the hand pies. You can crimp the edges with a fork, pinch them with your fingers or use the end of a spoon.
Another way is how you choose to mark the tops of the pies with air holes. You can make an "X" or a "V" shape with a knife, or you can even cut out hearts, stars or other fun shapes.
The best part about these apple hand pies is the choice to buy premade crusts, which are convenient and inexpensive. A typical price for the two-piece Pillsbury refrigerated pie crusts is under $4.
You can even give the pies a unique flair, through the inclusion of nuts, dried cranberries and marshmallows within the filling!
As you bake these delicious hand pies, take some time to appreciate the wonderful smell of sweet apples and cinnamon throughout the whole day.
To cook, a pan or skillet is best; perfect for those who are concerned about cleanup.
Cooking Time: 10 minutes
Preparing Time: 1 hour
Baking Time: 18 minutes (varies depending on your oven)
Total time: about 1 hour and 30 minutes
Ingredients for the apple filling:
About 8 cups diced apples - 4 medium Granny Smith, 3 Fuji and 1 medium Red Delicious
2 tablespoons unsalted butter
1 tablespoon salted butter
¾ cup white sugar
½ cup brown sugar
1 tablespoon honey
1 teaspoon cinnamon
½ teaspoon golden milk (optional, can substitute with cinnamon)
1 teaspoon lemon juice
1 teaspoon balsamic vinegar
1 teaspoon kosher salt
For the pie crusts:
2 boxes of the 2-count refrigerated premade Pillsbury pie crusts
1 large egg
1 ounce water
3 tablespoons white sugar
3 tablespoons turbinado sugar
3 tablespoons cinnamon
Directions:
1. Preheat the oven to 450 degrees Fahrenheit.
2. Heat your skillet or large pan on medium.
3. Add both the salted and unsalted butter, let melt.
4. Add all of the diced apples, saute for 2-3 minutes.
5. Add the white sugar, brown sugar and honey.
6. Wait for about 5 minutes to thicken.
7. Add the cinnamon, golden milk, lemon juice, balsamic vinegar and kosher salt.
8. Fold in the ingredients and continue to saute until strands appear between the pan and the spoon. This should be no longer than 2 minutes.
9. Transfer the mixture into a bowl, set aside and let cool to room temperature.
10. In a separate small bowl, add the egg and water. Mix with a fork to make the egg wash and set aside.
11. In another small bowl, add the white sugar, turbinado sugar and cinnamon. Mix with a spoon and set aside.
Preparing the hand pies:
1. Dust your cutting board with flour to prevent the dough from sticking.
2. Gently unroll the premade pie crusts, using a rolling pin to assist you with flattening the edges.
3. Each sheet of pie crust should provide you with four 4-inch circles, enough for two pies and two 3-inch circles, enough for one pie.
4. With a circular cutter or bowl, cut out four 4-inch circles.
5. Combine the scraps into a ball and roll out to cut the remaining 4-inch circles and cut out the 3-inch circles.
6. Place one 4-inch circle of pie crust down, brush or rub the egg wash along the outer edge of the crust.
7. Add 1 ½ tablespoons of apple filling to the center of the dough.
8. Place the second 4-inch circle at an angle, carefully go around the edge and crimp with a fork until the entire pie is sealed.
9. Brush or rub the egg wash on top of the pie and sprinkle with the cinnamon/sugar mixture.
10. Cut two slits at the center of the hand pies to let the heat escape.
11. Place on a large cookie sheet.
12. Repeat the process for the remaining 4-inch circle crusts.
13. The only difference for the 3-inch dough is to place 1 ½ teaspoons of the apple filling in the center and follow the remaining directions.
14. Bake for 18 minutes or until golden brown.
15. Serve warm with vanilla ice cream or whipped cream.