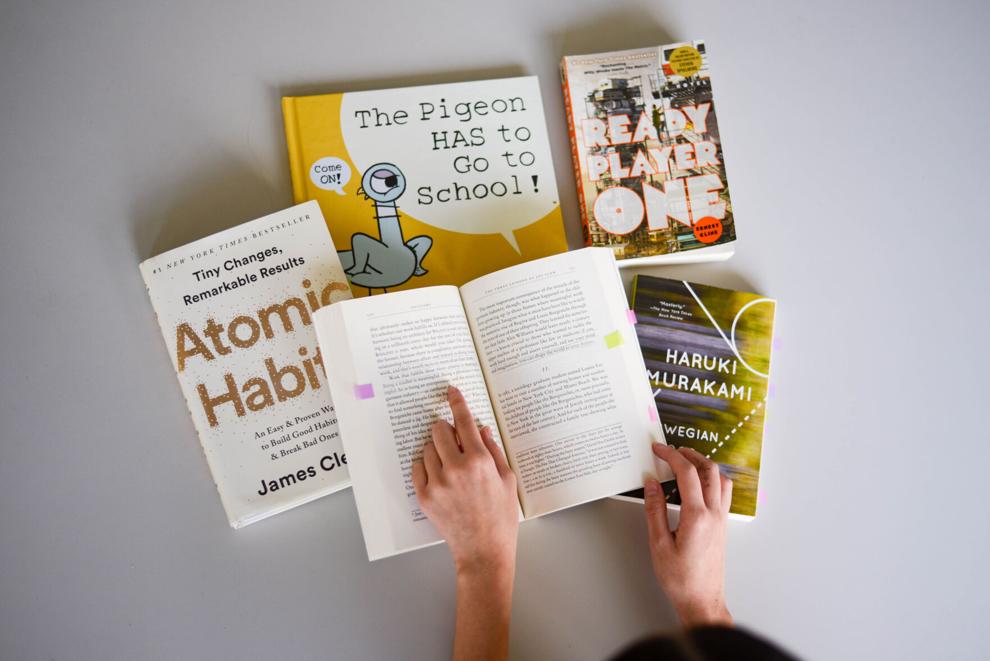 Whether you want words of wisdom or to fall into the allure of an alternate reality, this curated list of books can provide you with that boost of confidence and moments of escapism from the stress of school.
"Atomic Habits" by James Clear
Setting goals is simple, reaching them is not quite as easy. Understanding the system of habits is the key to meeting the goals you envision for yourself. 
A mix between the science of habits, personal advice and storytelling, "Atomic Habits" reveals the impact of daily habits on the overall identity of an individual. This self-help book provides practical strategies to help readers make gradual changes in their lives that can help them reach their intended goals.
Many self-help books can feel pretentious. They give advice that is blatantly obvious or unrealistic; however, this #1 New York Times bestseller truly takes a sensible approach to offer guidance toward your personal goals. Also, it is a genuinely interesting read filled with captivating stories and compelling insight from fascinating people.
Whether your intended goals are acing a class, eating healthier or reducing stress, "Atomic Habits" is a flexible book of advice that can motivate anyone.
"Ready Player One" by Ernest Cline
It's the year 2045, the destitute outside world filled with extreme famine, war, climate change and poverty draws most of the population to escape into the virtual reality of OASIS. Inside this online server, kids attend school, wild parties commence on different planets, violent battles are fought and they enjoy everyday pleasures like shopping. 
Although the world of OASIS is a form of escapism for the fictional people of 2045, "Ready Player One" can be a form of escapism for any individual.
The main character Wade Watts, an 18-year-old outcast, finds himself on a dangerous quest to solve the underlying contest that is hidden within OASIS. The winner of the contest wins ownership of the billion-dollar OASIS company, which is a precious opportunity for the average person of this world. 
Academic and professional responsibilities are ramping up with the third week of school coming to a close, and this novel can easily transport you into another world as a quick getaway from reality.
Grab your visor and haptic gloves and prepare to escape into the futuristic world of "Ready Player One."
"The Pigeon Has to Go to School" by Mo Willems
Who says kid's books are just for kids? This children's picture book is a sweet reminder that we all have anxieties about school. 
Mo Willems is the author, illustrator and creator of the Pigeon series. He garnered numerous awards for his variety of children's books.
His iconic, doodle art style is reminiscent of childhood memories and can envelop an older reader with the warm feeling of nostalgia.
Sit back, appreciate the illustrations and find comfort inside this warmhearted and charming picture book.
"Outliers" by Malcolm Gladwell
Is the key to success truly just working hard and being smart? The "hustle" and "grind" mentality that many people attribute to success is re-examined in this psychology and self-help #1 National Bestseller.
Scientific writing intertwined with absorbing stories, "Outliers" introduces readers to a new perspective on how luck, culture, timing and attitude factor into success.
Legendary outliers like Bill Gates, Mozart and The Beatles are dissected in an unconventional way that provokes the reader's thoughts and explains how they assumed their places in history.
Dive into this entertaining and informative book that can change the way you view success.
"Norwegian Wood" by Haruki Murakami
One-night stands, student protests, bar dives and trips outside of the city— the epitome of college life. What better way to relieve the stresses of school than to read about someone else who's going through what you're going through?
"Norwegian Wood" is a raw, dream-like story following the life of a college student in Tokyo during the 1960s and his experiences throughout the turbulent times of young adulthood. This is a melancholy yet relatable read that grabs hold of the reader and drags them into the hyper-realistic story.
There are heavier themes such as suicide, sex and death that are discussed within the novel and all readers should proceed with their comfort levels in mind.