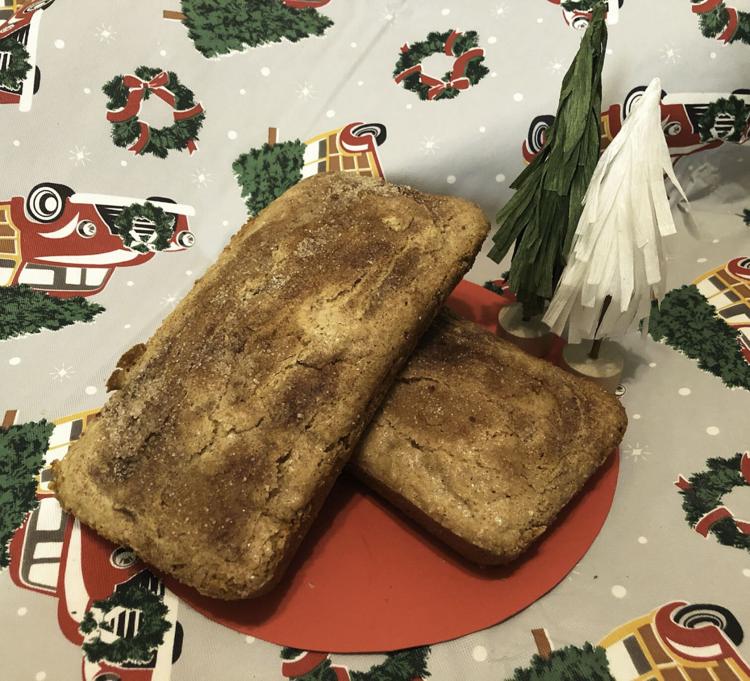 Whether you're cooking for personal enjoyment, party treats or holiday gifts, baked sweets are always well-received. In an effort to be more inclusive of holidays beyond Christmas, this not so traditional snickerdoodle bread makes the cut. 
It's not quite the traditional Christmas shaped sugar cookie, but it's also not so obscure that it's off-putting.
I made this bread last year for a holiday gathering with my fiance's family, after finding the recipe online. The goal was to avoid the mess of baking cookies while still satisfying that holiday yearning for snickerdoodle. 
His family can be a tough crowd, so naturally, I was nervous when the loaf sat untouched on the sweets table. Finally, I caught grandma and auntie digging in and grabbing doggie bags to take home.
This bread was a hit — simple to make and easy to dress up with holiday sprinkles. The loaf can also be wrapped in festive cellophane for gifting.
The ingredients are basic kitchen staples for anyone who bakes and are easily attainable otherwise. Cinnamon chips are not readily available in my local grocery store however, Target, Walmart and Amazon sell 10-ounce bags of Hershey's cinnamon chips online. They can also be replaced with white chocolate chips or completely omitted.
Here are a few tips before baking that will ease the process and prevent kitchen disasters:
The recipe calls for 1/2 cup unsalted butter or one stick of butter. Let the butter sit out for an hour or two and cut the stick into smaller pieces so it's easier to mix if you do not have a stand-up mixer.
If you're using an electric hand mixer, start by mixing the butter, sugar and egg mixture on a lower setting until the sugar sticks to the butter. Using high power right away may send sugar flying out of the bowl.
Finally, when it comes time to test if the bread is ready, a small knife can be used as an alternative if you do not have a toothpick. The top of the loaf splits down the center during baking which creates the perfect hidden spot to test the center of the loaf without leaving a visible puncture wound.
Start to finish: One hour 30 minutes
Servings: 24
Ingredients:
1/2 cup unsalted butter
3/4 granulated sugar
1/4 cup light brown sugar, packed
2 large eggs
1 tablespoon vanilla extract
1/2 cup sour cream
1 1/2 cups and 2 tablespoons all-purpose flour, divided
2 teaspoons cinnamon
1 teaspoon baking powder
Pinch salt, optional
1 1/2 cups cinnamon chips (can be substituted with white chocolate chips)
Topping
2 tablespoons granulated sugar
1 teaspoon cinnamon
Step 1: Heat oven to 350 F. Grease two 8 x 4-inch loaf pans with butter or cooking spray and flour. Set aside for later. 
Step 2: Add butter, sugars, eggs and vanilla to a large mixing bowl (or a stand-up mixer with paddle attachment) and beat on high for 3 to 4 minutes, until creamed.
Step 3: Scrape the sides of the bowl, add sour cream and mix for 1 more minute until combined.
Step 4: Scrape sides of the bowl again before adding 1 1/2 cups flour, cinnamon, baking powder and salt (optional) beat on low for about a minute, but do not over mix. Set aside.
Step 5: If using cinnamon chips, add them to a small bowl, sprinkle with the remaining 2 tablespoons of flour, toss to coat chips with flour. Flour prevents the chips from sinking while baking.
Step 6: Add chips and flour to mix, beat on low power for about a minute.
Step 7: Evenly distribute batter into pans, batter should be thick and will not fill the pans to the top. Smooth tops of batter.
For the topping:
Step 1: Stir sugar and cinnamon together in a small bowl.
Step 2: Evenly sprinkle sugar mixture on top of the loaves.
Step 3: Bake for 45 to 50 minutes or until a toothpick (or knife) that is inserted in the center of the loaf comes out clean. The loaf should have a slightly rounded top, probably cracked down the center and firm to the touch.
Step 4: Cool bread for 15 minutes until removed from the pan. Allow cooling before slicing so the loaf does not flatten when cutting.
Step 5: Enjoy plain or try it with butter or peanut butter. Snickerdoodle bread also pairs well with coffee, hot cocoa, tea or egg nog.