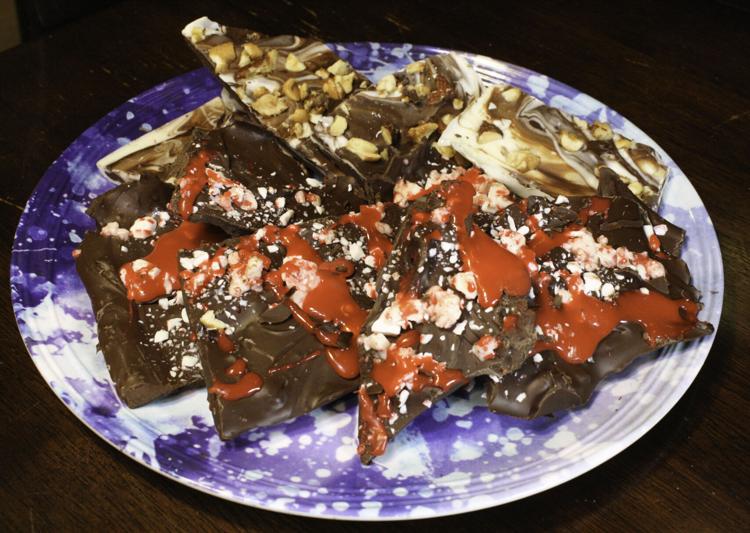 With the holidays quickly approaching, there is no better way to get into the holiday spirit than festive foods. Candy and sweets not only make a great gift for those you care about, but are also a great way to treat yourself after a busy, stressful year.
Chocolate bark is a great option to serve for the holidays because it is simple to make and can be adapted to fit the flavor palette of almost anyone. The list of toppings that compliment this treat are endless, from nuts and pretzels to peppermint candy and caramel.
Even those who like white and dark chocolate more than the milk variety can enjoy, as any flavor chocolate will work as the bark. For extra flavor, two types of chocolate can even be mixed together to create a unique taste and a beautiful marbled look to your candy.
Since the recipe only takes about 30 to 40 minutes to prepare and harden, it is easy to make for multiple people, making a perfect Christmas present idea if you want to go the homemade route. 
Making the dessert is also the perfect family activity you may be looking for. This creates a fun night with your family where each person sprinkles on their own toppings onto their portion of the bark and breaks it off to enjoy during a holiday movie night or while decorating the tree.
If you're looking for a quick recipe to make and surprise that small, COVID-19 safe family gathering, this is it. While this recipe does list a blender or food processor to use for crushing toppings, using your hand or chopping them with a knife will work just fine.
For this recipe you will need:
12 ounces of semi-sweet chocolate chips for the base of the bark
Toppings: 
A handful of white chocolate chips

Red food coloring

A handful of peppermint hard candy

A bag of Hershey's Kisses - Candy Cane Flavor Candy
Tools:
Parchment paper

Shallow baking sheet

Spatula

Microwave

Microwave-safe bowl

Refrigerator or freezer

Blender/Food processor
Instructions:
Use a blender or food processor to crush up any toppings you will use. Blend the peppermint candy for just a few seconds so that the pieces are chunky and not too powdery. The Hershey's Kiss candy can be blended for several seconds until it resembles a crumble.

Pour the whole 12-ounce bag of chocolate chips into a microwave-safe bowl. Microwave in 20 second increments, stirring the chocolate in between each increment. Continue microwaving and stirring until all of the chocolate is fully melted.

Lay parchment paper down on your baking sheet to keep the chocolate from sticking to the sheet.

Pour the melted chocolate onto the parchment paper that is over the baking sheet. Use a spatula to spread the chocolate into a thin, even layer.

While the chocolate is still melted, sprinkle your toppings over the bark so that they will stick onto it. Afterwards place into the fridge for 20 to 30 minutes to cool and harden.

Before you take the bark out of the fridge, melt a handful of white chocolate chips in the microwave in 20 second intervals and stir until melted the same way you did with the bark. 

When the white chocolate is fully melted, mix in a small amount of red food coloring to dye the chocolate red. Now, take the hardened bark out of the refrigerator and drizzle the dyed white chocolate onto it. The drizzled chocolate will cool and harden almost immediately.

Now break the bark into multiple pieces of whatever size you would like, plate and enjoy!