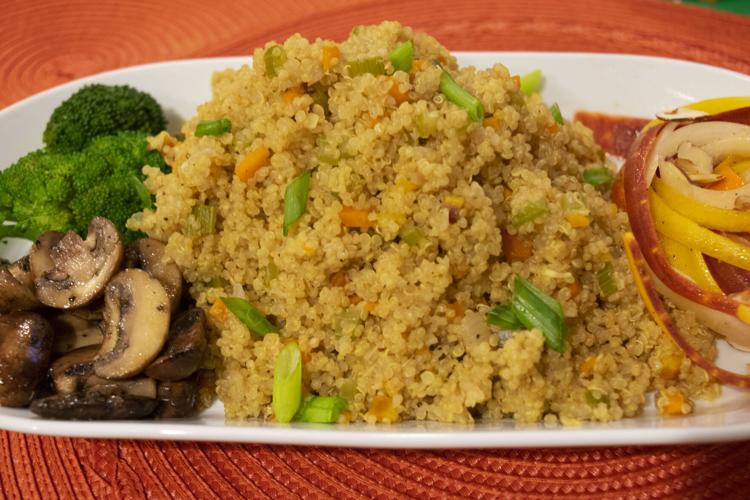 As we step into the fall semester and homework and projects are starting to pile on, making meals daily is not ideal. In light of this time crunch, I wanted to make something inexpensive, warm, savory, flavorful and vegan.
This dish is versatile and can be served alongside many different meals throughout the busy week. Quinoa is one of my favorite protein-packed grains, for every one-cup serving, it holds eight grams of protein. It's also quick and easy to prepare, as well as gluten-free.
A plus to eating quinoa is that in each serving, it provides five grams of fiber and is rich in minerals like phosphorus, potassium and magnesium.
Quinoa also goes well with many spices. It can be prepared like oatmeal for breakfast with a touch of honey, sugar and fresh or dried fruit, or as a savory lunch or dinner with spices and herbs, like cilantro or mushrooms and rosemary.
Quinoa can be made as a side dish or as a main entrée. It has many benefits over brown rice, and it can be used as a substitute for rice in other recipes. It has almost three times more protein and two and a half times more fiber than brown rice.
This grain can be found at any local grocery store, but if you want to experiment with a larger variety than the regular white, red or tri colored quinoa, look to specialty stores for the more exotic variations.
Though this is my take on a savory, vegan quinoa dish you can definitely substitute the vegan options for regular options. My trick for extra flavor is the Vegan Chicken-less Seasoning Salt from Trader Joe's, it's inexpensive at $1.99 and similar to chicken bullion. The seasoning salt adds a depth of flavor without breaking the bank, and can also be used in other dishes like pasta and stews.
Another way to take this recipe and make it your own is by changing the vegetables served with it or simply adding other sources of protein like tofu, fish, shrimp or chicken.
The great thing about this particular quinoa dish is that it only uses one pot, one skillet and one bowl and it's ready in under 20 minutes, which is a sure bet for every student with a busy work week. I really enjoy any dish that keeps me away from an endless amount of dishes at the end of cooking it.
This recipe provides about six, one-cup servings of quinoa, and is sure to provide enough quinoa to last you throughout the week. I serve it alongside a cold and crisp carrot, tomato and almond salad. I also add a side of sauteed mushrooms and steamed broccoli.
Feel free to add whatever side of veggies you like, another favorite is sautéed asparagus and oven roasted Brussel sprouts.
Cooking Time: 18 minutes
Ingredients:
1 tablespoon olive oil
½ cup diced carrots
½ cup diced celery
½ cup diced brown onion
2 medium garlic cloves, minced
2 teaspoons Vegan Chicken-less Seasoning Salt
¼ teaspoon cumin
Salt and pepper to taste
2 cups white quinoa
3 ½ cups water
¼ cup green onion cut on a bias
For the carrot salad:
2 tablespoons olive oil
2 tablespoons white rice wine vinegar
1 teaspoon sugar
Dash of cumin and chili flakes
Salt and pepper to taste
⅛ cup of shaved almonds
1 cup of halved cherry tomatoes
4 cups of shaved carrots
Directions:
Heat your pot on medium-low heat, and add the olive oil, carrots, celery and onion.
Sauté until the onions are translucent, then add the garlic.
Lightly toast the garlic with the vegetables. Be careful to not burn the garlic. This process is very quick, so be sure to not walk away from the stove.
Add the quinoa and water to the pot along with the seasoning salt, cumin, salt and pepper.
Bring the contents to a boil and cover.
Turn down the heat to the lowest setting and let it cook for 18 minutes.
Once the time is up, turn off the heat, take off the lid and fluff with a fork.
At this point you can add the green onion.
It is now ready to serve and eat.
For the carrot salad:
In a mixing bowl, add the olive oil, vinegar, sugar, cumin, chili flakes, salt and pepper.
Whisk together until incorporated.
Add the shaved carrots and tomatoes, cover with a lid or plastic wrap.
Let this marinate in the refrigerator for at least 15 minutes.
Take the bowl out of the refrigerator, uncover and mix in the almonds.
The carrot salad is ready to serve.