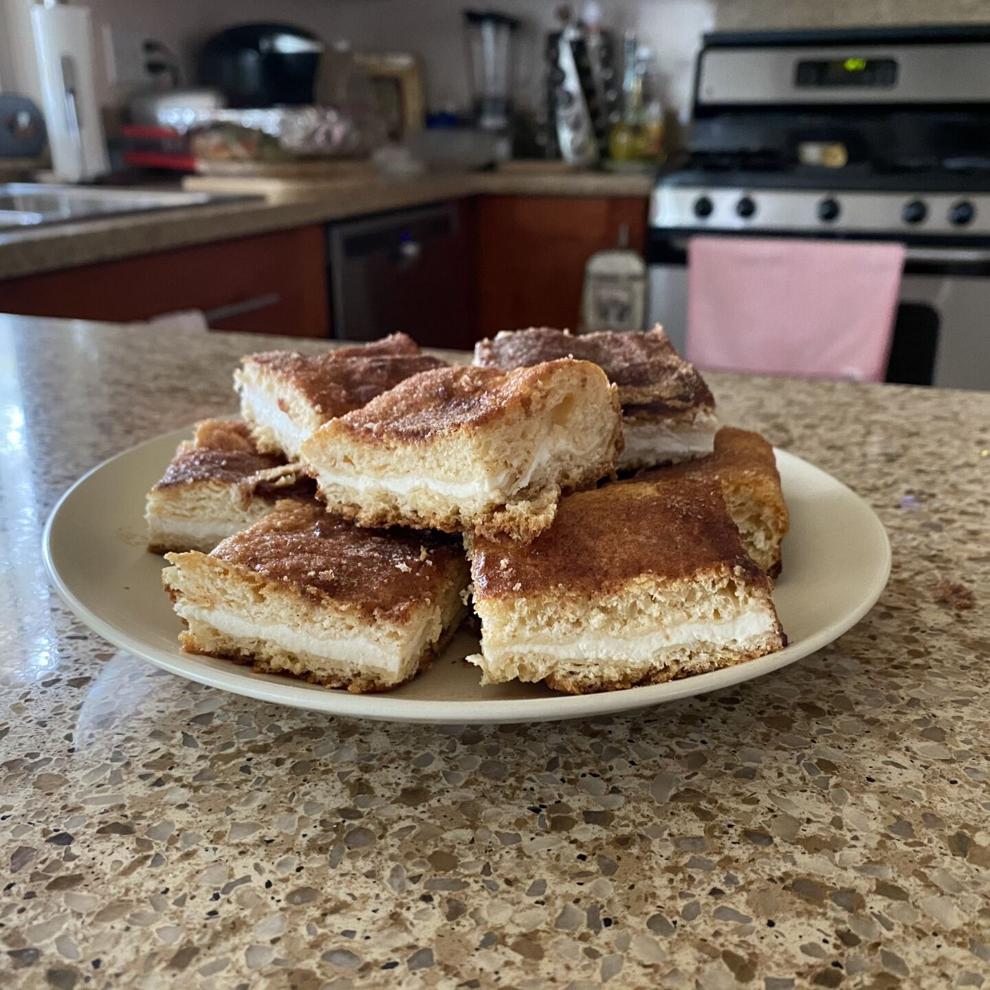 If you're tired of baking the same basic cookies, cake and muffins for birthdays, this recipe is a great way to shake things up in your sweets diet. 
Churro cheesecake bars are a mix between a churro and a cinnamon roll, which makes them the perfect dessert for any occasion as every bite consists of crunchy cinnamon sugar goodness and cheesecake filling in every bite to satisfy your desires. 
This simple and tasty recipe takes around 20 minutes to prepare and 30 minutes to cook, requiring common ingredients that can likely be found in your home. You can either do it on your own or with friends and family. 
You can enjoy this dish either warm or cold, and it's best to use a microwave oven or an air fryer so it keeps its crunchiness after a few days. While the churro cheesecake bar can be eaten as is, you can drizzle some melted chocolate or caramel over it with sliced strawberries for a more five-star restaurant look and taste. You can serve it with a piping cup of hot chocolate, coffee or milk! 
This dish serves about 12 people per batch.
Ingredients:
Cooking spray or butter
½ cup of granulated sugar (brown or white)
2 tablespoons of ground cinnamon 
28 ounces of cream cheese
1 egg
1 teaspoon of vanilla extract 
2 eight count Pillsbury crescent dinner rolls packs or brand of choice
Tools:
9 x 13 inch pan 
Mixer
Small and medium mixing bowl
Measuring cup
A tablespoon 
A teaspoon
A spoon 
Instructions: 
Preheat the oven to 350 degrees Fahrenheit.

Grease your 9 x 13 inch pan with butter or cooking spray.

In a small bowl, mix the granulated sugar and ground cinnamon together. Using half of the cinnamon sugar mixture, start coating the pan by spreading it around evenly to all corners.

Unroll one of the Pillsbury crescent dinner rolls and place it on the pan. Make sure to cover any holes and press to the edges of the pan so nothing seeps over. 

In a large mixing bowl, scoop out the cream cheese, egg and vanilla extract and mix with a hand mixer until it is a smooth cool whip consistency.

Spread the cream cheese mixture onto the pan over the dough. Make sure it is an even layer. 

Unroll the second Pillsbury crescent dinner roll and place it on the pan over the cream cheese mixture. Make sure it is evenly spread out around the edges and there are no holes in the dough or cream cheese seeping out.

Sprinkle the remaining cinnamon sugar mixture on the top layer of the dessert.

Place the pan in the oven for 30 minutes or until golden brown.

Once out of the oven make sure to let it cool for an hour before cutting it into bars. You can place it in the refrigerator for it to cool faster.

(Optional) Drizzle melted chocolate on top with sliced strawberries for a more luxurious look.

Enjoy either warm or cold.
It is recommended to keep it refrigerated, as the dish contains cream cheese. The bars are good to eat for up to three days so enjoy it while it lasts!