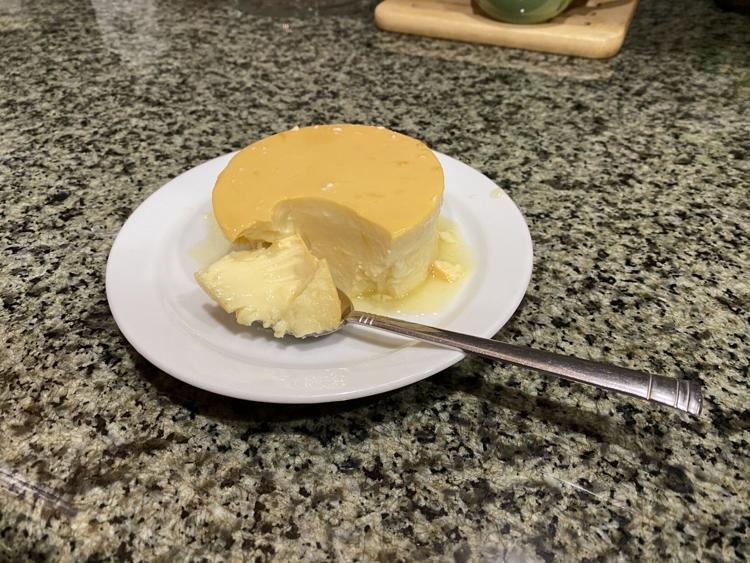 Last weekend, as I sat procrastinating my afternoon on TikTok, I came across @dalatinoteacher's video on how to make a flan in three minutes, which inspired this recipe! 
For anyone unfamiliar with the dessert, flan is a mix between custard and pudding, and it originated in Europe and then consequently spread to Latin America.
What is most interesting about this dessert is that there are different variations, just like cakes. There's the traditional one, usually made of milk, but there's also one made with chocolate, an almond-flavored flan, peach, lime and even pumpkin flan that's perfect for fall lovers. 
Most restaurants serve flan as a dessert, but due to the COVID-19 pandemic and recent restaurant closures, it might be hard to get a hold of one of these delicious desserts unless you make it yourself. 
Whether you're doing homework, watching Netflix, bored or simply looking for something sweet to eat, flan is the perfect snack. It's my favorite, and because I've only ever seen my mom or grandma make it, I wanted to see if I could take on this simple recipe.
However, the comments on TikTok seemed troublesome. Because the creator made it in a mug and failed to mention that the mug had to be heat resistant, many peoples' mugs exploded. 
Others mentioned that it took them up to three tries to get the recipe right, which is what happened to me. 
Fortunately for me, and you, the creator made an updated and better video on how to make this sweet treat. I had to make a few changes to the original recipe, measurements were changed and it took longer than the three minutes, but it came out better and it tasted sweeter than the first try.
Most of the ingredients can be found in your home, and to make this recipe a reality, you'll need a microwave. 
Preparation and cooking time: One hour and 10 minutes
For the caramel:
Ingredients
2 and 1/2 teaspoons of sugar

2 and 1/2 teaspoons of water

Microwave

Refractory or mug
In a small heat-resistant refractory or mug, mix two teaspoons of sugar and two teaspoons of water until all of the sugar is mixed well and there are no clumps. Then place in the microwave for 1 minute and 30 seconds to 2 minutes. Do this in 30-second intervals, starting at one minute. This will help ensure that the mixture doesn't burn and that you get a beautiful golden brown shade.
After the time is up, the mixture should be bubbly. Swirl it around the bottom of the refractory to cover all of the bottom area, and be careful not to burn yourself. 
Leave it aside and let it cool for about five minutes. You can also double or triple these ingredients depending on the size of your refractory or mug. 
For the flan:
1 cup of milk

1 egg

2 1/2 teaspoons of sugar

5 drops of vanilla extract
You can alter the size and amount of ingredients for your refractory or mug. Since I used a slightly bigger one, the only ingredients I altered were the milk, sugar and vanilla extract. 
In another refractory, mix the milk, egg, sugar and vanilla extract. Whisk these until the egg yolk has dissolved. In the video, the creator strains the mixture to pour it onto the refractory with the cooled caramel. I didn't do this, but I made sure almost all of the yolk was mixed in well. 
Place the mixture in the microwave for 1:30-2:30 minutes, using 30-second intervals. This will allow the desert to heat and bubble without spilling over, in case it overflows. 
Finally, let it cool in the refrigerator for about an hour, flip it onto a plate and enjoy!