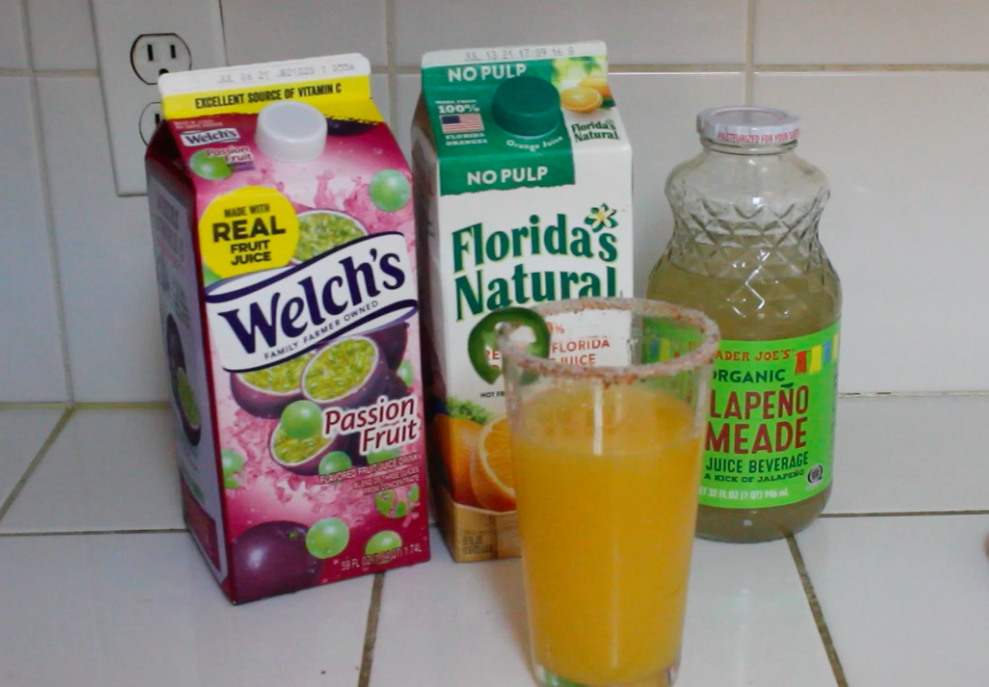 With summer just over the horizon and scorching temperatures starting to hit us, this sweet and spicy drink is just what we need to celebrate the end of another spring semester and welcome the summer solstice. This week, Tuffy's Table will take a trip to the bar with a sweet twist on a drink that can be enjoyed two different ways. 
For adults who are 21 years or older, this drink can be made with tequila for a sweet alcoholic beverage to curb the heat of summer. The cocktail drink consists of jalapeno-infused tequila, passion fruit juice, Trader Joe's jalapeno limeade juice and a squirt of fresh lime in a glass with a rim covered in Tajin and sugar. 
For students who are not old enough to drink, this fruity beverage can still be made into a delicious mocktail that is perfect for cooling down after a long day. To make it as a non-alcoholic mocktail, substitute the tequila with orange juice and add some fresh jalapeno slices for an extra kick of flavor.
Ingredients:
Silver tequila (replace for orange juice if making virgin style)
Welch's passion fruit juice
Trader Joe's jalapeno limeade
2 limes
1-2 jalapenos
1 bottle of Tajin
1 cup of sugar
Instructions:
While it can be hard to find a good jalapeno-infused tequila in store, it is fairly easy to make at home. All you have to do is cut up 1-2 jalapenos and add them to your tequila or orange juice to marinate in for at least 6-10 hours. After doing so, the tequila will have an aroma of jalapenos and a spice down your throat that'll really kick things up a notch.
After preparing your drink, it's time to play bartender and mix everything together. The first thing you'll need to do is wash your hands and wash your produce with lukewarm water. Then, make a seasoning mixture of equal parts Tajin and sugar for your glass' rim. Next, you'll cut a lime in half and rub it onto your glass' rim. When the rim is covered in lime juice, roll the glass' rim into the seasoning until it's completely coated.
Next, add passion fruit juice to a third of your glass. It's okay to eyeball this addition because it doesn't have to be a perfect amount. After that, add a splash of the jalapeno limeade juice to your glass. If you are 21 years or older, add one shot of tequila to your glass and a squeeze of fresh lime juice before stirring together.
If you're not adding a shot of tequila, substitute that step for a splash of orange juice and add the fresh squeeze of lime juice. You can also add slices of jalapeno to your drink and give it a good stir to make it extra spicy.
After completing these steps, you'll have one sweet and spicy beverage that'll be perfect for the summertime and a celebratory drink for a job-well-done after a long spring semester.