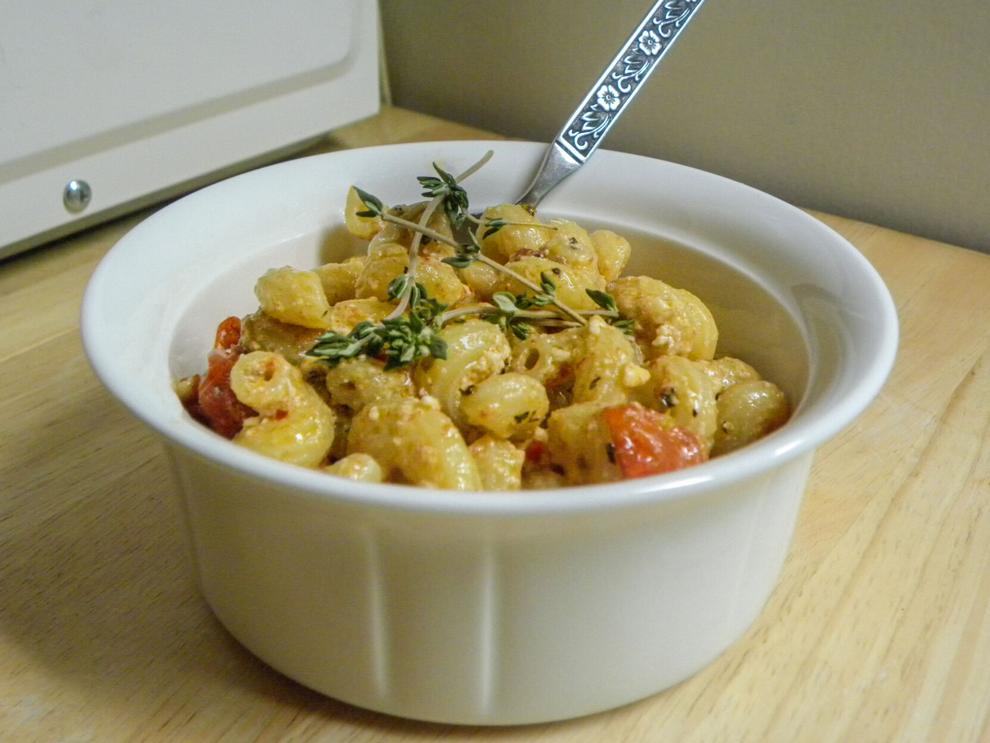 TikTok is home to a wide variety of unique recipes, and plenty of those recipes are quick, easy and cheap for people to recreate. Today, Tuffy's Table is testing out the popular feta recipe that is not only easy to make at home, but can feed a large group of people with ease —  or for someone whose stomach doesn't mind a large helping of pasta.
This recipe can be found easily on TikTok with each video providing a multitude of twists on the pasta dish. The baked feta pasta recipe being used today from Delish, like many others, takes about 40 minutes to prepare, and it uses cavatappi noodles to hold the warm and flavorful fixings of tomato and feta cheese.
Alternatively, this recipe can also be made into a delicious vegan dish by substituting the block of feta cheese for vegan feta cheese.
If you're interested in a completely home-style version of this dish, you can also make your own pasta. Any type of pasta will work effectively with this recipe, so don't be afraid to get creative. The dish itself offers a basic foundation for any creative home cook to play around with interesting flavors.
The dish contains at least 10 ingredients that can be found in major grocery stores, and the process doesn't require much cleanup because it only uses one main baking dish and a large pot for boiling pasta. 
Rest assured, this baked feta pasta is easy to make and contains affordable ingredients that can serve up to four people. Although the feta cheese remains the main ingredient and overtakes a majority of the dish, the small kick from the red pepper flakes, the tang from the cherry tomatoes and the pungent taste of garlic and onion packs a flavorful punch all in one simple recipe.
Equipment:
One medium baking dish (or large ovenproof skillet)
One large pot
Pasta strainer
Kitchen knife
Wooden/plastic spoon
Ingredients:
2 pints of cherry tomatoes
1 shallot
3 cloves of garlic
½ cup extra virgin olive oil
Salt
Crushed red pepper flakes
1 (8 oz.) block feta cheese
3 sprigs thyme
10 oz. cavatappi pasta
Pepper (optional)
Garnish:
Additional sprigs of thyme
Lemon zest (optional)
Basil
Instructions:
1. Preheat the oven to 400 degrees Fahrenheit. Set aside a pot of salted water. 
2. In a medium baking dish, combine the tomatoes, shallot, garlic and ¾ of the olive oil. Season with salt and red pepper flakes, gently toss to combine. 
3. Place the block of feta into the center of the baking dish and drizzle with remaining olive oil. Scatter sprigs of thyme over the tomato mixture. 
4. Place the baking dish into the preheated oven for 40 minutes, or until tomatoes are slightly roasted and feta is slightly golden on top.
5. Set the pot of salted water on medium heat until it comes to a steady boil. Cook pasta according to package instructions. For cavatappi pasta, cook for 8-10 minutes or until the pieces are tender.
6. Remove the baking dish from the oven after 40 minutes. Strain the pasta into a strainer, and add the cooked pasta to the baking dish with feta and tomato mixture.
7. Gently stir the pasta until all of the ingredients are completely combined. Garnish with basil, additional sprigs of thyme and lemon zest if desired before serving.
All of these ingredients can be adjusted based on preference and taste.