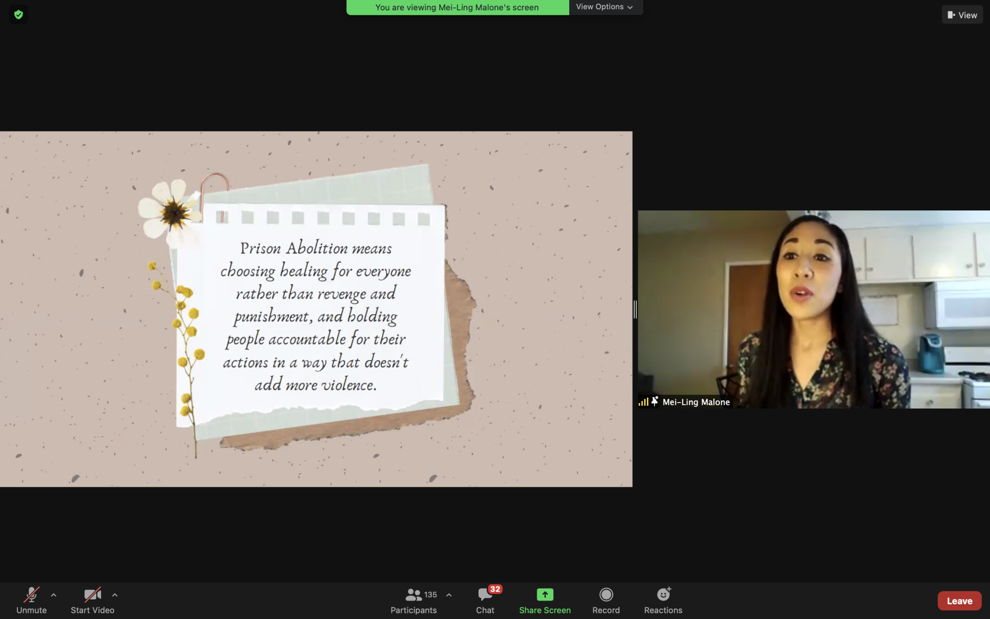 From Black activists in the '70s like Angela Davis to modern nonprofit organizations like the People's Pottery Project, which aids formerly incarcerated individuals, conversations about prison reform have persisted throughout American history. Recently, those conversations have been pushed to the forefront amidst civil unrest. 
While the debate has presence on a national stage, Cal State Fullerton's Diversity Initiatives and Resource Center created a virtual space on Tuesday where students were able to engage in critical conversations about prison abolition.  
"The term abolition was chosen very intentionally to highlight this common thread of race and class oppression that has been and remains central to our American way of life whether we admit it or not," said Mei-Ling Malone, a lecturer in the African American studies department and presenter at the event. 
Malone added that on the surface, the idea centers on creating a world with no prisons. She acknowledged that while some people may perceive this change as radical, she said she could not imagine a better philosophy. 
Prison abolitionists seek to restructure society to focus on everyone's needs and well-being while moving away from structural violence, Malone said. She also said that while the outlook pushes for the removal of prisons, it also calls for an end to capitalism to allow people to thrive rather than survive.  
"Let's restructure society so it's not just the wealthy that can afford all the things we need in life," Malone said. "I believe that farm workers' lives are and were just as precious and worthy as investment makers. I don't believe in the extreme pay disparities on our campus between our custodians and our deans. I think all jobs are important, necessary and have human dignity."
Malone reminded the audience that although they have not seen systems fall in their lifetime, that doesn't mean that it isn't possible. She named slavery, Jim Crow laws and a time when wives were their husbands' property as legitimate eras in history that ended.  
"There has been life before prisons. There will be life after prisons. My only hope is that our future society will implement a better system and not simply a different system that enacts the same destructive and oppressive harn that we practice now," she said. 
Ileana Lugo, a member of the Students for Quality Education group, expanded on Malone's presentation as she said that most criminalized behaviors are need-based because of the inaccessibility to resources and services. 
Lugo said that despite the prison system's initial intentions as a rehabilitation center, these buildings are used to institutionalize people without proper resources, like medical attention, while profiting off of the population. 
She said that the practice of abolition requires community effort and that it's a difficult system to terminate because it's such a normalized process. 
"We can't just one day wake up and be like 'OK you know what we're going to cancel this.' This is a long-term program and it's going to require folks to be able to challenge these ideologies. We can no longer be passive bystanders," Lugo said.  
She said that an effective way to move towards transformative justice, a political framework that centers nonviolent responses to violence, is to be compassionate within our own lives. To do collective work, it begins with the individual, Lugo said. 
CSUF President Fram Virjee, an attendee at the meeting, reiterated Lugo's words as he chimed into the discussion via chat. He said that it was essential to disregard labels and focus on the common good in order to better the lives of others. 
"Focusing on love, humanity, community and caring for each other will eventually breakdown the ideas of individual-focused advantage," Virjee said.