Understanding other people's perspectives is the goal of Cal State Fullerton's Office of Diversity, Inclusion, and Equity Programs' course called "THEIR," which was held virtually on Nov. 10.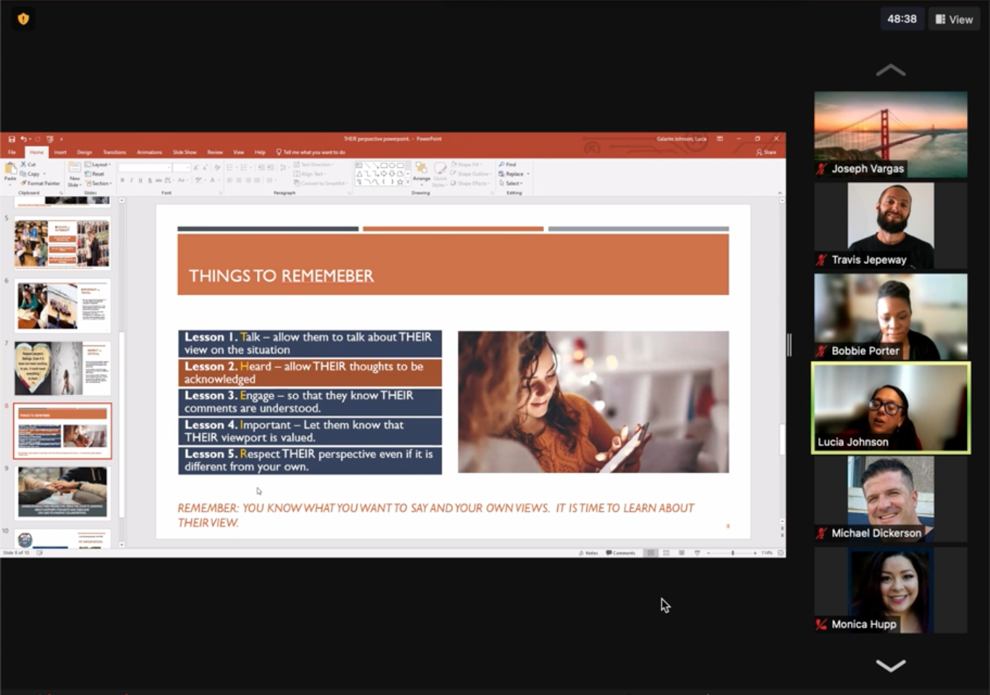 A big part of what the office wants to accomplish with its workshops and training is to help the CSUF community find ways to interact better with one another. "THEIR" is an acronym that stands for key points in the course: "Talk vs. lecturing," "Heard vs. ignored," "Engage vs. interrupt," "Important vs. trivial" and "Respect vs. critical."
The message of "Talk vs. lecturing" was to proactively listen when another other person is talking. It is a reminder to not lecture someone when the objective is to have a conversation or communicate. It is also a reminder to notice if the other person is talking and asking open ended questions to get them talking. The main focus was to learn other people's  perspectives since you already know yours. 
"Heard vs. ignored" is about trying to hear what the other person is saying, so they know that you are listening to what they are saying. It is a reminder to make sure that you are giving the other person your undivided attention and not ignoring them or what they have to say. 
"Engage vs. interrupt" is a reminder to engage the other person and ask for advice. This is especially important for students, as well as individuals in the workforce, who are working in a group setting. Some people are very vocal and others are more timid and quiet, so it is important to make sure that everyone is being engaged and given the opportunity to vocalize their perspective.
"Important vs. trivial" is about making sure that the person talking not only feels like their viewpoint is important, but they also know that their viewpoint isn't being dismissed. It is a reminder to not act in a way that might make the speaker feel like their perspective or ideas are trivial.
"Respect vs. critical" serves as a final reminder to be sure to give the speaker respect and let them know that their thoughts actually mean something. It's a reminder to be respectful to opinions that are different from your own. To be sure to not talk at someone but talk to them instead. And most importantly, it is a reminder to not try to solve their problems for them but to give them the space and allow them to sort it out themselves.
The course is a part of the Inclusion Champion Certificate Program and is a conflict resolution course. The purpose of the course is to create better communication between individuals to create more understanding and less conflict.
"I think when we approach a dialogue trying to appreciate the perspective of another person then we approach the table with a bit more of a respectful perspective trying to understand," said Lucia Galante Johnson, a conflict resolution manager on campus. 
The message behind the course was clear from the start — to listen to others' perspectives. 
"If we take time to listen to the other person we can learn their perspective," Johnson said. "The more we learn about another's viewpoint, the more that we have the opportunity to not only learn but to grow and to come, maybe, to a better understanding as we partake in dialogue."
Johnson said she is currently putting on two to three of these courses per month. She will also be instructing a program called CLEAR, which stands for create, listen, engage, agreement and resolve. It will be focused on digging deeper and providing scenarios so students have the opportunity to use the tools and play with them in the scenario settings.
"We all don't necessarily have to agree, but if we allow a place where we each can share our perspective, we might get to a place that has a different understanding," Johnson said.
The courses are currently advertised online through the newsletter for the Office of Diversity, Inclusion, and Equity Programs. Johnson said they welcome any students or faculty with more questions regarding the courses and her individual coaching to email her at LuJohnson@fullerton.edu or by phone at 657-278-3704, extension 3704.