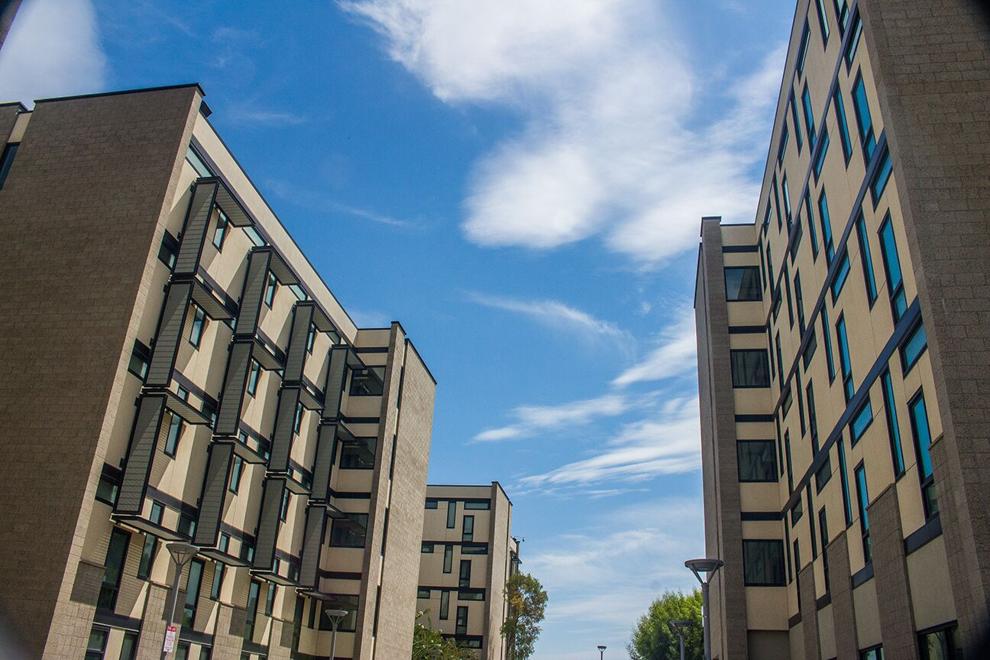 Living on campus is always a new experience for freshman or transfer students, but this year, students express how they feel post-quarantine. Cal State Fullerton students returned to campus life this fall — 18 months after schools shut down. Residents were able to move in during the week of Aug. 16. 
According to the Housing and Residential Engagement website, for the 2021-22 academic year, on campus living is at 80-90% capacity. Last semester, the Housing and Residential Engagement allowed fewer than 300 students to live on campus and was only made available for those in need of on campus housing. 
Many students this fall semester are dorming for the very first time. Kaliyah Washington, a  first-year computer science major, said that living on campus feels different as a first-year student this semester. 
"Being a first year, I'm not used to being on campus or anything like this but it is refreshing to be at school and be around people," Washington said. 
Washington also said that the COVID-19 has changed her views about on campus life because she does not want to get sick. 
"It's made me more cautious about everything because I'm really scared about catching COVID and having to quarantine," Washington said. 
First-year Stephanie Arreola, who is also new to campus, held similar feelings and now has a different outlook on living on campus post-pandemic.
"This is my first year on campus, so I'm not really sure how the other years went, but I do get nervous sometimes because I don't know who has COVID or who doesn't," Arreola said. 
Larry Martin, executive director for Housing and Residential Engagement and the Titan Experience, said they follow local and state COVID-19 guidelines by routinely cleaning and sanitizing community areas and restrooms in the residence halls. 
There are also new requirements when it comes to campus dorming this semester.
"The community is cleaned daily, also during the week all common areas in the residence halls and the common areas in the apartments, the Gastronome continues to be cleaned and sanitized daily and in between meal periods to ensure that folks are safe," Martin said. 
Morgan Feng, a second-year public health major, said she believes COVID-19 restrictions should continue to be enforced for students living on campus. 
"Obviously with the pandemic and everything like that, everyone should be safe and wearing a mask," Feng said. "I think how everything is going on right now, it's not that hard to put on a mask and stay six-feet away from everyone."
Feng went on to say that she did not expect to be back on campus because of the COVID-19 pandemic.
"The college experience right now is something that I kinda didn't really expect to happen right now especially with COVID and the precautions and the masks," Feng said. 
Students looking to dorm are required to upload their vaccination card through the CSUF portal or get an approved exemption from Health Services. Students are also required to wear a mask when indoors. However, students do not have to wear a mask when they are in an outdoor open area. 
"We're working with (the) student health center and the Dean of Students office for folks who haven't approved the exemption to the vaccination requirement," Martin said. Folks are required to complete weekly testing. So we will be working with the health center and the Dean of Students to follow up with residents to ensure they are meeting that requirement,"
With the COVID-19 still present, students have expressed concerns about living on campus. Some students say they are stressed because they do not want to contract the virus from other students. 
"I'm originally from the Bay area and I've been recently thinking about if I ever catch COVID, I would have to move back, so it's stressful to think about," Washington said. 
Although some students are feeling stressed about the virus, some feel safe about living on campus because of the precautions Housing and Residential Engagement are taking in order to make sure that the residents are always in safe environments. 
"I think how everything is going on right now, it's pretty good and they're keeping everyone safe which I appreciate," Feng said.
For unvaccinated students, they are still required to get mandatory weekly COVID-19 testing in order to live on campus this academic year. 
"So, for any resident who is hard of following the vaccination requirement and Presidential Directive 22 or part of our COVID related protocols for the community. . .would go through the residential conduct process," Martin said.