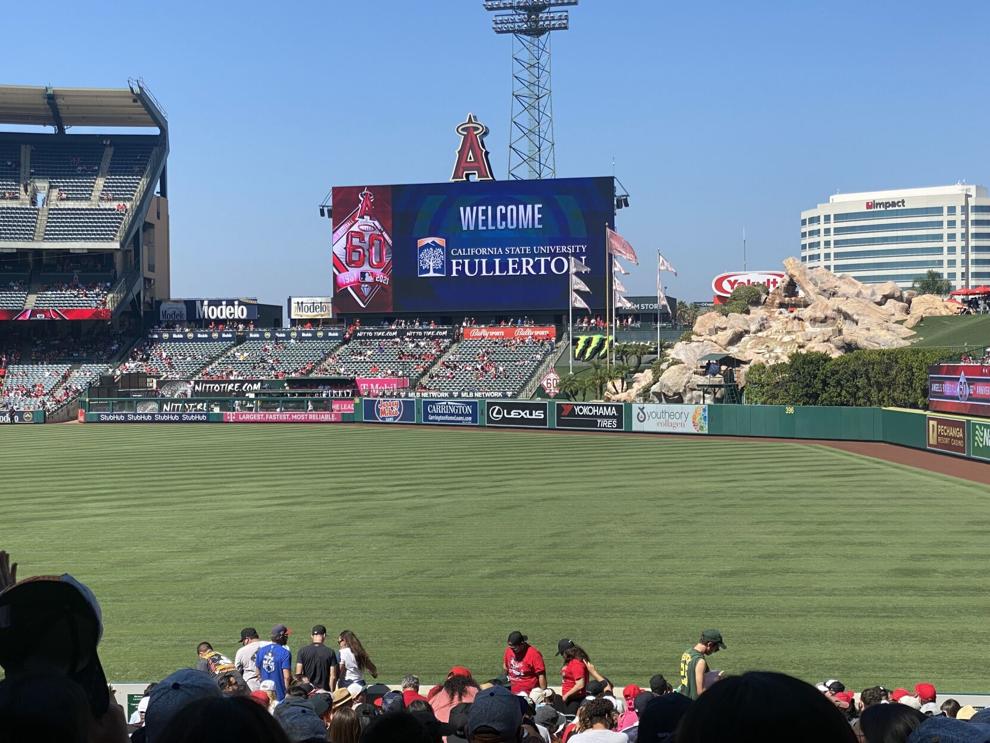 Cal State Fullerton Night at Angel Stadium returned with a large turnout of over 1500 Titans in attendance. 
Attendees were able to purchase tickets along the right field seating for $25 each if they purchased through a certain link and entered a code. There was also a CSUF-themed Angels hat giveaway for the people who bought tickets through the link. 
CSUF Night has been taking place at Angel Stadium since 2015, in addition to other CSUF events with the Los Angeles Dodgers and the Anaheim Ducks. Those who arrived early were greeted with drawstring bags from CSUF alumni. There were also photo opportunities with Tuffy the Titan, who was sporting the hat. 
Jessica Rowland, the program specialist for the alumni engagement department, said events like these can take anywhere from six to 12 of planning, depending on the size.
"We started planning actually back in 2019, and we were going to do the 2020 Angels day," Rowland said. "But we've been in constant contact with the Angels for over a year now and we've already started planning for next year's event and we're going to be doing one as well."  
Associated Students Inc. was also in attendance, promoting the student government. 
During the game, there was a special graphic saying "Welcome California State University Fullerton." There was also a special tribute to alumnus Alexander Ortega, who received his master's degree from CSUF and is currently a U.S. Army Sergeant. A number of his accolades were then read, including an Army Achievement Medal and an Army Good Conduct Medal. Ortega received a standing ovation from the CSUF section. 
As for the game itself, there was a lot of buzz surrounding Shohei Ohtani, the Angels' starting pitcher in this game and hitting second in the lineup. 
Taylor Cross, a liberal studies major, was one of the many who could not wait to see him. 
"I love Ohtani. I'm excited to see him pitch. I've never seen him pitch before so that'll be fun," Cross said. 
Although it was unsure if he would even pitch again this season after his start on Friday got scratched due to a sore arm, Ohtani eventually convinced manager Joe Maddon that he could still pitch. 
He certainly gave all of the Titans a performance worth the price of admission, pitching eight innings and striking out ten batters. He allowed two runs on five hits and three walks. At the plate he went 0-2 with a couple walks, one being intentional. 
For the Oakland Athletics, it was former Titan Matt Chapman putting on a show. Chapman played for CSUF from 2012-14. He was a First Team All-American in his junior season, leading to the A's taking him with the 25th overall pick of that year's draft. 
On Sunday, Chapman ripped a double and a home run off Ohtani, while making a few nice plays on defense. The Angels were able to tie it in the ninth inning with a Jose Rojas RBI-single, followed by a throwing error by Seth Brown. This forced the game into extra innings, where Jed Lowrie's sacrifice fly was enough for the A's to sweep the Angels. 
Although there wasn't much offense, there were still plenty of thrills for Titans to enjoy at CSUF Night. They got to see their fellow students, take pictures with Tuffy, receive CSUF-themed Angels hat and see the biggest star in baseball pitch and hit. Not bad for a Sunday afternoon.