Cal State Fullerton's Division of Student Affairs kicked off the National First-Generation College Student Week with a celebration to honor the pursuit of higher education for people of minority and low-income backgrounds on Nov. 8 at the Becker Amphitheater.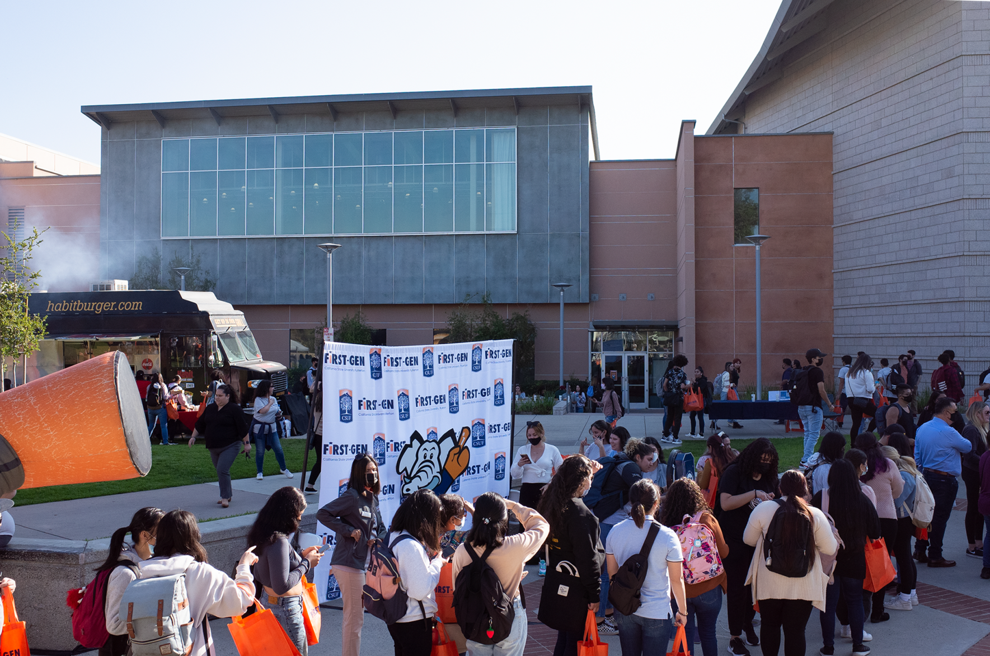 The event was held from 1 p.m. to 3 p.m., featured free food from The Habit Burger Grill, gave students an opportunity to receive a free graduation stole and meet other first-generation students, faculty and those whose parents do not have a degree from a four-year university in the United States.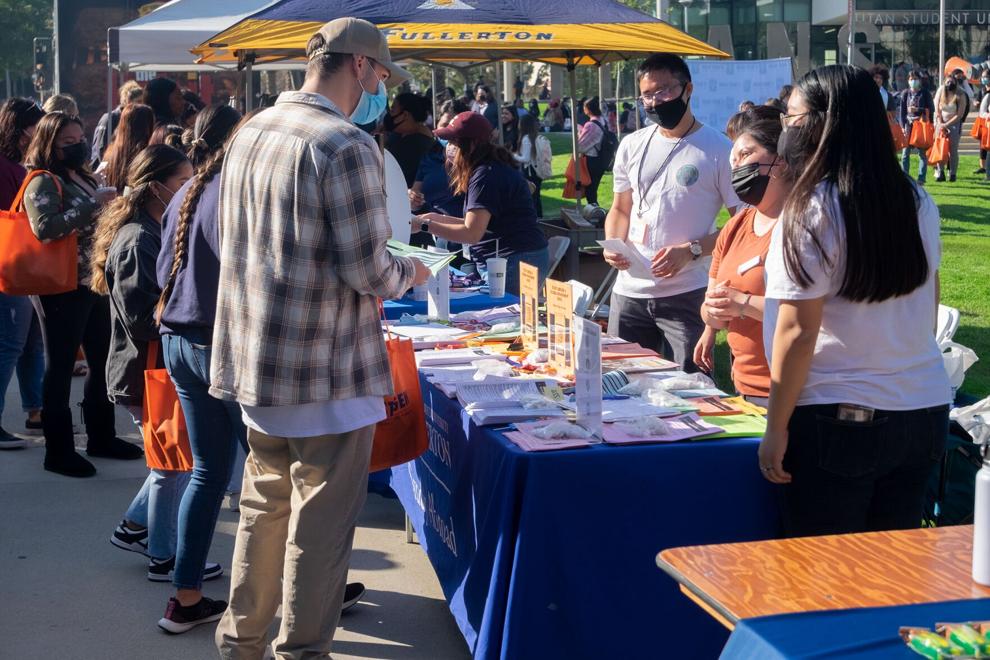 With an estimated 1,000 students participating in the event committee planner, Julianna Hernandez, the assistant director to the vice president of student affairs, said she had goosebumps when she saw the amount of students that attended the celebration. Hernandez said she believes it is important to recognize the pressure that is specific to first-generation students.
"There's that sense of responsibility that they have to know how to navigate things on their own," Hernandez said. "I know when I was a student I felt nervous about seeking help and asking for help because I didn't want others to assume I didn't know what I was doing."
This sentiment largely inspired other events that will take place during the National First-Generation College Student Week, including workshops that will present information on navigating CSUF as a first-generation student and paying for graduate school.
With over 30% of CSUF students identifying as first-generation, it is important for students to understand that it is a part of their identity they should embrace and celebrate, Hernandez said. 
While the event was intended to acknowledge these students, some found themselves thinking of their family and the sense of pride in meeting and exceeding familial expectations.
Jadelynn Ung, a first-generation third-year sociology student, said she feels a specific desire to carry her father's legacy. 
"Me being that person that finishes school I think will give my grandparents clarification that my dad, even though he didn't finish school, he was a good example and he was that person to me, still, that pushed me to be successful," Ung said. 
The event also built a sense of community for Ung, as the Becker Amphitheater filled with students with a shared identity. 
"Coming out and seeing all these cool people with different types of experiences, but also can relate to you is really awesome," Ung said. 
With roughly 70% of CSUF first-generation students being Hispanic, some students also find themselves wanting to break out of molds they feel are present in Latinx communities.
Dianne Arredondo, third-year business major, said she feels it is important to set an example for her siblings and cousins so they know that they can also seek and pursue a college education. 
"I feel that sometimes in Latinx communities, or in Hispanic communities, education isn't really important to them, it's mostly working and getting by," Arredondo said.
Chris Martinez, who is also a business major, said he appreciates the sacrifices his parents had to make from the challenges they faced coming to the United States and feels that the role of a first-generation student gave him the opportunity to make his parents proud. 
"It does have a lot of pressure to it, but it does make me happy seeing that I am able to achieve not only just my dreams, but also my parents' dreams," Martinez said. "It's something they always wanted to do but they chose that sacrifice for me instead."
For Martinez, the recognition of first-generation students' efforts was a significant part of the event, he said.
"I feel like a lot of us get recognized for something that some people may see as minor, but for all of us, it's a lot of pressure and a lot of weight on our shoulders," Martinez said. "I feel like most of us could relate, but having some small little event, whether it be free food or small little booths that give out snacks, it's the little things that make a big difference."