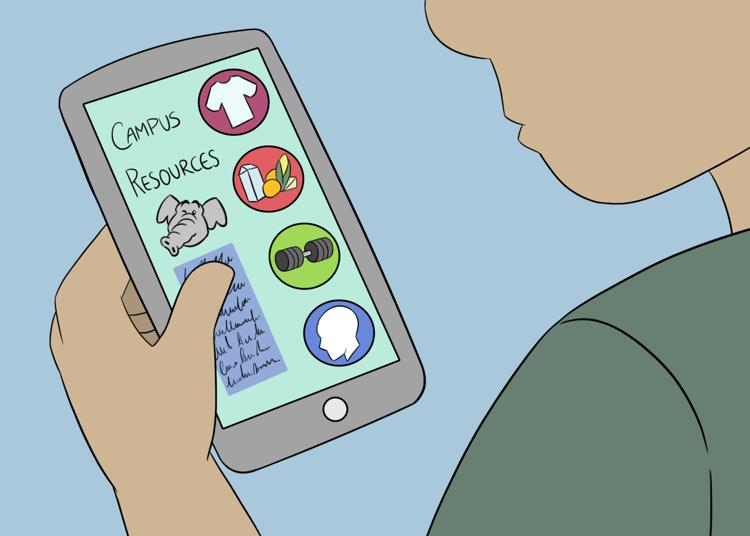 Tuition costs were not lowered for the fall semester despite classes being virtual. However, students are not just paying for boring Zoom lectures and awkward breakout room discussions. Cal State Fullerton's tuition fees include access to many resources.
Whether you are a new student or not, it can be challenging to know what resources are available and how they have adapted to an online atmosphere. To help ease your experience, here are six resources to take advantage of for the virtual semester.
Counseling and Psychological Services
The Counseling and Psychological Services, also known as CAPS, can be a great way to handle stress or anxiety caused by virtual learning or the COVID-19 pandemic. Counselors work with students to help them navigate college, improve coping methods, strengthen relationships, recover from trauma and explore their personal journey.
Students have access to individual, group and couples counseling, as well as psychiatric services, referrals, crisis intervention and mental health workshops. CAPS services are now offered via Zoom from 9 a.m. to 5 p.m. Monday to Friday.
"CAPS is here to listen, to be supportive, and to help you process your grief, trauma, anger and any other type of reaction or emotion that you might be experiencing," according to the CAPS website.
Students can call (657) 278-3040 to schedule a Zoom appointment with a professional therapist.
TitanWell
TitanWell works to promote healthy choices and behaviors through counseling, presentations, outreach and peer-to-peer education.
Shireen Ady, a health educator at TitanWell, said they are focused on educating students about nutrition, alcohol, drugs, marijauna and sexual health. Ady said the program is making an effort to inform students through their Instagram page. On the page, students can access a variety of content including "Tasty Tuesdays" which promotes recipes for students to try.
Since going virtual, TitanWell does weekly Zoom meetings about various topics for students, Ady said. TitanWell is also starting several new series about different topics that will be posted on its YouTube channel and Instagram page. Students can still receive free condoms by filling out a request form. They can also make one-on-one appointments with health educators and registered dieticians through Zoom.
"Our job is to be here for the students and that's what we strive to do," Ady said.
Titan Recreation
Although the Student Recreation Center is physically closed, students still have access to online resources to stay active. The recreation center offers free virtual fitness classes that vary from pre-recorded and live sessions on Zoom. Nothing can beat the experience of working out at the recreation center, but online fitness classes can be a great way to stay motivated.
For those interested in gaming, you can join an esports league and win prizes. Leagues consist of a three-week season and a one-week playoff. Other opportunities from the center can be found on its Instagram page.
Tuffy's Basic Needs Service Center
The pandemic has impacted many students at CSUF who are struggling financially. Tuffy's Basic Needs Services Center recognizes the challenges students are facing and provides necessary resources, so students can continue to focus on their education.
Students in need of food assistance can complete an online form. For access to hygiene products, students can visit the Student Health and Counseling Center from 9 a.m. to 1 p.m. Monday through Friday.
Other forms of assistance include temporary housing, emergency financial support and Tuffy's Career Closet which offers used professional attire for job and internship interviews.
Diversity and Inclusion Resource Centers
If you're hoping to find a strong sense of community based on your ethic background or identity, Diversity and Inclusion Resource Centers, also known as DIRC, has you covered. There are currently five centers for students to access which include: the African American, the Asian Pacific American, the Latinx community, the LGBT Queer and the Titan Dreamers resource centers.
DIRC coordinator Nate Nguyen said they are offering about 100 online workshops and activities for students this semester. Each center has its own Instagram page where students can stay updated about upcoming events and learn how to access resources.
"DIRC, in the physical space or the virtual space, is really a home away from home for many students," Nguyen said. "Even though students are technically physically at home, it's important for them to find a community of other people like themselves."
Normally students would be able to enter each of the centers and hangout with friends however these rooms are now temporarily closed. Nguyen said that the DIRC will implement online hangouts to maintain a strong sense of community.
"We acknowledge that it's not the same," Nguyen said. "Manys students are Zoom fatigued, they're tired of being on Zoom for so long, but we acknowledge these are the spaces we do have and we want to encourage people to utilize them,"
Career Center
You can also make an appointment at the Career Center to receive help on resumes, job searches, graduate school and you can gain experience with mock interviews.
Director Elizabeth Zavala-Acevez spoke on an Instagram live stream on Friday to discuss the center. Zalava-Acavez encouraged students to take advantage of the opportunities CSUF offers. She said that it's important to start thinking about what students want after college whether it's a career or graduate school.
"The Career Center helps you identify your strengths, your abilities, your interests and helps you figure that out." Zalava-Acavez said. "What are the things you're most passionate about? What particularly majors might be a good fit or what potential careers might be a good fit for what you're trying to pursue? And then let's work backwards. How are you going to get there?"
Students may be facing an unusual semester of virtual learning, but these resources are available to help reduce the strain of classes. Don't be afraid to reach out to the many resources that your tuition covers.