Ever wondered what it's like to go viral overnight? Ashley Rabanal, a freshman liberal studies major at Cal State Fullerton, gained 400K TikTok followers overnight.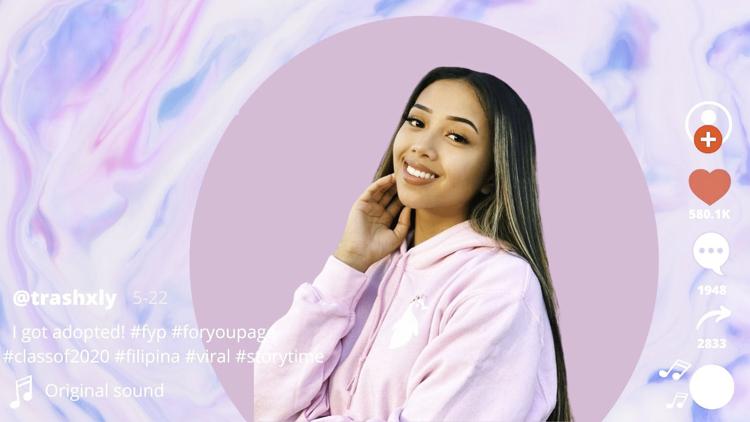 Rabanal was only 17 years old when she made her first viral video about her "adoption" process. The video follows the popular trend of sending gifts to high school seniors whose graduations were affected by COVID-19, a process known as "adopting". The now-viral video was posted on May 2 and has almost 2 million views and 580K likes. 
"It's a crazy concept because thousands of people are watching me every single day and I'm just so young," Rabanal said.
Rabanal said she already had a following of 20K followers in January, but her account was deleted, which led her to create her current TikTok account, trashxly. 
She began creating lists of content ideas and started to post regularly, accumulating 100K followers within a few months. 
"It takes a lot of work," she said. "I don't know how I manage it, but it just turns out good at the end of the day."
Since many of her followers are children, Rabanal said she is mindful about what she posts beforehand, so that she can be a good role model. 
With the constant growth of followers, Rabanal started to receive a handful of brand deals on TikTok and Instagram, and eventually created a name for herself. Brands such as The Coldest Water Bottle, Penguyen Apparel and Lash and Love pay her to endorse them, while other brands exchange free products for a shout-out. 
Once she turns 18 this October, Rabanal will be able to receive another source of income straight from TikTok's Creator Fund. 
Rabanal and her sister share an Etsy shop, making them co-owners of their Filipino owned jewelry company, Mahal Ko, which is Tagalog for "my love". She also receives profits from her shared jewelry shop that are used for her school expenses because she does not receive a lot of financial aid. 
"Every single jewelry [item], that's handmade, hand-packaged," she said. "I want to put the love that I have in the jewelry and make sure that you have it as well."
The shop was launched in August and has sold nine items within the first two weeks, not including dual purchases. Rabanal has not advertised her Etsy shop on TikTok but plans to do so since it's another way to promote her shop. 
"I always wanted to start my own business, because my mom would tell me stories of how she had her own business back in the Philippines," she said. "So that was my motivation of starting on my own and especially with COVID happening." 
Rabanal said a huge inspiration for her was binge-watching YouTube videos of people starting up their business, giving her the mindset that if they can do it, she can too. 
Since Rabanal has done her fair share of research and is still experiencing her social media fame, she shared a piece of advice. 
"Just think of posting as every single day is a new opportunity," she said. "Don't be afraid to put out content on the internet that you love and enjoy doing."
Rabanal's goal for her shop is to ship to every state in the country because she currently only does domestic shipping. As for social media, she hopes to continue posting, and if something happens to TikTok, she said she would move to the app, Thriller or use Instagram's new content format, Reels.