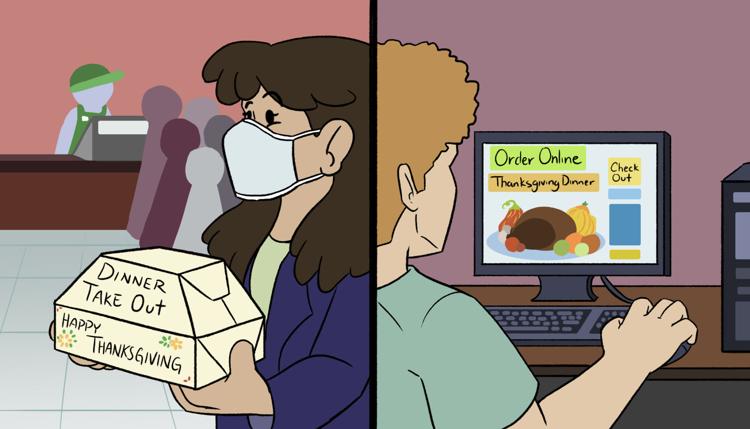 A pandemic and historic election later, it's finally time to ring in the Thanksgiving season! With everything that's going on in the world right now, the last thing people need this year is added anxiety about preparing Thanksgiving dinner.
This guide to Thanksgiving dinner will help hosts prepare the best table for friends and family. Whether hosts want to hit the store for ingredients, order a perfect meal online or carry out a simple dinner from a restaurant, this list will ensure that even with the weight of the outside world, this year's Thanksgiving celebration will be filled with love, gratitude and most importantly, amazing food.
Restaurants
Buca di Beppo
Website: https://www.bucadibeppo.com/thanksgiving/ 
It might seem untraditional to order Thanksgiving dinner from an Italian restaurant, but for a year that has been anything but traditional, this feels like a fitting option. 
Buca di Beppo's Thanksgiving Dinner includes sliced white meat turkey, homestyle gravy, roasted garlic mashed potatoes, spicy Italian sausage stuffing, green beans, Ocean Spray cranberry sauce and pumpkin pie. For a smaller group, it is suggested to opt for the lighter feast which serves three people for $68.99. If the table is a little bigger, pick up the large size which feeds six people for $138.00. 
Orders can be placed online, and pickup options include meals that are hot and ready to serve or cold and ready to heat. The website allows customers to set a scheduled pick-up time, and there are pick-up options available on Thanksgiving day.
The closest locations to Cal State Fullerton are: 1609 E Imperial Hwy, Brea, CA 92821, and 11757 Harbor Blvd, Garden Grove, CA 92840.
Mrs. Knott's Chicken Dinner Restaurant
Website: https://www.knotts.com/play/drinks-dining/mrs-knotts-chicken-dinner-restaurant 
For a more expensive staple of Orange County life, stop by Knott's Berry Farm to pick up a turkey or ham take-home dinner complete with the perfect pie for dessert. Orders can be placed online, and customers can choose pick-up times from Nov. 25-27. 
The meal costs $145, and season passholders will save an additional 10%. 
Order Pickup: East Lot near Soak City Waterpark. Enter in the East Lot directly from Stanton Ave. between La Palma Ave and Maple Dr.
BJ's
Website: https://www.bjsrestaurants.com/holidaydinners 
It turns out that BJ's has much more to offer than just delicious pizookies and mouth-watering entrees! This season, BJ's has guests covered. The website offers a variety of holiday dinners that serve 10-12 people with prices ranging from $129.95 to $199.95. Guests have a choice between slow-roasted turkey and prime rib, and the meal is completed with a choice of two sides and garlic knots.
Meals take 2-3 hours to heat, and orders must be placed four days in advance. Pick up is available now until Dec. 31.
The closest locations to CSUF are 460 The City Drive S., Orange, CA 92868, and 4585 Chino Hills Pkwy, Chino Hills, CA 91709.
Grocery Stores
Trader Joe's
Website: https://www.traderjoes.com/ 
For a more hands-on approach, consider hitting the grocery store for all the essential Turkey Day needs. Trader Joe's is here to save Thanksgiving and eliminate the stress of poring through piles of ads. The store released its "Fearless Flyer" ad online entitled "Thanksgiving — November 2020." 
The ad features the store's best deals on frozen foods, grocery items and snacks. So consider ditching the grocery list and letting Trader Joe's help with the best feast dishes it has to offer. 
The closest locations to CSUF are 19655 Yorba Linda Blvd., Yorba Linda, CA 92886, 2500 E Imperial Hwy., Brea, CA 92821 and 1198 Irvine Blvd., Tustin, CA 92780.
Albertsons
Website: https://www.albertsons.com/ 
Albertsons has a variety of Thanksgiving goods that are bound to be on any holiday shopping list. If the turkey tradition seems outdated, Albertsons offers ribeye roast, rosemary pork loin and lamb leg as substitutes for the famous turkey dish. For easy shopping, consider ordering items online and picking them up in-store. 
For hosts who want a fully prepared meal, the store also offers three holiday meals, each with its own sides and a different main meat dish. The Homestyle Turkey Dinner feeds 6-8 people and costs $59.99; for the same price, the Spiral Ham Dinner serves 8-10 people. The Prime Rib Dinner costs $79.99 and feeds 5-6 people.  Keep in mind that each meal needs to be heated for 2-3 hours before dinner time, so make sure to plan the day accordingly. 
The closest locations to CSUF are 2291 W Malvern Ave, Fullerton, CA 92833, 1930 N Placentia Ave, Fullerton, CA 92831 and 810 S State College Blvd, Anaheim, CA 92806.
Whole Foods
Website: https://www.wholefoodsmarket.com/ 
For those in search of natural and organic food, Whole Foods is the perfect Thanksgiving haven. This store is open for online orders, and its easy-to-navigate front page provides access to deals on main dishes. The website allows customers to customize their dinner with a graphic that shows a Thanksgiving feast and plus signs by each dish so customers can add them to their cart. 
Whole Foods shoppers can also order their food through Amazon and Amazon Prime members will receive extra deals on certain items.
The closest location to CSUF is 3301 E Imperial Hwy., Brea, CA 92823.
Whether this Thanksgiving involves hitting the grocery store for some fresh ingredients or finding the perfect take-home dinner from a restaurant, may this guide be the first step towards a stress-free holiday celebration.