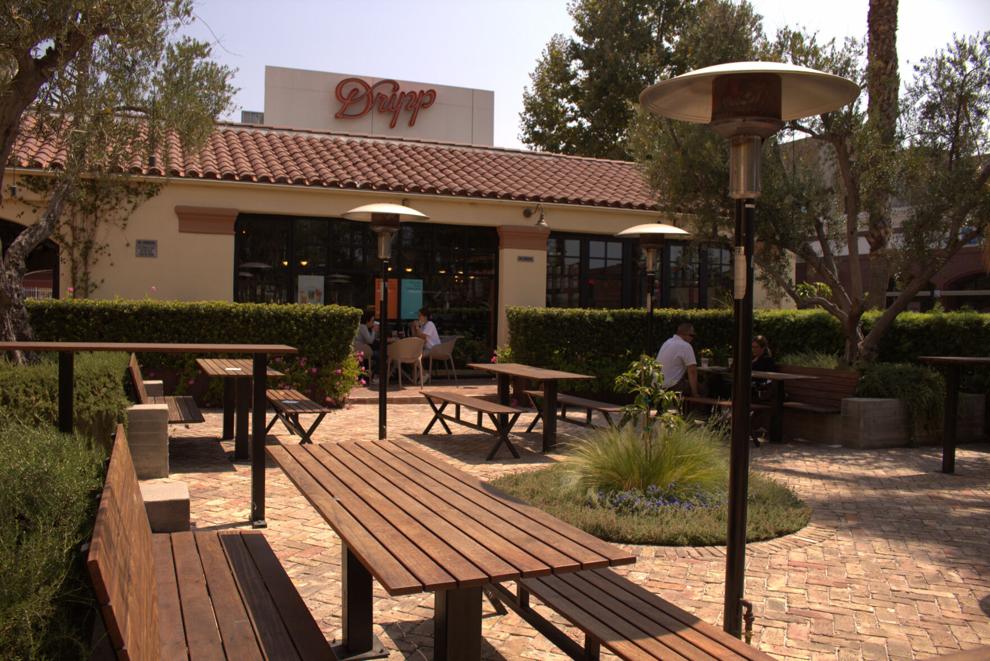 It's that time of the year where students return to class and flock to local coffee shops in search for the best place to study, hangout with friends and relax after classes. Among the myriad of places to choose from, here are four to try, all right in Downtown Fullerton.
Dripp
The Dripp menu features a wide variety of espresso options including specialty lattes, teas, coffees and unique "cofftails." 
Kendall Deaton, a business student at Biola University, drives 15 minutes to study at Dripp where she never strays from the reliable iced vanilla latte. Deaton added that she likes the modern appeal of the shop, the inviting atmosphere and how parking is usually easily available. 
"I can spend four hours here if I have the time," Deaton said.
First time visitor Reynee Small, a second-year psychology student at Irvine Valley College, likes the laid-back environment of the coffee shop. She said that coffee shops in her local area are always packed and feel rushed. 
Small, accompanied by Nadim Gobran, a second-year psychology student at Santiago Canyon College, said they will definitely be back to try more coffee and enjoy the urban decor when they are in the area.  
Play Coffee
Play Coffee offers a menu that highlights different roasters from around the world. The shop offers only a few options that constantly change, in order to keep the coffee fresh and showcase different flavors. 
Play Coffee owner Leon Wansikehian said, "If you visit us here in the morning or at night you'll probably be drinking a different coffee from a different roaster, from a different country." 
Wansikehian wanted to create a playful space for a unique coffee experience. He added that he picked shipping containers to create the shop because they fit in the oddly shaped area available for the shop. Wansikehian said that the duality of the layout and unique roasting experience draws people to Play Coffee. 
"Whether you come in here to study or to catch a break from studying you can find both in the same space," Wansikehian said. 
Barista Ashley Papa loved the coffee shop so much that she wanted to learn more about coffee and wanted to work there. The retro aesthetic and ability to choose your own vibe brought her back to Play Coffee as part of her daily routine. Papa added that her favorite drink is the espresso tonic, which is a double shot of espresso sweetened with brown sugar simple syrup atop sparkling water.
Pilgrim's Coffeehouse
Pilgrim's Coffeehouse provides the Downtown Fullerton community with Golden State Coffee Roasters beans, located near Placentia, California. Not only does this coffee shop have the usual coffee and tea offerings, but it also features small-batch kombucha that is brewed locally. 
Owner and CSUF alumnus Jeff Tomes envisioned his shop as a place for people to come and interact with each other.
"People can come and hopefully not always have their earbuds in studying, but actually talking," Tomes said. 
Tomes said his coffee shop offers a meaningful experience, in addition to the welcoming and friendly atmosphere. Tomes added that the eventual vision for Pilgrim's Coffeehouse is a combination coffee shop and bookstore. 
The Night Owl
The Night Owl caters to the artistic part of every patron. Although it offers a menu of coffees, teas and pastries, the real highlight is the live music and art it features on a regular basis. The Night Owl hosts music and new artist showcases, poetry open mics and music open mics. 
Barista and former CSUF student Danielle Lister said The Night Owl was always her go to study spot. She added that the local place feels like home and that it was the only place she could focus on doing work as a student. According to Lister, students frequent the coffee shop because of the welcoming environment. 
"You can just listen to music and kind of like take in the ambience and look up and have a conversation and then everyone will let you kind of study again," Lister said.
Lister describes the coffee shop as a balance of hipster and old school. 
Nimet Erenler, a current University of California, Riverside senior global studies major, visits The Night Owl at least a couple times a week during the school semester. She likes the comfortable environment and the fact that there is an option of indoor and outdoor seating. Erenler added that the coffee shop is serene, welcoming and cozy. She started visiting the coffee shop in high school and has been a loyal customer ever since. 
Downtown Fullerton offers many different coffee experiences from warm and cozy, to fun and playful, to meaningful and friendly. It's modern and urban, which is perfect for any occasion.