The music was blasting and spectators were commentings were typed as drag queens performed for a virtual crowd Wednesday night as part of an event for National Coming Out Week.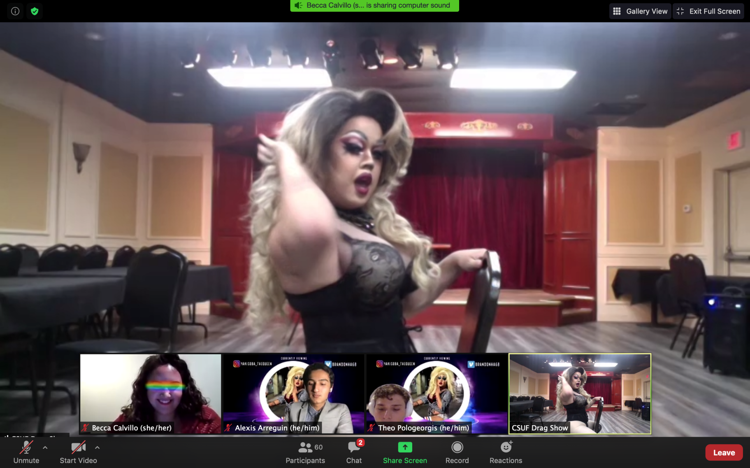 The show was organized through a Zoom meeting by the CSUF LGBTQ Resource Center in cooperation with the CSUF Housing and Residential Engagement, it featured a brief history of drag as an art form which was followed by the main event of performers in full drag dancing and lip syncing to popular songs.
The event was hosted by CSUF alumni and drag performer Alessandra Divine, who said through an Instagram direct message that performing brings back memories and also enjoys putting on a show for students.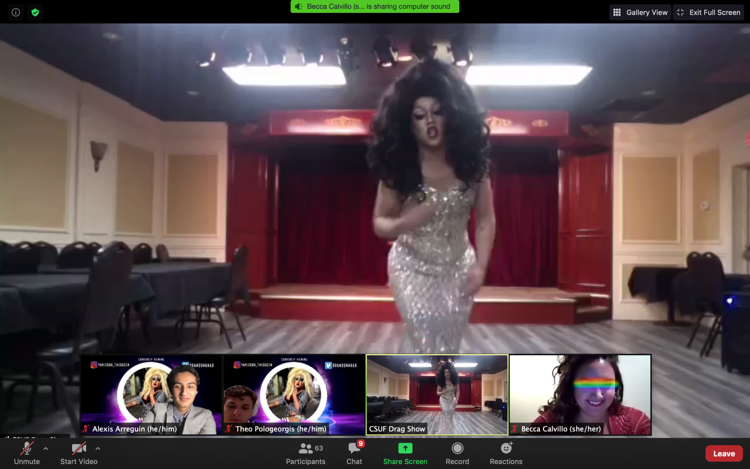 "I do this specific show because it brings back memories of my undergrad. All the students always have so much fun at the shows and I have a blast doing it," said Divine. "Drag has become more mainstream on media and it is good to bring it to the youth live and in person."
Among the virtual crowd waswere CSUF students including Music Education major Monserrat Rodriguez, who said through the chat room that gatherings like this really bring together the community and are a safe space for people to be themselves.
"I wanted to attend because I wanted a sense of community and really miss seeing everyone doing their thing," said Rodriguez. "It makes me happy that people are able to be themselves in a social (virtual) gathering/environment like this and have a good time."
The pandemic has put a stopper on a great many things, but it hasn't stopped the community's willingness to come out and show support for the performers. For Criminal Justice major Jen Anguiano, this was her fourth year coming out to watch the performers, even ifthough it was held virtually this year.
"This will be my fourth year in a row that I have come out to support these amazing performers," said Anguiano through the Zoom chatroom. "It's a safe space full of fun and glam. Definitely a great time for everyone in the housing community."
As the night progressed the chatZoom chat room was flooded with positive comments directed at the drag performers, everything from "I am living for her outfit" to multiple uses of the phrase "yesssssss" were used to reassure positivity among the virtual crowd.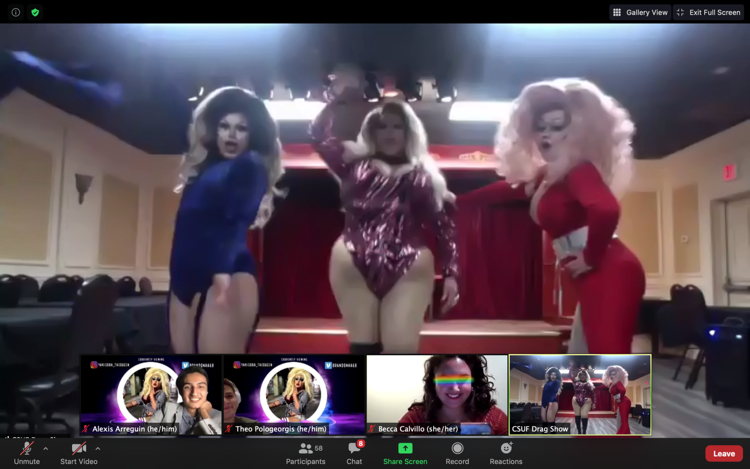 Drag performer Yakisoba Michaels, however, knows there are those who spread hate about these communities and believes that hatred is due to a lack of exposure among other groups. Michaels said through an Instragram private message that these events are very important because it allows for people to get acquainted with drag and not see it as an awful thing.
"I think events like this are important because it provides exposure to people who have not really seen a drag queen, to experience them and get used to them,' said Michaels. "I believe hatred is formed from intolerance due to lack of exposure because at the end of the day on these college campuses, education grows tolerance which reduces hate which allows us to really create a more beautiful world."
Michaels's ideas were also shared by fellow drag performer Aubrey Summers Divinem, arguing that drag is very creative and as it becomes more of a mainstream art form, it will allow newer generations to express themselves differently.
"I love the creative side of drag, creating new characters and playing dress up for a couple hours. It literally transforms you into another person. It's such an amazing feeling and rush when you are performing and people love the character you created," said Divine. "Drag in general has been around for so many years it's just now becoming so mainstream that it allows newer generations a way to express their creativity and art."
One of the most important aspects of this show is the sense of community it brings for both the LGBTQ community and its supporters, as well as the idea of creativity and being comfortable with yourself. The show closed with a group performance with all the drag queens on screen as viewers took to the chat room one last time to leave positive comments.
Host Alessandra Divine reaffirmed that drag is an important art form and anyone can do it.
"Drag is art and everyone can do it, and everyone should at least once in their life. it is a great way to express yourself and show off another side of you that you don't get to live every day," said Divine.