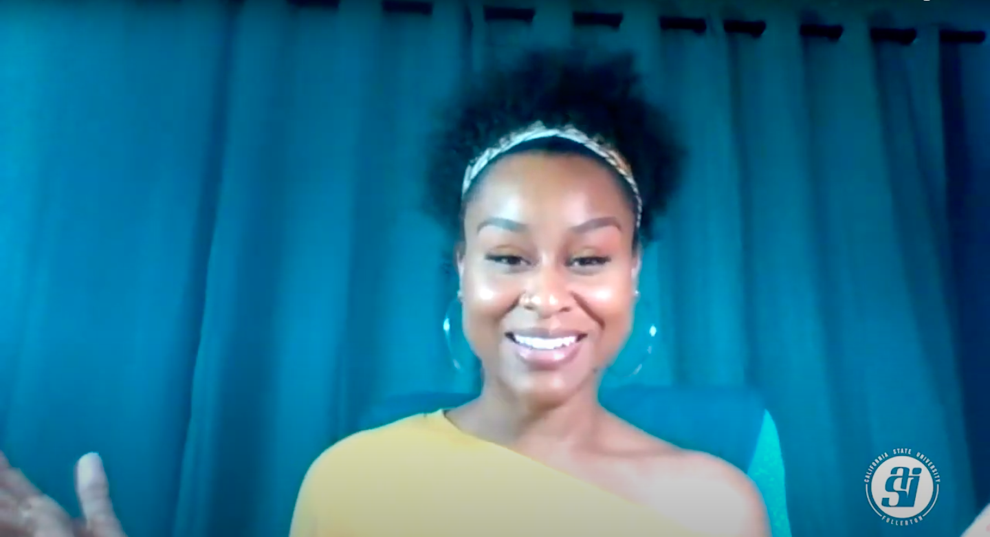 There might not have been claps from the audience, lights to capture the ambiance of creative energy or students filling the Underground Pub, but the Associated Students' Drop the Mic night succeeded in preserving the vibrancy of spoken word poetry even with the change to a virtual environment. 
ASI invited Kyla Jenée Lacey, a renowned spoken word poet, to perform on Feb. 17. in honor of Black History Month. Premiering on ASI's Youtube channel, students sat back and allowed Lacey's melodic voice to carry them through complex themes of beauty, racism, white privilege and feminism. 
Lacey opened the event with an anecdote about her hair, which inspired her to write the first poem of the night: "Curlfriends."  The fluidity of her voice and the added flare of attitude made the poem stand out with each line. 
"Please know that my curls are unapologetically Black," Lacey said. "They're activists. They're not pretty for Black curls. They're not team dark or light skin. They don't care about colorism." 
Positive comments filled the Youtube chat box as Lacey explained how her past experiences influenced her next poem. Growing up in Seminole County, Florida, Lacey said she was affected by the murder of Trayvon Martin in 2012 and the environmental struggle to protect black bears in the county during hunting season. 
Lacey's second poem drew a parallel between these moments as she told viewers, "Black boys are not protected in Seminole County, but black bears are." 
Lacey's third soliloquy tackled an issue widely discussed in relation to racism in this country — white privilege. Despite receiving negative feedback after posting the poem, aptly titled "White Privilege," Lacey said that people should be able to talk about issues of oppression without feeling like it's a personal attack. 
"You learned our nothing. You called us 'stupid.' That's white privilege, and I'm sure it probably hurts for you to hear those two words, kind of like gunshots and explosions," Lacey said. "What is white privilege? It's the acceptance of bombs over Baghdad, but not over Boston. It is European history being taught as a major and African as an elective. It is learning about my people only 28 days like I'm not Black every single second."
In light of Black History month, Lacey took a moment to acknowledge how people often misuse civil rights activist Dr. Martin Luther King's ideals in current conversations about race. Her poem "Martin's Nightmare" condemns people who try to speak for King while conveniently forgetting crucial details about his story. 
"There's something about the way white people gentrify Martin Luther King speeches by pretending to be moved by them, then try to move out people who live on streets named after him," Lacey said. "Or the way they regurgitate his words to be spit back at the very people they were spoken for."
Toward the end of her set, Lacey indulged viewers with insights into feminism and the complex situations that women deal with on a daily basis. After reading a Facebook post about a man who was offended because another man hit on him, Lacey wrote "The MANual." 
This satirical piece acts as a guide for people who want to avoid being hit on by a stranger. The poem may be addressed to "the straight man who complained about being hit on by another man," but the real audience is women as Lacey describes a list of precautions that women are told to stay safe. She includes warnings like "don't show too much leg," "don't smile, even when they tell you to" and "don't have an opinion." 
Though Lacey smiled and laughed through the piece to achieve a deeply sarcastic tone, the truth behind her words was not only excruciatingly clear, but distressing and morbid, as her commentary about how women are encouraged to act for the sake of safety was not far from reality. 
The night ended with the connection between racism and sexism. Lacey's final poem engaged in a set of conversations that showcased the racist comments she hears as a Black person and the sexist comments she hears as a woman. Her verses captured the complexity of race and sex as the night ended with a strong message about intersectionality. 
"Being a Black woman is like standing in the middle of an intersection where racism and sexism collide. Boom," Lacey said.