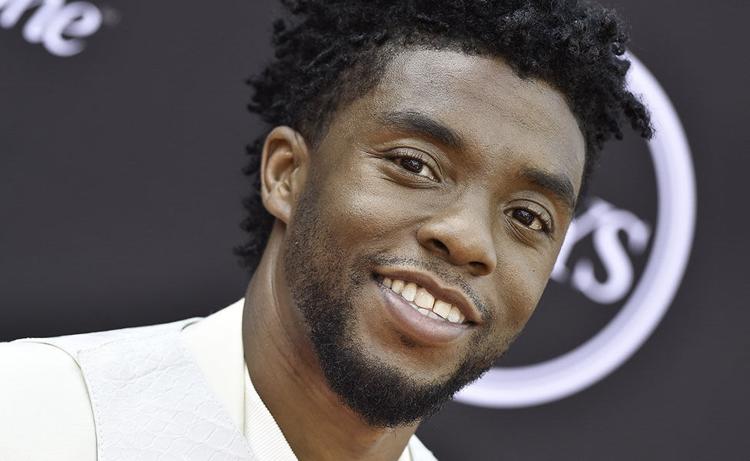 A few weeks ago, actor Chadwick Boseman died of colon cancer at the age of 43.
Boseman had been battling his illness privately since 2016, but his diagnosis was unknown to the general public until his death. In the wake of his passing, fans are mourning Boseman, who broke ground as the first Black superhero in film and other iconic Black figures in American history.
Amber Lambert, a recent Cal State Fullerton graduate and former Black Student Union president, said she was at her boyfriend's house when she heard the news of Boseman's death.
"I just remember feeling an overwhelming sense of just sadness that I haven't felt since finding out Kobe died," Lambert said.
Lambert recalled watching "42" with the Black Student Union and being impressed by Boseman's performance as Jackie Robinson, the first Black baseball player to integrate into Major League Baseball.
At first, it surprised Lambert to see how many movies Boseman completed in such a short period and to see him work with established people in the industry like Vivica A. Fox and Spike Lee, she said.
But upon his death, the rapid creative output made more sense.
"Why did he do so much? He did a lifetime's worth of roles in 12 years, and once he died, I was like OK, this had to happen,'" Lambert said.
Zion Pham, a CSUF student and co-founder of the recently formed CSUF Theatre Artists Union for Student Equity and Diversity was especially impacted by Boseman's death as an actor himself with a background in theatre.
"It really felt like… this safety net under me was taken away because he's always been sort of someone that I've looked up to," Pham said.
Neither Pham nor Lambert anticipated how popular Boseman would become when they first started following his career.
"Really, once I saw him on the screen, like I knew that he was going to make an impact, no matter how big or how small, because like it felt really powerful to me at the very least," Pham said.
Since Boseman's death, there has been some debate about whether Marvel should replace the actor playing Black Panther for the planned upcoming sequel, considering how his turn at the role was so impactful.
"I truly feel like the only way to stay true to the comic, but also honor him would be to have his little sister be the Black Panther," Lambert said.
Other Marvel characters have had at least three movies of their own, so it is conceivable that the Black Panther series could move forward in this manner, Lambert said.
There have been reports that this may be the route the studio chooses.
"Any reboots, anything outside of that, in my opinion is just poor taste," Lambert said.
Pham echoed this sentiment, comparing Boseman's legacy in that role to Hugh Jackman's longtime role as Wolverine, another Marvel character.
"I feel Chadwick is of the same magnitude; he was Black Panther. And I feel that not for at least another 20-30 years, could someone play that role again, or could it be rebooted with another actor," Pham said.
Though it was his first role as the central character, "Black Panther" was not the first Marvel movie that Chadwick Boseman has been in. He also played the role in "Avengers: Infinity War," "Avengers: Endgame" and "Captain America: Civil War."
In honor of Chadwick Boseman, Marvel will dedicate the new film to him at the end. There will be a memorial service in Hollywood for him and a statue of him built in his hometown.