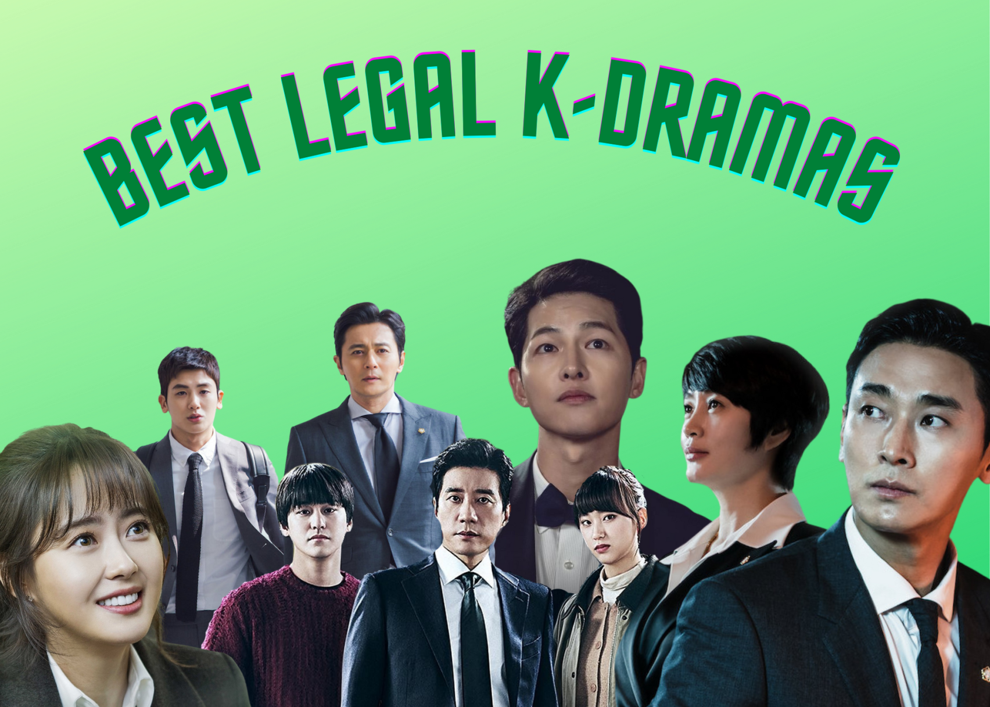 There's something about pursuing justice that is extremely captivating — especially when those fighting for it are whip-smart lawyers, prosecutors and judges played by celebrities in smart suits and flowing robes tailor-made to perfection. 
Legal dramas are brilliantly-written shows, and there's more heart to them than meets the eye. With the rise of K-dramas and K-movies on streaming platforms, here is a list compiling some of the best legal K-dramas available to watch online. 
They include gripping courtroom sequences, heart-stopping murder attempts and they give the audience something of irrefutable value — a group of people coming together for the common good. 
"Law School" (2021)
Slick, stylish and elegantly nail-biting, "Law School" takes viewers deep into the intricacies of an unusual murder case and the lives of those involved in the investigation. The authorities are quick to implicate Yang Joong Hoon, played by Kim Myung-min, an eccentric prosecutor-turned-professor, and several of his criminal law students. 
The show maintains a great balance between the murder investigation and the students' daily struggles. Some have bigger issues on their plate than others, but each character is given their dues. It's entertaining to see them grapple with Yang's tough-as-nails Socratic method – hence the nickname "Yang-crates," and inspiring to journey with them as they grow into law professionals dedicated to contribute meaningfully to society.
Now streaming on Netflix. 
"Vincenzo" (2021)
Top Hallyu star Song Joong-ki plays the titular character Vincenzo Cassano, a Korean-Italian lawyer and mafia adviser. After his adoptive father passes away, Vincenzo travels to his homeland, Korea, to collect a stash of gold he helped smuggle and hide underneath a run-down plaza building. 
Trouble comes in the form of Babel Group, when a real estate company under its conglomerate acquires ownership of the building. This wildly entertaining series has no shortage of big moments. From the best supporting cast to the world's most persistent pigeon, from exciting courtroom clashes to out-of-this-world heists, Vincenzo leaves no stone unturned and no loose ends untied.
Now streaming on Netflix.
"Hyena" (2020)
This courtroom drama casts the spotlight on legal professionals who work only for the top 1% of society. Kim Hye-su plays Jung Geum Ja, a ruthless firebrand not concerned with crossing the boundaries between law and lawlessness, and moral high ground and corruption to get what she wants. On the other hand, Yoon Hee Jae, played by Ju Ji-Hoon, is an elite lawyer with a prestigious background, who is confident in his abilities to work within the system. 
The rivalry between the two takes center stage, and because they are morally ambiguous, it's always a guessing game for the audience as to which side the two characters are actually on. Their encounters are laced with sexual tension rather than intimate moments, which also makes it a different perspective on the romance front.
Now streaming on Netflix. 
"Miss Hammurabi" (2018)
Written by Moon Yoo-seok, the chief judge of Seoul Eastern District Court, "Miss Hammurabi" is a legal drama that follows the lives of three judges in the 44th Civil Affairs Department and the disputes they have to settle. Rookie Park Cha Oh Reum, played by Go Ara, is enthusiastic and idealistic, never one to compromise her morals. Elite judge Im Ba Reun, played by Kim Myung-Soo, is a by-the-book type and a stickler for the rules. Guiding them is Sung Dong-il who plays the character Han Se-sang, a wise chief judge with a wealth of experience and an understanding of the harsh realities of life. 
The show presents a closer look on how the judicial system functions and how power corrupts people. The judges, who are often portrayed as all-knowing, are made more human in the series. The audience will see them struggling to weigh options to be able to reach fair and just verdicts, which is not often given much thought in typical dramas.
You can watch it on Viki. 
"Suits (Syucheu)" (2018)
Adapted from the highly rated American legal drama of the same name, the Korean version of "Suits" combines the best elements of the original with ideas that are very much its own. Park Hyung-Sik plays Go Yeon-woo, a down-on-his-luck rookie lawyer gifted with a photographic memory. By sheer force of luck, he winds up at a hotel where top lawyer, Choi Kang-suk, played by Jang Dong-Gun, is conducting interviews for a new associate for his firm. The series follows them taking on cases together and things escalate when work matters start hitting a little too close to home for the main characters. 
Now streaming on Netflix.