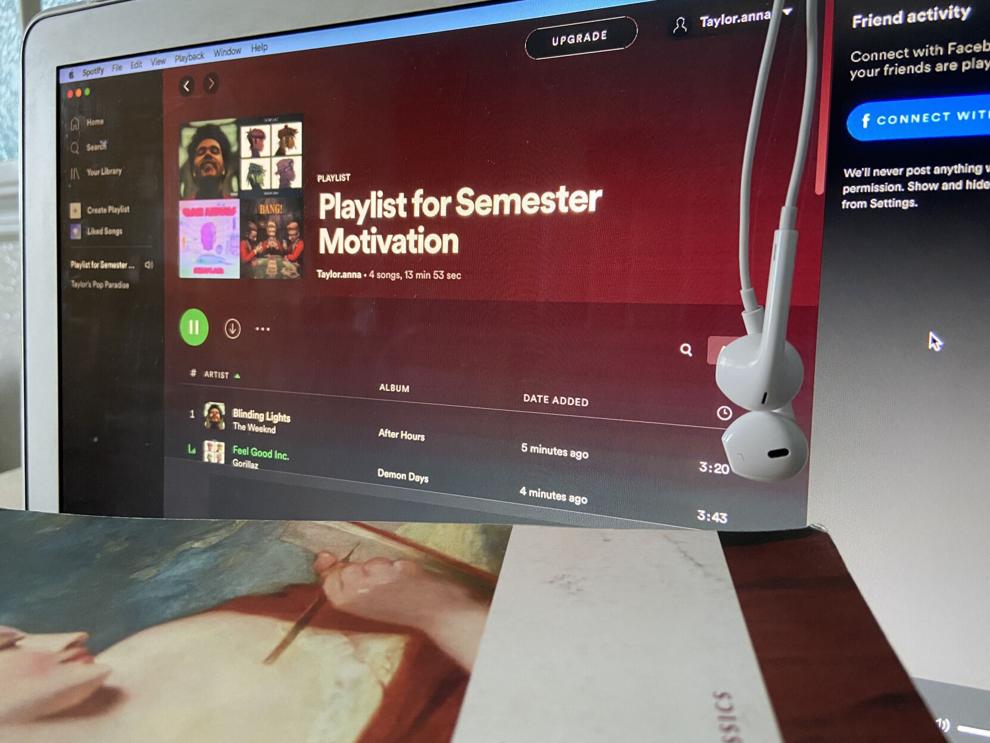 As an unsteady virtual semester slowly and steadily comes to a halt, students are winding down into the welcoming arms of final exams, grueling term papers and the excitement of graduation. Morale is low, but here's a playlist that will help to keep you motivated throughout the last few weeks of the spring semester. 
The road ahead is tough, but hopefully these songs will provide a moment of peace, and some extra inspiration to help you through your rigorous courses.
Here are five great songs for your semester-end study session.
1."Blinding Lights" by The Weeknd
This 2020 synthwave and R&B song not only supplies a mood-boosting rhythm, but is a track that can be played on night drives to nowhere — or to escape a few late-night study sessions. Blinding Lights was also part of the Top 10 of the Billboard Hot 100 list in 2020, making it an ideal modern synthwave track.
Although the song has a romantic message, geared toward the loss of love, this song's synthetic approach brings an opportunistic beat that can pull any student from a study slump, or serve as a pep-like boost before starting that dreadful term paper.
2. "Feel Good Inc." by Gorillaz
The Gorillaz are an underrated band, but "Feel Good Inc." from their "Demon Days" album, was a hit among many. The track provides a unique yet odd lyrical masterpiece that strings together acoustics, synthesizers and drums hidden within the tune. The song itself provides a near feel good jam that can get you pumped and ready to conquer any academic obstacle.
The song itself has a small inkling of a dark atmosphere while promoting adrenaline and excitement. The unique aspects to the song itself are the visuals. 2D animation is often used in all of Gorillaz music videos, crafting a thoughtful experience for students who want to take a temporary break from their end-of-semester stresses.
3. "Heat Waves" by Glass Animals
As a part of their "Dreamland album", Glass Animals produced a sweet indie jam with a smooth blend of lyrical artistry alongside a thin line of melancholy emotions. "Heat Waves" not only provides a sense of relatable comfort, but a tune that will sway and swoon. The song is tied to a tale of disappointing romance, a doomed end to a fragile relationship.
While it's simple, it provides a modern twist that can motivate a listener to conquer any problem they may be facing. A mix of bass, tambourine, percussion and keyboard creates the perfect atmosphere for a long study day.
4. "Bang!" by AJR
Released in February 2020, this upbeat track prompts a positive boost of energy like no other. Students can find themselves immersed in modern pop melody, taking listeners through AJR's journey by making references to previous tracks. The song acts as a collage of prior music while promoting growth and a positive atmosphere. Additionally, the track provides an emotional boost before an exam, with heavy piano and vocal backings. 
While this song, like many others on this list, is a relatively new release, it aims to promote more inspirational energy.
5. "I'm Still Standing" by Elton John
A pop rock classic by Elton John, this track manages to create an overwhelming sense of stability. The theme centers around hardship, and how obstacles can be conquered. Ideal for the struggling student trying to make it through to the end, this song develops motivation to push through, and see to it that goals can be achieved, even when knocked down.
Five songs isn't enough for hours of studying and preparing for the end of the semester, but hopefully these songs can provide support and motivation to last the approaching weeks — a final stretch before a long break. Remember to look ahead, enjoy your breaks while you can, and do your best to finish the semester strong.