In the midst of the COVID-19 pandemic and halfway through the virtual fall semester, things may seem overwhelming. Something that may help in these times of uncertainty is going outside. Whether it be for a walk, a jog or a quick drive around the city, it's important to take a mental break and use nature as an escape from the stresses of everyday life.
Orange County is full of outdoor spots that you can visit if you need to unwind. Out of the many locations, here are five of the most notable places you can go to relax and take a much deserved break.
Hillcrest Park: Fullerton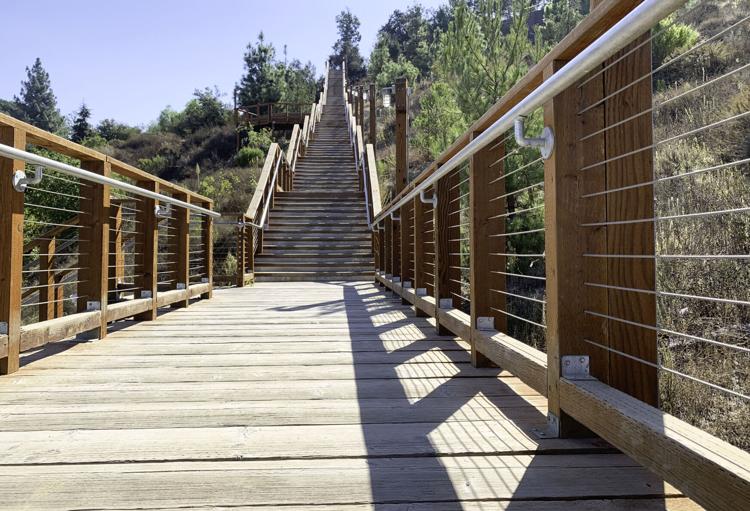 With an acreage of about 37.8, Hillcrest Park is a beautiful place to wander around when you need a breather. This scenic park is quiet and offers plenty of picnic tables and a new fountain to admire. The park is most known for its various wide staircases that are perfect for exercise. The Hillcrest Stairs were added to the park in 2017 as part of a 1.6 million dollar project to connect the expansive Hillcrest Park to Lions Field, a popular sports field. For athletes, it's worth challenging yourself to do a few sets up and down those stairs.
What makes Hillcrest ideal for an outdoor break is how spacious and peaceful it is with the calming sounds of birds chirping and trees rustling. You might see a lot of people there in the mornings, but it's a massive park, which is ideal for social distancing.
Ralph B. Clark Regional Park: Fullerton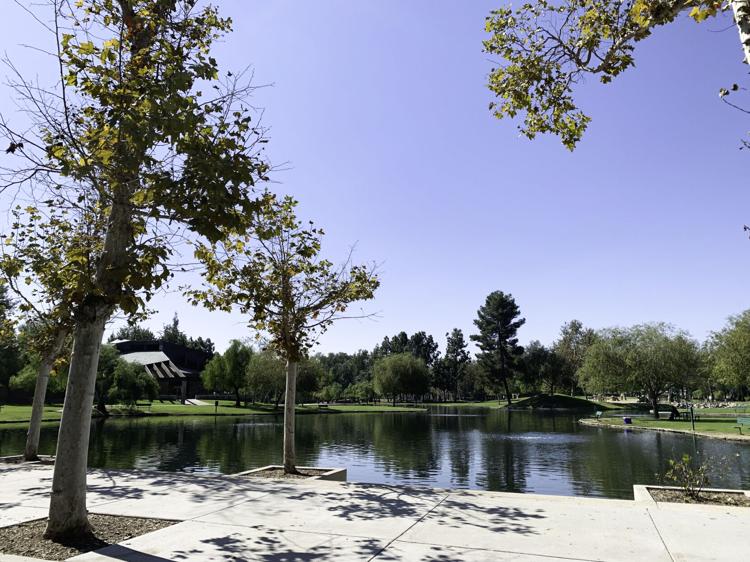 If you've taken a geology course at Cal State Fullerton, you may have come to Clark Regional Park for an assignment or two. The park has unique rock formations as well as a small interpretive center that is home to many prehistoric fossils. In addition to the interpretive center, the park also has huge ponds for fishing, an amphitheatre, hiking trails, tennis courts, picnic areas and fields for baseball and softball.
Mountain View Park: Fullerton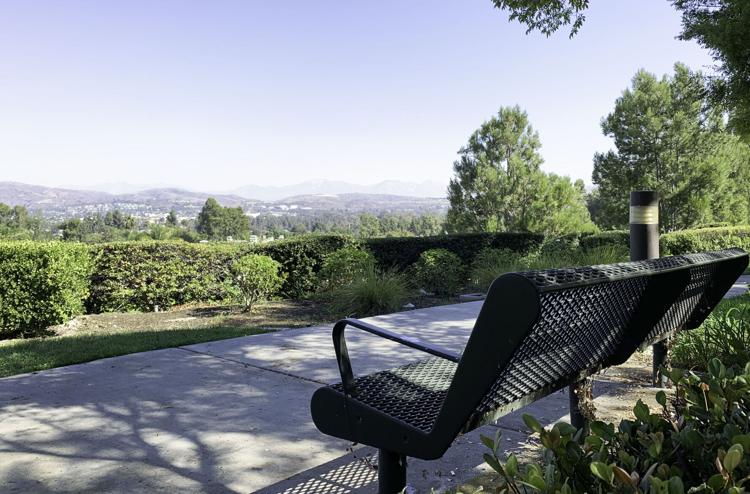 A bit of a hidden gem, this park is perfect for a quick stroll or a quiet homework spot. Although it's not as spacious, it's a great escape in between your classes since it's just right up the road, nestled at the corner of Bastanchury Rd. and N. State College Blvd.
This 2-acre park offers a well-maintained green lawn perfect for picnics. There are also a few shaded benches and tables that overlook the nearby mountains like Mt. Baldy Peak and San Gabriel Peak.
It's calm and almost always vacant, making it a perfect spot for you to stroll through the elm trees and take in the beautiful view of the mountains.
Upper Newport Bay Nature Preserve: Newport Beach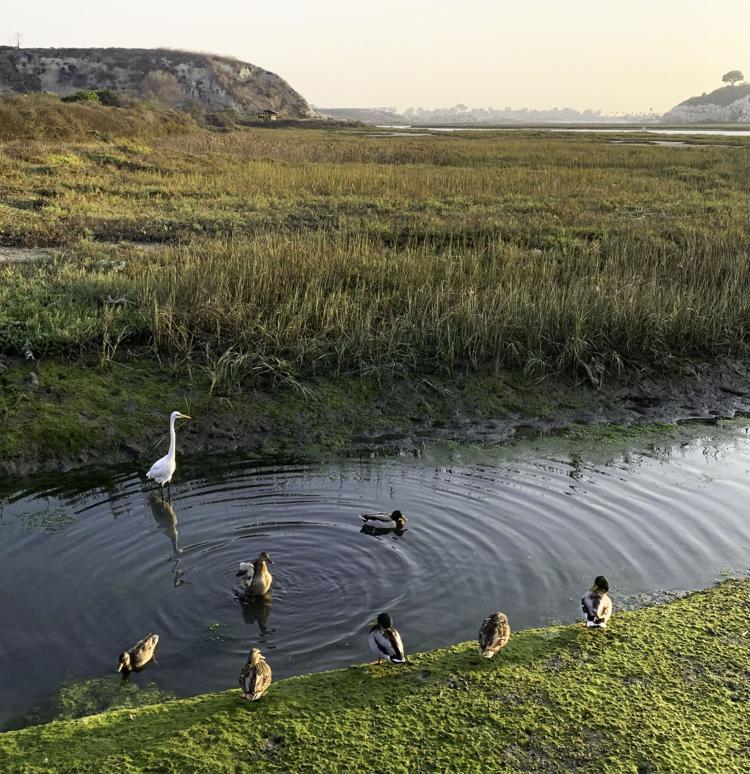 If you're an Orange County native, it's likely that you've been to, or at least seen, pictures of Upper Newport Bay Nature Preserve, more locally known as the Back Bay. The nature preserve takes up over 1,000 acres of land, and is home to various unique species and ecosystems. There is also a 10.5 mile long loop, which is extremely popular for bikers, runners and all admirers of nature.
If you don't like biking or running, don't worry. The Newport Aquatic Center, which sits bayside on the southern end, offers other fun activities such as kayaking, canoeing and rowing for visitors of all ages.
The Back Bay is an endless avenue for exploration and is one of the best places to destress and connect with nature. Feel free to take a drive along the back route off of San Joaquin Hills Rd., or for a nice walk alone or with a furry four-legged friend.
Top of the World: Laguna Beach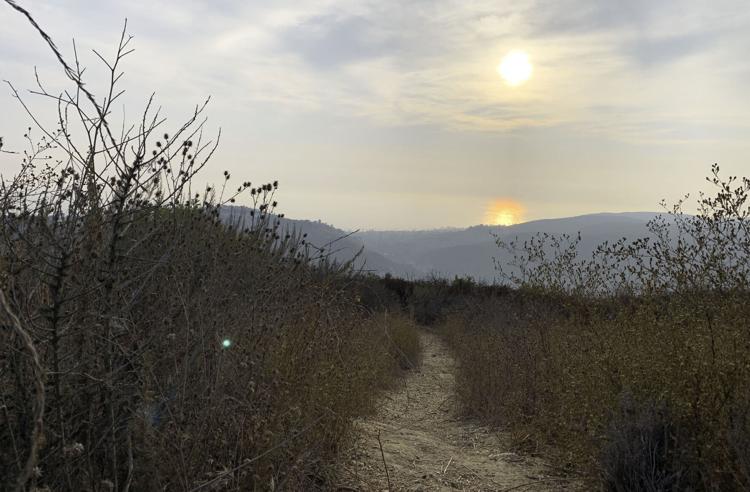 A little further south, the Top of the World lookout and trail gives panoramic views of the coast and its surrounding areas. It's easy to drive to and all you have to do is search "Alta Laguna Park." One of the best features of this trailis that upon arrival, you don't have to hike miles and miles to get to that gorgeous viewpoint. You'll be around 1,000 feet above sea level and be able to see the oceanside city of Laguna Beach in a new light.
As it is a trail, there aren't many places to sit or do any other activities, but it is a great spot to watch the sunset or walk the trail. Away from the hustle and bustle of the beach city down below, Top of the World is a good place to escape without having to drive too far.
Remember that you don't have to make a grand excursion to these spots if you don't have time or simply aren't able to. If you're feeling swamped, even a short walk around your neighborhood can be enough. It's important to give yourself some time away from your work or school even if it's only 20 minutes in the day. However, when you do find yourself with an extra hour or two, try treating yourself to a short trip to one of these five nearby wonders of Orange County.