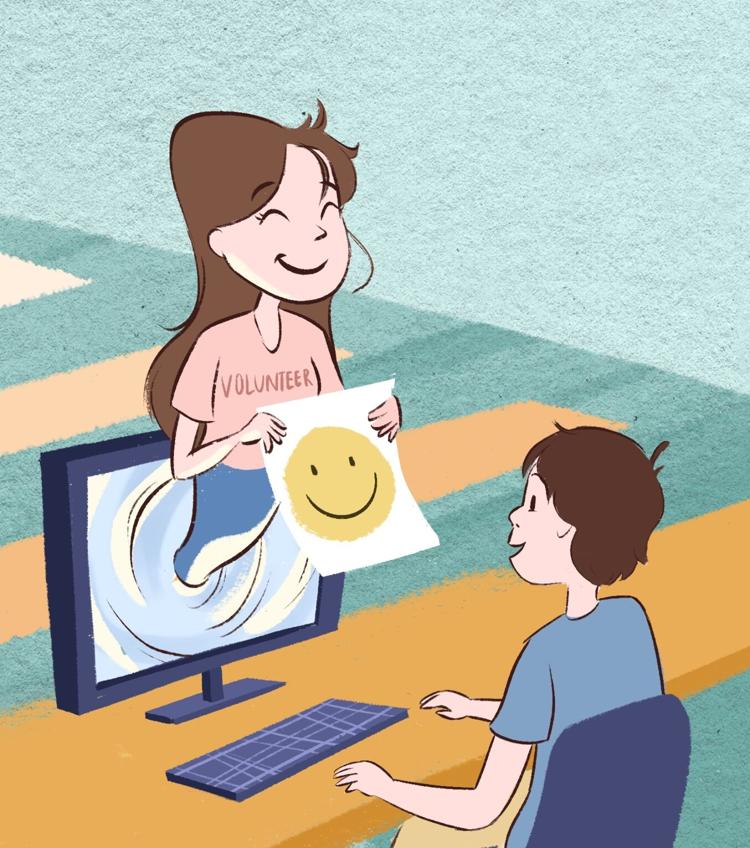 As the leaves change colors and the stores fill with customers preparing for Thanksgiving, it's clear that the season of giving is here. Despite the effects of COVID-19 and the uncertainty plaguing society, there is still a cornucopia of virtual opportunities available for people looking to give back to their communities this season. 
In response to social distancing regulations and closures caused by the pandemic, many local organizations moved its volunteers online and began adapting its programs to function remotely. As a result, this transition created a wide range of virtual community service opportunities that people can take advantage of from the safety of their home. 
Here are five virtual service opportunities for anyone looking to embrace the community and make a difference this season: 
Letters Against Isolation
Website: https://www.lettersagainstisolation.com/  
Letters Against Isolation is an organization that encourages volunteers to write handwritten letters and send them to senior citizens living in assisted-living facilities and care homes. The founders, Shreya and Saffron Patel, created the organization after realizing how difficult it was to be away from their own grandparents, who were self-isolating due to COVID-19. In hopes that they can bring some light to other senior citizens during this time, the Patels have expanded their letter services to reach thousands of senior citizens in the United States, the United Kingdom, Canada and Australia. 
Volunteers begin by signing up through the website. Once registered, participants will receive a spreadsheet every other week that allows them to sign up to send letters to any of the care homes or facilities that the organization serves. The website encourages writers to make their messages cheerful and upbeat, so they bring a smile to the recipient's face. 
Volunteers have the freedom to write as many letters as they wish. However, before addressing the envelope to the address on the spreadsheet, volunteers should make sure that their letters do not contain gifts, phone numbers, addresses or any other identifying pieces of information. 
Color A Smile
Website: https://colorasmile.org/ 
Sometimes, a little color can go a long way. Similar to Letters Against Isolation, Color A Smile is an organization that collects colorful drawings and distributes them to deployed troops overseas, senior citizens and anyone else whose day could use a pop of color. 
This opportunity requires no sign up and no long-term commitments, but the website does offer an option to validate service hours if someone needs the credit for school or extracurricular activities. The website outlines a simple four step plan for volunteers: print, color, sign, mail. 
Volunteers have the option of printing a coloring page from the website or using a blank piece of paper. Drawings should be cheerful, colorful and creative. For anyone looking to take a break from the chaos of the world, this activity can be a much needed stress reliever. Once volunteers are satisfied with their picture, they can sign their first name and age at the bottom of the drawing. This should be the only personal information on the page. Finally, volunteers will fold their masterpiece, place it in an envelope addressed to Color A Smile, P.O. box 1516, Morristown, N.J.,07962-1516 and mail it off. 
DoSomething
Website: https://join.dosomething.org/ 
DoSomething is a non-profit organization for youth looking to create social change using civic action campaigns. The website details a variety of campaigns focusing on education, gun violence, mental health, gender rights, and racism. 
Volunteers looking to get involved can choose from a variety of campaigns and decide which service best fits their interests and availability. Each service includes a description of time commitment, action and whether the activity can qualify for volunteer credit. 
Be My Eyes
Website: https://www.bemyeyes.com/ 
Consider lending your time and eyes to a blind or low-vision person via the Be My Eyes app. Available for Android and iOS, this app allows a blind or low-vision person to request assistance from a volunteer. Volunteers will be notified when they have a request and accepting will create a video call between the volunteer and user. 
Sighted volunteers can help blind or low-vision people with tasks such as reading expiration dates, identifying colors or reading instructions. The goal of the app is to make the world more accessible to the blind and low-vision community, and a monumental part of achieving that goal is volunteers willing to lend their eyes. 
On the website, founder Hans Jørgen Wiberg said, "It's my hope that by helping each other as an online community, Be My Eyes will make a big difference in the everyday lives of blind people all over the world." 
OC Animal Care
For all pet lovers who are worried about other furry friends this season, consider donating to local shelters. Shelters like OC Animal Care have set up Amazon wish lists where volunteers can purchase items such as food, toys and other essentials to be shipped directly to the shelter. 
Volunteers can also reach out to other local shelters to arrange drop-off times for donations and discuss any updated COVID-19 donation regulations. 
Not only is giving back a rewarding experience, but it fosters a community of support, love and empathy for others — characteristics that should be cherished and embraced as 2020 rolls to a close with the beginning of the Thanksgiving season.