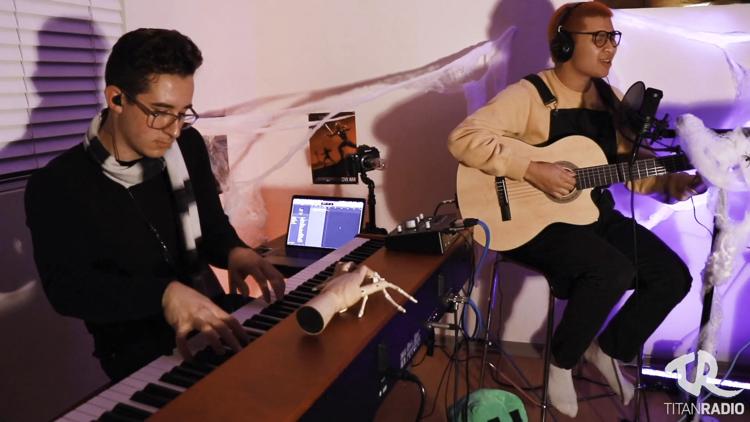 With no live concerts scheduled in the foreseeable future, Titan Radio collaborated with Cal State Fullerton Associated Students, Inc. Productions on Oct. 30 to host a virtual concert via YouTube which featured Lentebloom, also known as Noah Lee. This event may have not happened without the efforts of former Titan Radio DJs. 
Since the beginning of this semester, Matt Sylvester, a Titan Radio media coordinator, and Austin Ysais, an ASI coordinator, said they knew they wanted to host a virtual show. The Titan Radio staff worked to secure an act for the show and succeeded in getting three verbal agreements, but they all fell through before the show's filming, which left  Titan Radio with a concert and no music a week before showtime.
However, Sylvester said he suggested that Lee, a former Titan Radio DJ, do the show. Titan Radio general manager Shelby Stancliff, a double major in entertainment and tourism at CSUF, quickly coordinated with the local artist to make the show happen.
"Noah did a concert before for the Music Industry Club, which was also an ASI collab concert. That was on campus in the Becker Amphitheatre. So we knew he could do it," said Stancliff.
About a week before the show's premiere, a team including Stancliff and Huxley Berg, a mutual friend, filmed the Lentebloom show using three cameras at his apartment. Stancliff edited the footage and added end credits and graphics, and the final product premiered on Oct. 30.
The show lasted just under 25 minutes and included Lee and Tofer Medina, a friend he met through Berg, and they played six of Lee's songs. Lee sang and played an acoustic guitar, while Medina played the keyboard. The scene was heavily decorated for Halloween, with spiders dotting Lee's space, along with an ivory-colored tarantula and a severed hand on top of Medina's keyboard, while a stuffed creeper from the video game Minecraft lurked underneath. 
The musical duo also wore costumes inspired by the movie "Despicable Me," with Lee dressed as a minion in a goldenrod sweatshirt, overalls and black-framed glasses, and Medina as the lead character Gru, in a sleek black long-sleeve shirt and a black-and-white striped scarf.
Although Lee loves to play music, he said the social aspect that comes with creating songs provides the best experience — something that is missing from virtual concerts.
"Yeah, I really miss playing gigs. That is one of the best parts of writing music is playing it out for others to hear," Lee said. "Also, the feeling of playing music with other people is one of the best feelings ever."
The format of the concert was reminiscent of National Public Radio's Tiny Desk concert series that shows artists playing at small intimate venues which are recorded and posted on YouTube, something that Lee was working on before the COVID-19 pandemic ended those hopes.
"Friday's show was interesting because I've never really released a live recording of my music," Lee said. "I was about to record a submission for the NPR Tiny Desk concert, but that was out of the question when we started locking down for quarantine."
The music that Lee records under the pseudonym Lentebloom is inspired by musicians such as Frank Ocean, Tyler, the Creator and Rex Orange County, though he said that his relationship with Stancliff also has inspired his music.
With Lee, Stancliff and Berg, a trio of former Titan Radio DJs, the show was able to go on virtually.