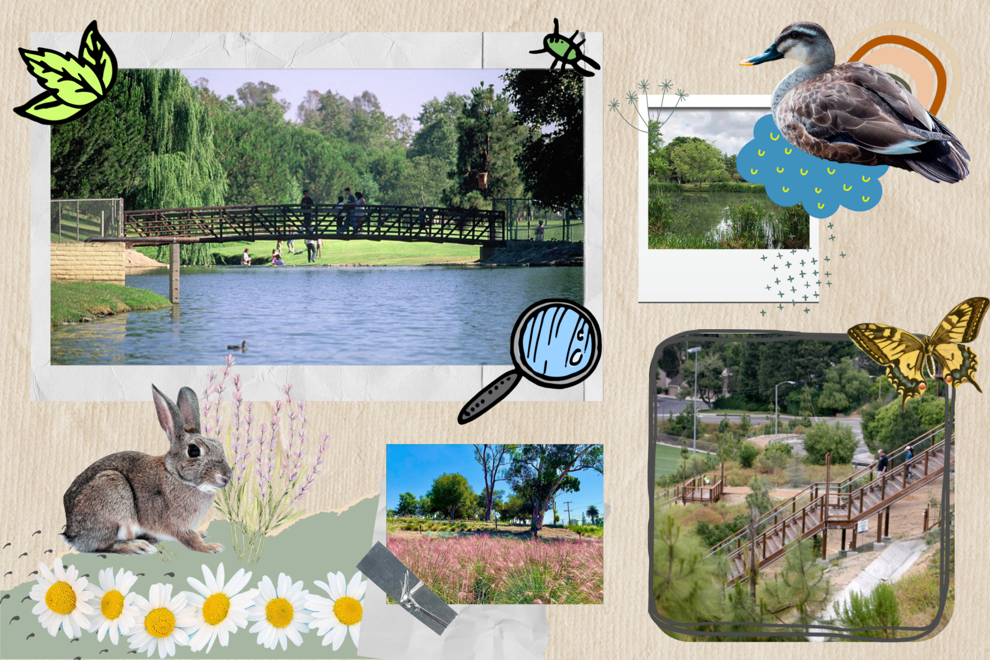 Enjoying tranquility and joy while surrounded by nature is a great way to take a break and reconnect with yourself, and luckily for you Fullerton has many parks ready for picnics, walks or to just relax.
Ted Craig Regional Park – 3300 State College Blvd.
This regional park is very close to campus, located right past the Fullerton Arboretum. Ted Craig Regional Park features the charms of Fullerton with its gentle rolling hills, plenty of greenery and trees and a lake filled with wildlife. There's a rose garden, large grassy fields and a variety of plants. 
The park is a wildlife sanctuary so it's abundant with animals. Migratory waterfowl like geese and ducks can be seen floating around the lake while catfish and bluegill occupy the lake and can be fished with a license. There are also a variety of other small animals present.
The expansive preserved landscape stretches 124 acres with many tables, barbeques and restrooms scattered throughout the space. Picnic shelters and group areas can also be reserved on weekends and holidays for celebrations or leisure time.
If you have walked through the Fullerton arboretum enough times this semester, take a quick trip to this park for a nice getaway from campus. It makes a great park for exploration and offers a variety of amenities.
Ted Craig Regional Park is open every day from 7 a.m. to 9 p.m. in the spring and summer. Parking is three dollars per vehicle entry on Mondays through Fridays and five dollars on Saturdays and Sundays.
Muckenthaler Cultural Center – 1201 W Malvern Ave.
A family mansion and its 8.5 acres of surrounding land was donated to the City of Fullerton in 1965. Now, the Muckenthaler Cultural Center has its own art gallery, outdoor amphitheater and indoor performance space. 
Although the center hosts a variety of cultural and art events, the surrounding grounds are open to the public without  tickets or reservations. The grounds include the outdoor Sculpture Garden and Sunset Garden.
The Sculpture Garden features an array of artists' sculptural works ranging from the Papua New Guinea Story Poles, which are large natural wood carvings, to contemporary steel monuments painted in a vibrant red by Bret Price.
The Sunset Garden is an area filled with drought resistant grass and wildflower varieties that mimic the color of the sunset when in peak color. The outdoor area is almost an acre with ample room for strolling and sight-seeing.
The Muckenthaler grounds combine nature and art for a more creative approach of enjoying the outdoors. It is open from 10 a.m. to 5 p.m. Monday through Friday, and it's closed on Saturdays and Sundays.
Hillcrest Park – 1200 N Harbor Blvd.
Hillcrest Park is known for the wooden stairway that connects to Lions Field below it, several war memorials, with the Korean War memorial being the most recent addition in 2021, and its stonework fountain.
The park is about almost 38 acres with plenty of space to explore and take in the scenery. There are recreational trails, picnic tables, barbecues and restrooms. The park has a more hilly terrain, but also has many leveled spots to hang out at.
It's a versatile place that can be used for intense exercise, photography or relaxing. 
Hillcrest Park is open every day from 6 a.m. to 8 p.m.
Laguna Lake Park – 3120 Lakeview Dr.
This park centers around a lake filled with rainbow trout, catfish, bass and bluegill that visitors are able to fish. The area around the lake is used for joggers, bikers and casual walkers.  Other surrounding areas are picnic and park spaces, recreational trails and an equestrian center that is home to the Fullerton Recreation Riders.
The park is open to the public with free parking and a nice place to spend the day relaxing or doing some sort of fun activity. Laguna Lake Park is lively with its visitors as it is surrounded by residential areas, but still serene due to the calm waterfront and large trees.
Laguna Lake Park is open everyday from 8 a.m. to 7 p.m.