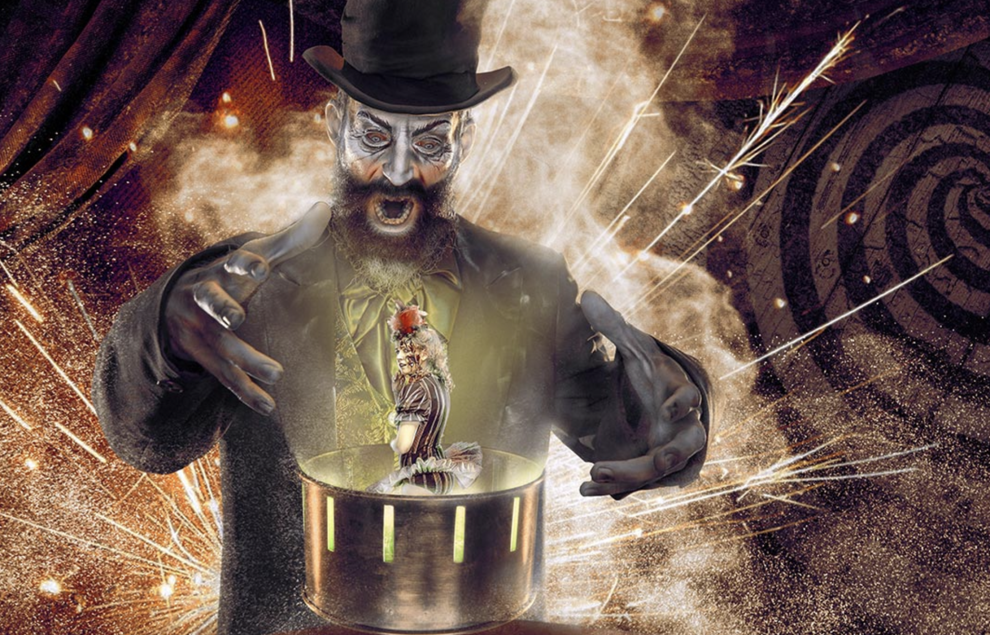 The smell of fog and fear is rampant within the gates of Knott's Scary Farm, which is back to both welcome and terrify guests after last year's absence.
When the sun goes down, the theme park swaps its old town charm for PG-13 terror from Sept. 16 through Halloween. Eight mazes, six shows and five scare zones round out this year's Scary Farm agenda. In one night, the Daily Titan ventured through each maze to rank them based on creativity, plot and how much we wanted to cry.
8) Wax Works
In what sounds like the plot of the B-movie "House of Wax," visitors enter a world where live victims are "horrifyingly submerged into a scorching hot cauldron of bubbling wax." For obvious reasons, this is Scary Farm's most gruesome maze of the year. While the premise may be unsettling, this attraction relies too heavily on gory sets and that dwindles its scare-factor.
If pushing your way past hanging, skin-stripped bodies sounds like a good time, this is your maze.
7) Origins: The Curse of Calico
For long-time Scary Farm-goers, Sarah Marshall has been wandering the park since 1977, and she's hanged as a witch once again. Unsurprisingly, she did not take it well. She now wanders the maze as the Green Witch, turning the Calico people into monsters. The maze's green-lit ending tunnel and subsequent witch appearance were a highlight, but not enough to draw people back for a second round.
It's not Calico's fault, but there's nothing particularly scary about zombie cowboys. That being said, the Daily Titan staff was still terrified.
6) Pumpkin Eater
Keep the kids at home – Camp Snoopy is being mobbed by a 7-foot pumpkin straight out of the underworld. This plot for this maze doesn't stretch beyond "pumpkin eater terrorizes woods," but earns extra points for design creativity. From a quaint, depraved cottage to sloshing around in a pumpkin's organs, it's imaginative in a way that doesn't rely on gore to get by.
While it's no walk in the park, Pumpkin Eater isn't terrifying enough to keep people's hands over their eyes. On the plus side, open eyelids means plenty of opportunity to admire the intricate details.
5) Paranormal Inc.
This year, ghost-hunters and guests will investigate Paranormal Inc.'s haunted hospital for the last time. 
Not because you won't survive – though that's still up in the air – but because 2021 is this maze's final year. Though crushing news for Paranormal diehards, the maze goes out on a positive note. This attraction is brimming with high-energy scare actors and even higher stunts (No, really, an aggressive amount of people jump down from the ceilings). With tight hallways and hanging curtains, monsters have plenty of places to hide.
4) Dark Entities
This maze is all aliens — and Sigourney Weaver is not here to save the day. Visitors explore a decimated spacecraft overwhelmed with extraterrestrial creatures, navigating through lasers and flashing tunnels. Besides the human entrails, guests might feel like they're walking through Disneyland's Space Mountain queue. Maybe it was just good timing and energized actors starting their shift, but this maze had some of the night's best jumpscares.
3) Dark Ride: Castle of Chaos
Carnivals have always been shady, but in this one it's not because of the creaky rides or questionable fair food. "Shunned performers" have turned an abandoned carnival ride into a "dark ride of terror." Seems a bit excessive for missing an acting gig, but we'll bite. An intriguing premise sets the stage for six minutes of scares, backed by festively gruesome costumes and enormous animatronics. Many people have wondered what it's like to walk a ride track, but usually it's not so scary. Watch out for the monsters on stilts.
2) The Depths
Ironically, The Depths is one of the highs of Scary Farm. It spares no expense with costumes, animatronics or special effects as maze-goers navigate the caves where so many men went missing. Guests travel through a sea monster's skeleton, escape portside piers and cross a bridge with an impressively-sized kraken surrounding it, all while fending off mutated sharks and other mutated…things? It's hard to tell with your eyes shut.
One of the maze's best effects is laser-projected water that comes up to visitors' waists. Nothing is more alarming than not being able to see your lower half, especially when monsters roam beneath. It feels akin to swimming in the ocean and thinking of sharks beneath you, which is fitting considering the grotesque shark that bites later. If you felt someone breathing on your ankles, it's probably not your imagination.
1) Mesmer: Sideshow of the Mind
Scary Farm's newest maze snagged the top spot in the tier list. Mesmer's sideshow poses as just what it is: an attraction aiming to lure guests back for a second go. With disorienting effects and tilting rooms, it's hypnotic enough to be more than successful.
Notably, its audio divulges from the haunt's usual shrieking to play Mesmer's whispery voice as visitors walk (or in our case, run) through the maze. Mirrors blink to glimpse of a monster, rooms glitter to hide the blood on the floor and one area's moving walls will have you questioning yourself – or at least your sense of direction.
With clowns jumping from the ceiling and 10-feet tall animatronics, this red and white tent of terror spares no expense. If your fears aren't already in Mesmer's maze, you'll likely leave with new ones.