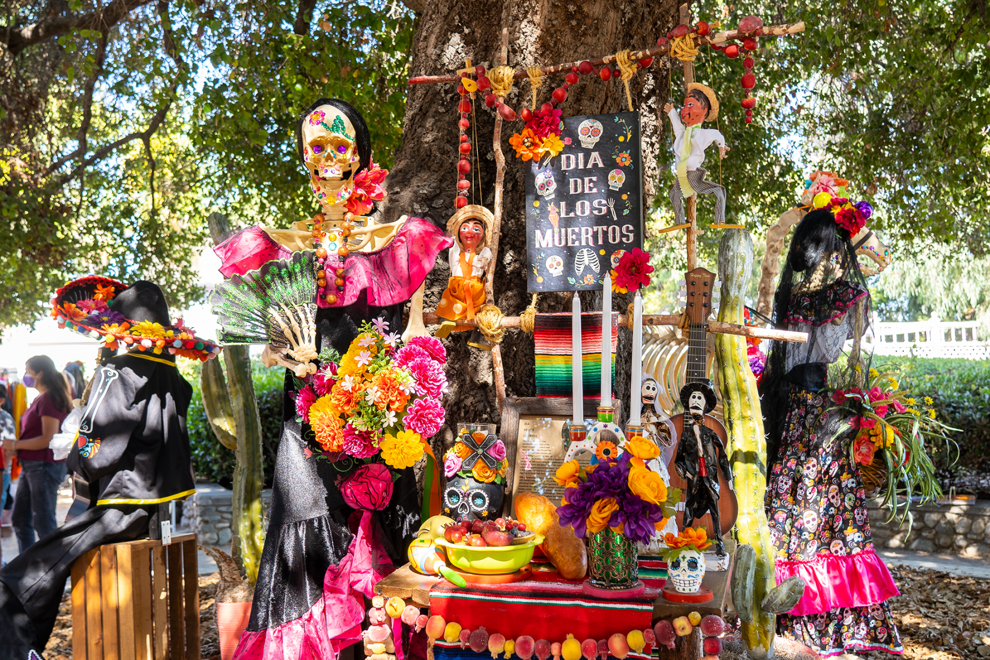 The Gente Market brought to life their Dia de los Muertos pop-up festival on Oct. 17, celebrating Latino culture with bright arrangements, music and festive food. 
Set in the heart of Santa Ana at the Heritage Museum of Orange County, the festival was packed with over 100 vendors, a row of delicious Mexican food trucks to choose from and entertainment around every corner. 
"I thought it would be awesome to have something locally in Santa Ana, and then as we started growing, I saw the need to have, kind of, more Latino themed events in Orange County," Alexis Garcez, founder of the Gente Market said.
Garcez said that one of the reasons she created the event was to allow members of her community to better connect with their culture. 
"Wherever you come from, you should be proud of it. I happen to be Mexican American, so for me, it's a way to connect, and I know it's important for others to do. I just wanted to create a platform for other people to have that opportunity," Garcez said.
Garcez started Gente Market to showcase entrepreneurs and creatives in Orange County. Each month, the pop-up market chooses a theme usually centered around Latino culture. This month's event celebrated the Mexican holiday of Dia de los Muertos.
The holiday, which takes place on Nov. 1 and Nov. 2, celebrates those who have passed onto the afterlife. Beautiful displays known as ofrendas or altars are placed out as memorials for loved ones. Along with photos, ofrendas are ornamented with decorative paper known as papel picado, candles, water and most importantly, a favorite food dish of the deceased. 
"It's just a day to remember just our lost loved ones. You know, to kind of channel their spirits and just, number one, remind us of them, but help us feel closer to them and just you keep their memories of life," Eva Barrios said, who showcased her family's ofrenda at the event. 
In 2019, Barrios' daughter, Victoria, was murdered; the case is still unsolved. Barrios' daughter's photo sat at the center of a beautiful display of foods and items celebrating Victoria. 
"We're here not only to just keep her memory alive but to also reach out to the community asking for assistance to solve her case," said Barrios.
Next to the altars stood La Catrina, a symbol of honor and protection over the dead. This year's La Catrina was played by Cal State Fullerton alumna Nancy Gonzalez, who donned a beautiful orange and black dress. Her face was painted like a traditional Mexican sugar skull, and a large floral hat laid on her head. 
Posing with guests for a perfect Dia de los Muertos photo op, this is Gonzalez's second year portraying La Catrina for Gente Market. 
Beyond the altars were an array of shopping, food and activities celebrating the festivities. Most booths were dedicated to Latino culture and Dia de los Muertos. 
Local artist and painter Ronny Flores stood in front of her booth, showcasing her artwork. Inspired by Mexican culture, her work depicted real experiences and people she had encountered in Mexico living on her grandfather's hacienda. Flores painted Dia de los Muertos inspired pieces on velvet canvas with rich oils.
"You don't want to lose that awesome tradition. You want to show it to your children and then showing them through their children. Because that's how I know it," Flores said. 
Food trucks served everything from tacos, burritos, tortas, agua frescas and churros. La Birria Loca, known for their Tapatío ramen and birria tacos, was a popular eating spot throughout the event. 
Entertaining guests was Calle 4 Cumbia, a two person band playing cumbia hits. Following them were two Mexican legends, Selena and Vicente Fernandez — well at least, very convincing impersonators of the two artists.
Alejandro Gonzalez's portrayal of the famous ranchera singer, Vicente Fernandez, brought comedic relief to the event with a mix of music and stand-up comedy. Besides his looks, Alejandro has the brass and vibrato to bring his presence front and center.
"Whether you're Latino or not, there's so much to learn, and so putting on these events allows us the opportunity to expose people to something different. You know a different culture, or to learn more about their own culture and pass those traditions onto their children," Garcez said.