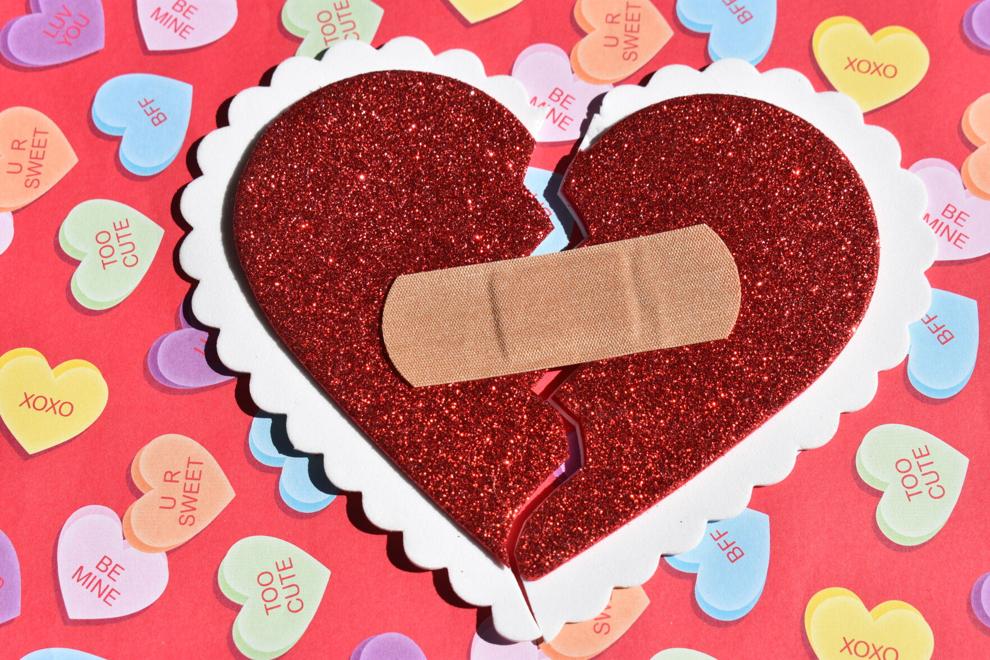 Valentine's Day is a whirlwind of emotions if you've experienced a split from a partner. Moving on from a significant other can be difficult, but it's not impossible.
During a heartbreak, it's time to turn to the best medicine — music. Music is a part of our daily lives, and a great collection of songs can have an emotional impact that accelerates the healing process. 
1. "Truth Hurts" - Lizzo
When singer Lizzo released "Truth Hurts" in her 2019 album "Cuz I Love You," she created the unofficial anthem for confident women after a breakup. 
Throughout portions of the song Lizzo repeats, "Why men great 'til they gotta be great?" showing she will not settle for a man with inconsistent greatness. Lizzo shows off her confidence as she sings about an ex who left her to go back to his previous girlfriend.
Lyrics like "I put the sing in single / Ain't worried 'bout a ring on my finger," epitomize Lizzo's joy and independence.
2. "Go Your Own Way" - Fleetwood Mac
"Go Your Own Way" from Fleetwood Mac's iconic 1977 album "Rumours," is a great example of how going separate ways after a relationship is the best move for all parties despite the lingering feelings. 
The catchy chorus of "You can go your way (go your own way)," is the driving point of the song and a very singable moment — perfect for letting emotions out.
3. "It All Feels Right" - Washed Out
From Washed Out's 2013 album "Paracosm," "It All Feels Right" is about memorable moments. 
Lyrics like "We'll be gone a few nights/ Meet up with the old crowd/ Music's playing so loud/ It all feels right," express that simple moments can be a major morale boost. 
Washed Out's hazy chill sound makes for a relaxing listening experience that helps the negative feelings fade.
4. "Good Days" - SZA
SZA's latest single "Good Days" talks about taking a deep breath and letting go of the negative energy.
The combination of heavenly production and SZA's personal narrative makes "Good Days" a perfect song to help you forget about lingering feelings.
5. "Seasons (Waiting on You)" - Future Islands
"Seasons (Waiting on You)" from Future Island's 2014 album "Singles," is a synth-pop ballad about a relationship that's stuck in rotation just like the seasons in the year. Vocalist Samuel T. Herring's unique gruff vocals add dimension to the lyrics.
The lyrics "You know, when people change/ They gain a peace, but they lose one too," remind listeners that the stagnant nature of a relationship is too much, and moving on is the only option.
6. "I Don't Love You Anymore" - Tyler, The Creator  
Tyler, The Creator's 2019 album "Igor" showcases the rocky ups and downs between the narrator and their significant other. The song "I Don't Love You Anymore" represents the final straw as the narrator starts the process of moving on.
7. "Walk in the Park" - Beach House
"Walk in the Park" by Beach House is an emotional song about moving on. 
Lyrics like "In a matter of time it will slip from my mind / In and out of my life, you would slip from my mind/ In a matter of time," are indicators that the narrator needs time to heal as the feelings slowly fade. 
8. "Wait" - M83
M83's 2011 album "Hurry Up, We're Dreaming" is an emotional ambient pop album that is highlighted by the song "Wait." 
The song is beautifully arranged with a climactic ending that feels as if all the stress in the world is gone. 
The chorus consists of two words, "No time," which is a constant reminder that no time should be wasted worrying about the past.
9. "Hurt" - Arlo Parks
From Arlo Parks' album "Collapsed in Sunbeams," "Hurt" is a song about the feelings one goes through during a tough time.
Lyrics like "I know you can't let go, of anything at the moment/ Just know it won't hurt so/ won't hurt so much forever," remind us that dark feelings are temporary.
Parks' uplifting message mixed with lush instrumental make "Hurt" a fantastic song for the healing process
10. "On Hold" - The xx 
"On Hold," from The xx's 2017 album "I See You," is about not being on the same page with your partner.
While the narrator's partner was under the impression they were just taking a break, the narrator has moved on from the relationship for good. The lyrics "When I lie awake staring in to space/ I see a different view," indicate that the feelings they once shared are gone.
The melodic sound on "On Hold" is a sample used from Daryl Hall and John Oates' 1981 track "I Can't Go for That (No Can Do)."
For those who are struggling to get past a heartbreak, may this playlist be a positive start to the healing process.