At 8 a.m., she wakes up. Breakfast is a cup of coffee as she heads straight to the sewing machine where she will usually stay for the next nine hours, meticulous fingers guiding fabric below the needle's point. 
The masks that she has been making will assist in protecting sleepless doctors, essential workers and families who have been cooped up inside their homes. She has made hundreds, and she's tired, but she persists.
Her name is Shaylene Coffey, and she is one of millions living through a pandemic.
"Making the masks is my way of giving back," said Coffey, who has been sewing since March. "The nurses and other healthcare workers are working so hard to help keep us safe, and this is what I felt I could do to help. I know a lot of people in the medical field, and if I can help create some sort of barrier between them and this terrible virus, I will do what I can to do that."
A preschool teacher and Cal State Fullerton alumna, Coffey used to juggle her 8-5 p.m. job with time at her hula studio, Halau Na Pua Lehua I Ka Ua Noe, her recently-joined crossfit gym, coffee shop hunts and hikes with her boyfriend. For as long as she can remember, she usually spent more hours out of the house than in it.
COVID-19 had other ideas for her.
Like many people, the virus and the regulations that accompanied it derailed her typical routine. Unlike many people, Coffey didn't turn to Netflix in her quarantine.
Instead, she has made hundreds of masks. One of the small businesses she follows on Instagram sparked her passion.
"One of my favorites posted a template for a face mask and pleaded in her caption that if anyone had a sewing machine and had basic sewing skills that they should take it out and start helping. I felt so compelled to help, so I pulled out my sewing machine and created a sample," Coffey said.
Coffey then asked the nurses in her life if the hospitals that they were working at could use the masks. At the time, mask requirements differed based on each hospital, she said, so some said yes while others declined. Coffey donated the masks to those who had accepted and the hospitals that employed them.
Once Coffey tackled those orders, she expanded her mask-making to her Etsy shop and social media, and things only became busier from there.
"That's when things took off," Coffey said. "I did not anticipate the surge of orders that I received! It was insane!"
Now, Coffey has sold 910 masks, 200 of which have been donated, and the numbers are rising by the day. Healthcare workers only need to show their work badge to receive donations. Otherwise, most masks are sold for $7 a piece, which help Coffey afford more materials.
Though the majority of her day is dedicated to sewing, she also preps and packages her masks for the post office. If buyers are local, she'll deliver them herself. After dinner, she'll start cutting fabric to prepare for the following day's mask-making.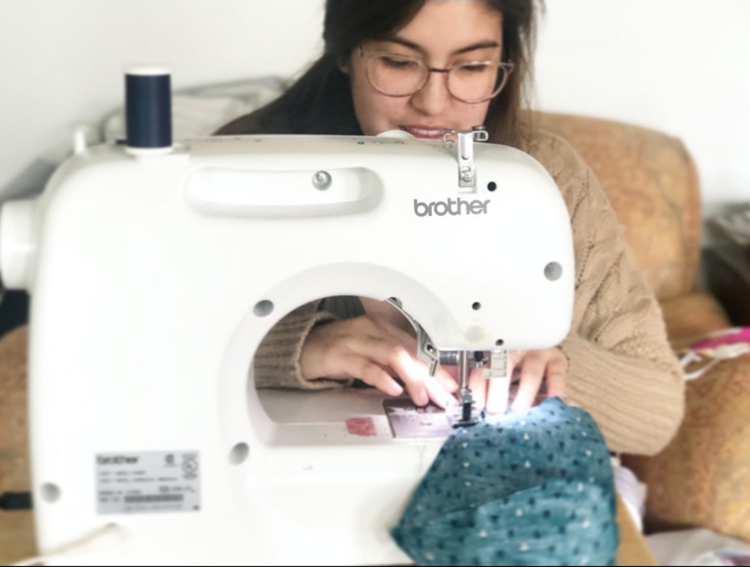 Demand for face coverings is climbing by the day as more and more cities mandate their use for essential workers and those outside of their homes. Orange County issued a strong recommendation on April 9, though it has not yet become mandatory. 
Coffey's masks have not only helped the people who receive them — they have also given her a way to keep busy during quarantine.
"Being at home almost 24/7 has been a huge change," Coffey said. "I like to give hugs and spend time with my friends. While I am thankful for things like Zoom and Facetime, it is just not the same. This was another reason why I started the masks. I did not like the idea of just sitting around and being on my phone all day or watching all the movies. That's just not who I am."
Coffey's Etsy shop has been around long before the pandemic struck — more specifically since 2015. Her shop, Coffeywrite, brims with swirling letters and hand-painted crafts.
It began as a scroll through Pinterest. Calligraphy caught her eye as she admired the lettering of quotes she was fond of. Her shop full of paper signs evolved into one filled with wooden signs and home decor, and a dabbling in customized graduation caps, which soon became her bestseller.
"I look at some of my first paintings and of course cringe, but I am proud of how far this little business has come," Coffey said, words warm with the memory.
Coffey is not a professional seamstress by any means, she said, but 20 years spent sewing her own costumes for hula dances has lent a hand in her mask-making endeavors.
Now, her time is solely devoted to masks.
Masks are something anyone can make given the right materials, Coffey said. She added that tutorials are available online for anyone who wants to help.
"If you have a sewing machine and some materials, masks are so so so important! There are so many tutorials online, on Pinterest, Instagram, Google, everywhere! Pick one, and do it," Coffey encouraged. "It's been a little stressful, but I think it is so necessary."
This is part of the series, "The People of the Pandemic" where the Daily Titan will tell the stories of how COVID-19 has affected the lives of Orange County.