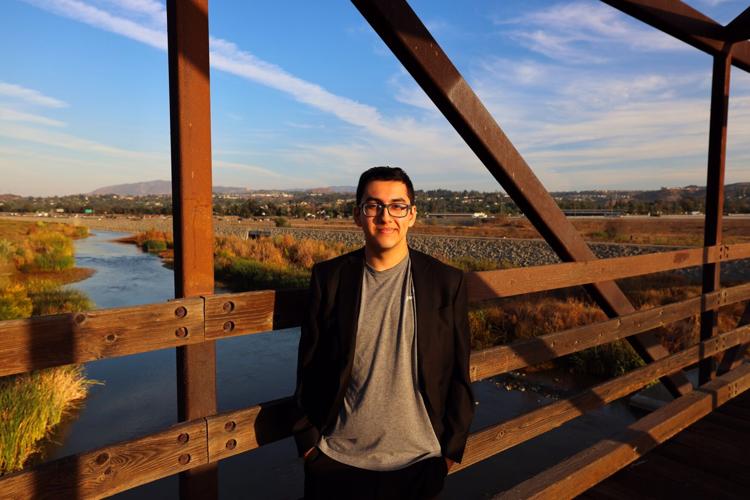 Years ago, a dark-haired 15-year-old strode onto the Valencia High School stage.
His feet anchored themselves atop the bright red circle as his heart pounded under the black cotton of his T-shirt. The eyes behind wire-rimmed glasses couldn't see the faces hiding in the blackness, but the low buzzing of breaths betrayed the auditorium's fullness. He had rehearsed this speech a thousand times, but now the facial microphone taped tightly to his right cheek reminded him that this is the real one.
Then, he spoke, and it all disappeared.
Saleem Haider is 19 now, and marks that moment as the one where he fell in love with the number one American fear: public speaking.
"I had to be comfortable not having control," Haider recalled on a sunny Wednesday afternoon. "It was very hard learning to just go with the flow, to just go with what I know that I can do and continue down the motions without constantly thinking of the audience, without constantly thinking of structuring my words."
As he speaks, his voice is devoid of the "likes" and "ums" that litter the rhetoric of most people — a sure mark of his time in public speaking. Each word is deliberate, but the sentences they form are still quick and passionate.
The Cal State Fullerton junior has come far since that first high school TEDx speech, and is now the co-founder and president of the TEDxCSUF organization. It's a spinoff of TED Talks, and the "x" signifies that it's an independently organized event, Haider explained.
TEDxCSUF completed its registration as a student organization in February and received licensing from TED Conferences in March, but the COVID-19 pandemic threw a curveball at its intended October conference. Nonetheless, the organization is exploring hybrid options for the eventual conference.
Khira Mistry, the TEDxCSUF director, co-founded the club last fall with Haider and aided in redesigning a virtual structure.
"We had to make sure that we were creating something that would break those barriers, and really make sure that our conference and the students and faculty speaking their stories are shining through beyond anything else," she said.
The club collected around 70 members over the course of the pandemic, Haider said as the connection crackled on the other side of the phone— another reminder of the complicated circumstances that the pandemic has brought. Still, Haider's outlook is bright.
"I'm incredibly proud of that number," he said. "I have great aspirations and great hope and great confidence that this is going to be something really awesome on campus."
Haider is a walking whirlwind. Along with TedxCSUF, he juggles 24 class units as a business honors student, and is the co-founder and vice president of the charity Relay for Life Fullerton. That barely scratches the surface of an agenda that would make most rational people run.
Contrary to his crowded schedule, Haider comes off as easy going — a true attribute of someone born and raised in sunny Orange County. His interests conform to no such mold, as they range from earning his motorcycle license to marching band to building a computer with his extra free time.
But what wakes him up in the morning? Haider says it's the excitement of talking to others.
"I love meeting new people. I love learning. I love acting as a mentor and being a mentee for tons of different things, and I guess that that's a lot of what I do, to be honest," he said. "I socialize a lot with people, professionally, personally, family, friends. I thrive off of other people's energy and I've come to recognize that."
It's a statement that his coworkers confirm without hesitation.
Hanna Yazdi, a fellow CSUF student, is the theatrical coordinator for Titan Talks, a program under TEDxCSUF which consists of a series of workshops that are designed to give students a casual space to practice public speaking.
"Everyone loves Saleem," Yazdi said, so confidently that it sounded like a fact rather than an opinion. "He's very emotionally intelligent. He cares about people a lot — super funny, super humble. And he's so smart; he's seriously so smart."
Her words are echoed by TEDxCSUF advisor Katie Woodhouse, who works within the College of Business and Economics. Last fall, she and Haider often discussed the ideas that would eventually come to fruition in the form of TEDxCSUF.
"Saleem is the most driven, hard-working and kind individual that I have had the pleasure to spend time with," Woodhouse said. "I have full faith that Saleem is always gonna be that guy who leads with his morals and with his integrity."
The positive reviews of his peers are easily reciprocated. Over the buzzing of the telephone, Haider launches into a list of people who inspire him — a list that he says could go on for hours, but thankfully keeps it to three minutes.
"It goes back to the concept of there's always been a team. There's always been people around me that have been helping me through all the things that I do," Haider said.
Haider's own evolution as a speaker is documented through a slew of videos. In his senior year of high school, he delivers another TEDx talk. Haider speaks to the audience as though he was talking to a friend. His hands dance as he speaks, occasionally drifting up to push his glasses back up on his nose. If he's nervous, he doesn't show it.
"What's up, ladies and gentlemen?" He asks from the same Valencia High School stage. "My name is Saleem Haider."