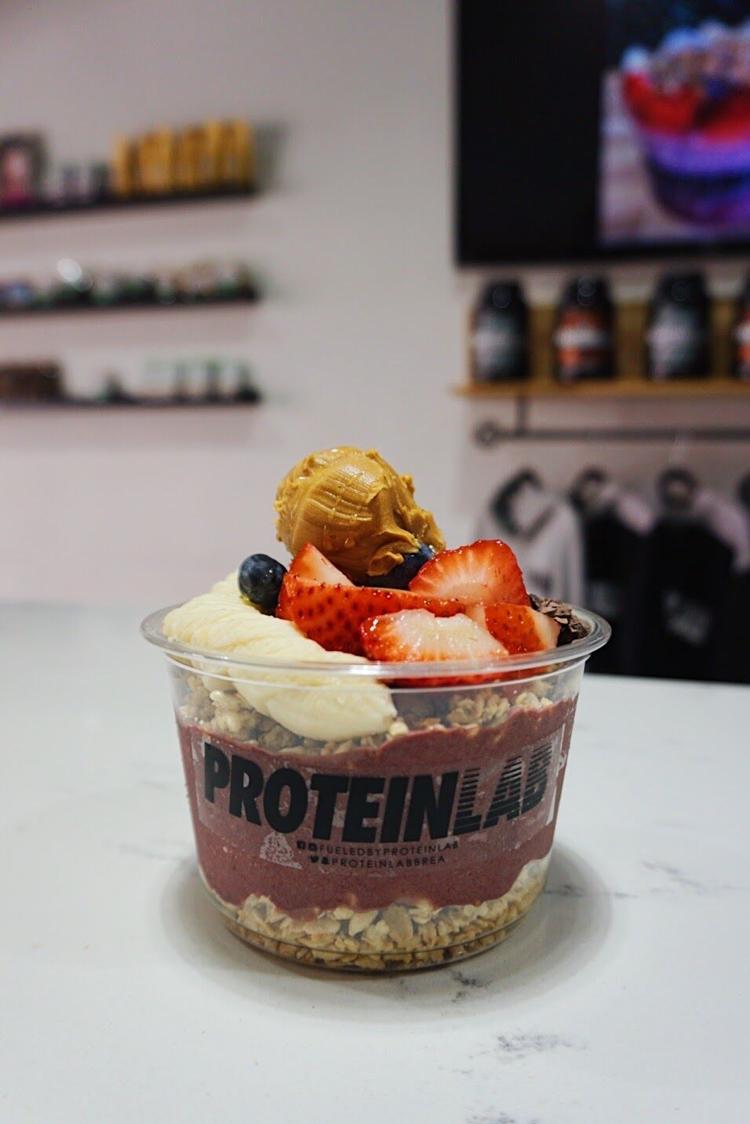 When indoor dining was no longer allowed and only take-out and curbside pickup were available, businesses began to close as some were not able to meet the demands of curbside pickup and no indoor dining.
However, the Protein Lab made the necessary arrangements in order to stay open. 
Located in Brea, the Protein Lab has been in business since 2016 and just recently expanded to another location in Buena Park. 
In an email sent to the Daily Titan, Iris Rivera said she and her husband, Gerard Rivera, wanted to create a place where people can come and eat healthy food right in the middle of Brea. 
"My husband and I were bouncing ideas off of each other. He is in the medical field and our goal was to create something that combines that with the fitness industry," Rivera said. 
As part of its goal to promote good health to its customers, the Protein Lab offers various nutritious items on the menu, like protein shakes and acai bowls. The bestsellers include the Warrior, a protein shake made with fresh spinach, the Champion, a protein shake made with chocolate and cookie crumbles and the coffee-infused Rise and Grind.
New flavors are also added throughout the year throughout the changing seasons.
"For this year's holiday series, we created a s'mores flavor called One S'more Rep that is quickly becoming a customer favorite, so we will likely make it a permanent addition to our menu," Rivera said.
While this year's holiday series is bringing many customers to Protein Lab, when the pandemic first hit, the restaurant faced difficulties for the Riveras.
"Getting hit with the pandemic this year definitely blindsided the world. All small businesses, including the restaurant community were greatly affected. It was definitely an adjustment for our entire staff at Protein Lab," Rivera said.
As restaurants faced the difficult decisions of adapting to and complying with the new health and safety guidelines, the Protein Lab used this opportunity to help out essential workers any way they could, and what better way than by providing healthy food options?
"Restaurants are considered an essential business, as the community always needs a quick, easy food option. We swiftly adapted to all the new health information and ensured we not only adhered to any new guidelines, but exceeded them," Rivera said.
During the pandemic, the Protein Lab was available on every delivery platform such as DoorDash, Grubhub, Postmates and Uber Eats and began to offer online ordering and contactless menus via QR code.
The business has made significant changes to its restaurant and its staff to make safety its number one priority.
Rivera said they make sure to remain in compliance with the COVID-19 safety guidelines and gives the best customer service to customers and community.
"We installed sneeze guards and provide free masks and gloves for all employees every shift, with hand sanitizer at various points in the store," Rivera said. "As an additional precaution, we contracted a sanitizing company that comes in monthly to spray an EPA-approved solution that fights bacteria and viruses for up to 90 days." 
Staying up to date on all COVID-19 information is what continues to drive business for the Protein Lab as its counterparts struggle to stay open.  
"We stay on top of all news updates and keep open lines of communication with our staff to ensure a happy and safe work environment," Rivera said. "Our staff, customers and entire community's health has always been and will always be our number one priority. We are happy and proud to be able to provide healthy options for the community, healthcare and all essential workers."