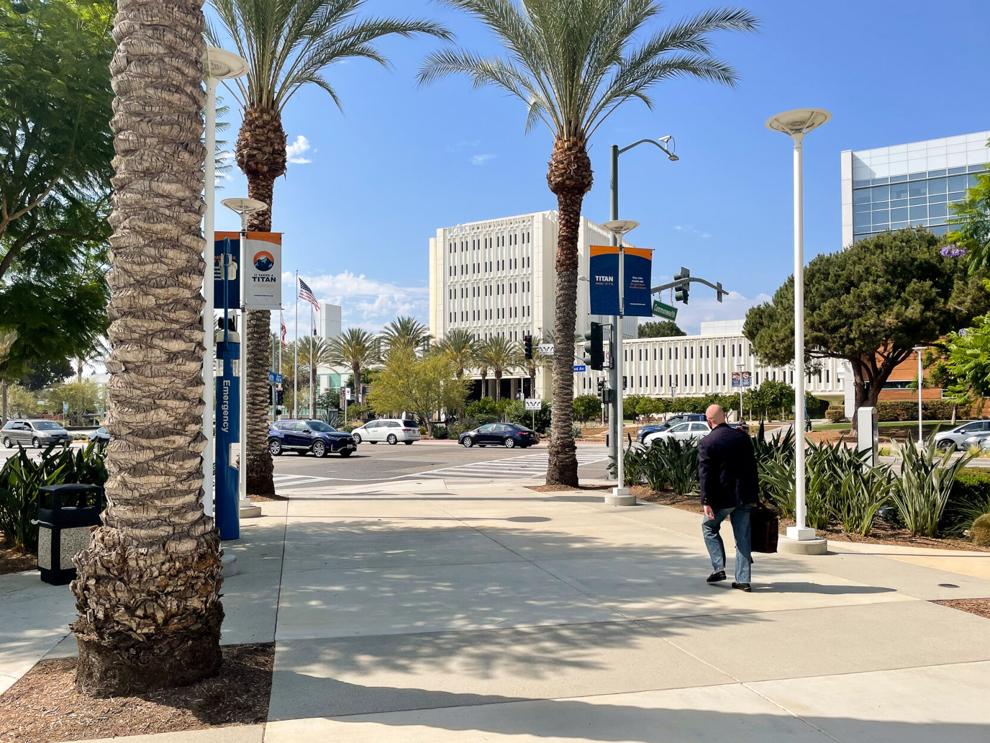 Students once again walk the grounds of Cal State Fullerton, something that had not been possible for over a year. The fall semester brings the homecoming of many Titans, as well as a new batch of incoming freshmen and transfers. Whether returning or new, these students share the experience of having to adapt to distance learning for the past year. 
Junior communications major Chris Ramirez has been attending CSUF since the 2021 spring semester, so distance learning was something he became accustomed to. However, in-person learning brings some excitement for Ramirez, as he said he was yearning for the college experience.
"Now that I've gotten used to it, I prefer online, but I'm also excited about it in-person because, overall, I just kind of want that college experience," Ramirez said. "I like my teachers, I like my classes. It's been fun so far. I went to the (Titan Shops) and it's cool being able to get knick-knacks." 
Some majors require hands-on activities and some students have stated because of that, being on campus is when they learn the most. Senior animation major Megan Beauvoir said that when it comes to majors like art, a lot of the craft and collaboration is lost online. 
"I feel like if I don't go to school on campus then I'm not getting my money's worth because I'm not experiencing all of the things that I'd traditionally be paying for," Beauvoir said in an email.
Beauvoir also mentioned that being on campus makes it easier to get help because there is more opportunity for student interaction. As an animator, she said she feels they learn from each other during class hours, more so than they ever could through a screen.
Students mention both pros and cons with each learning style. For students like graduate history major Drew Okino, staying online is a preference that best suits him and his course load.
"It's convenient for me. I don't have to really leave my home," Okino said. "I have been to campus a few times, but only to pick up the paperwork for my final project. When I don't need to be on campus, I try not to."
While Okino prefers remote learning, there have been instances where he finds himself dealing with the format's weakness: internet outages, he said. He also noted that despite his choice to learn online, he still appreciates how campus clubs and university services were able to accommodate Titans through online utilities.
When it comes to theater majors, such as third-year Emily Daniels-Flechtner, in-person learning was the better choice. While she still was able to get the same takeaways online, numerous sacrifices and adjustments ultimately made simple exercises much harder.
"We weren't able to literally touch each other, and hand props to each other," Daniels-Flechtner said. "We obviously had to adjust how we use our spatial relationships with the camera, and the computer screen and delivering our lines back and forth."
As students are finding their way back to in-person learning, some are missing the ease of distance when it comes to the simplicity of just waking up and logging on, not having to think of commuting, parking and showing up on campus.
"I actually have to walk 20 minutes in the hot sun from my apartment to campus now. That sucks," Daniels-Flechtner said. "What I liked about virtual is that I could just literally attend classes just chilling in bed."
Regardless of how CSUF students prefer their learning, their return to campus marks a return to normalcy. This semester is one centered around optimism and the hope that things may gradually go back to the way they were.