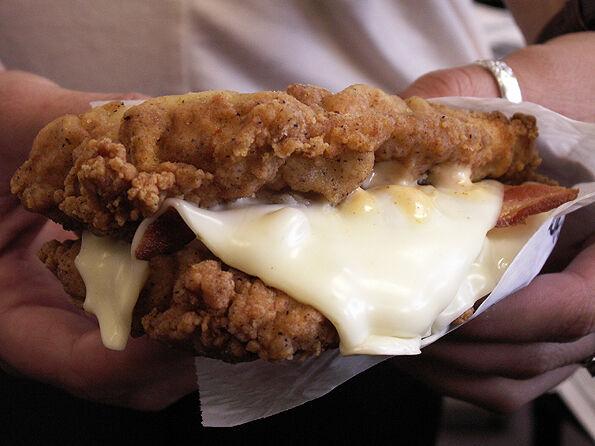 Traditionally, sandwiches and burgers alike are defined by one thing: the bread that holds it all together.
Otherwise, what you have is a wad of random stuff. A recent "low carb" trend reminiscent of the Atkins Diet, however, seems to have people straying from that tried-and-true formula in favor of what many might call "oddâ€Â results.
The Kentucky Fried Chicken sandwich, referred to lovingly as the "Double Down," has, as of Monday, been made available nationwide. KFC began test marketing its new sandwich last April in both Rhode Island and Nebraska.
This sandwich is concocted of bacon, two different kinds of melted cheese, the Colonel's secret sauce and, instead of bread, it is all pinched in between two pieces of Original Recipe chicken fillets. The calorie count adds up to 560, the fat to 32g and the sodium to 1380mg according to KFC's Web site.
"If you're going to go to a fast food place you might as well go with the mindset that you're going to eat junk while you're there,â€Â said radio TV and film major Hailey August, although she made it clear that she would not try the "Double Downâ€Â herself.
Early estimates made by the Vancouver Sun placed the greasy concoction at more than half the recommended daily calorie intake. KFC public relations representative Rick Maynard clarified later in the same publication, however, that the real figure would be closer to 590 calories, which is still 29 percent of the recommended daily calorie intake.
KFC has been unresponsive to the Daily Titan's request for more information about the burger but appears to be selling the new sandwich past expectations.
"I'm a vegetarian, so double meat on a sandwich really makes me sick,â€Â said music major David Royster after hearing about the ingredients of KFC's recent addition.
In stark contrast, self-described inventor, artist and philosopher, Alex Stenzel, 44, of Pacific Palisades, Calif., has developed a new kind of breadless sandwich that has taken the raw food community by storm.
Stenzel's invention, known as the "Gorilla Sandwich,â€Â substitutes traditional sliced bread for a hollowed-out cucumber filled with kale, olives, mustard greens, walnuts and avocado — among other healthy ingredients.
The name "Gorilla Sandwich,â€Â according to Stenzel, was chosen after researching gorillas and discovering their diet consists of many greens that are high in protein.
"I'm very much into health,â€Â Stenzel said. "I've always been playing around with different types of herbs and different kinds of vegetables.â€Â
Stenzel, who is originally from an industrial area in Germany, came across this idea when confronted with a choice: eat his salad at home or store it inside a hollowed-out cucumber to make it portable enough to take to the beach with him.
For Stenzel, who is a surfing enthusiast, the answer was obvious, and he was soon off to the beach to "kiss the waves,â€Â as he calls it, with his new edible invention. Stenzel also has had a world ranking for three different sports: tennis, mountain biking and the Iron Man World Championships in Hawaii in 1986.
"To reach the highest performance level possible, I experimented with different healthy diets," he said.
Stenzel has even made a video demonstration on how to make a "Gorilla Sandwich" available on YouTube at http://www.youtube.com/watch?v=z4L3pb6pZ2w.
When faced with a choice, it seems that Cal State Fullerton students and faculty are torn between health and normalcy.
"The cucumber one seems like a much better idea, although, it also appears to be for vegetarians, so I'm not sure if that would go over so well with meat eaters,â€Â said math professor Margaret Kidd.
Some students were put off by both.
"The cucumber one looks a little bit too healthy and a little bit too weird,â€Â said Daniella Martinez, a criminal justice major, who was also fast to point out that the "Double Downâ€Â looks "disgusting" and "messy" and that she would try neither.
Even CSUF's very own Carls Jr. has embraced the trend with the new "Low Carb Six Dollar Burgerâ€Â that offers patrons a charbroiled beef patty, two American cheese slices, tomato, red onions, dill pickles, mustard, mayonnaise and ketchup wrapped in iceberg lettuce, according to their Web site.
It seems that the jury is still out on whether these new sandwiches are indeed the greatest inventions since sliced bread.