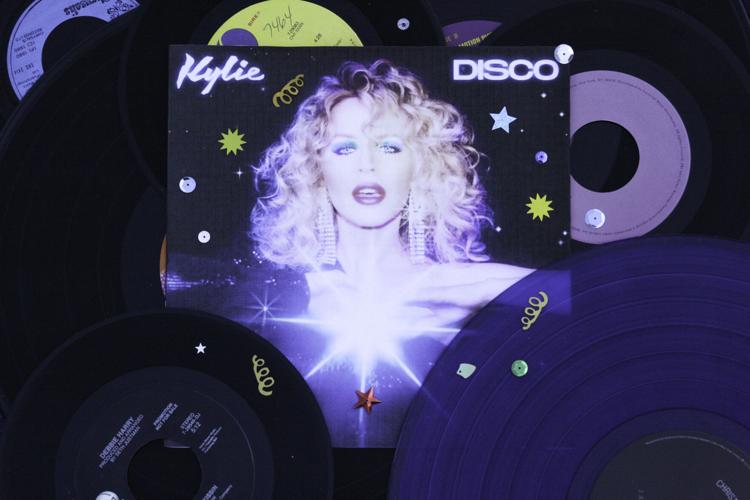 Fifteen albums into her career and Kylie Minogue is still evolving. From country music to Christmas classics, Minogue consistently conquered every genre she touched, and her latest album, "Disco" is no exception.
Recent music releases like Dua Lipa's "Future Nostalgia" and Lady Gaga's "Chromatica" also feature disco influences, signaling a re-emergence of the finger-pointing, glittery and funky sound of the genre. Minogue unashamedly adopts this style and leaves no disco ball unturned, using intense strings, sharp synths and her always impressive vocal ability to produce some of her catchiest and infectious songs. 
"Disco" broke records for the veteran star after reaching No. 1 on the UK Albums Chart, making her the first woman to have a No. 1 album five decades in a row. Her first album "Kylie" reached number one in 1988 and she has since become a household name in the United Kingdom.
Her 2001 single "Can't Get You Out of My Head" gained her popularity in the United States, peaking at No. 7 on the Billboard Hot 100 Chart. Despite her Billboard success in 2001, Minogue has not experienced much success in the U.S., however, her relevance internationally never halted. 
The opening track, "Magic," perfectly represents the album as a whole. From its deep bass to its whimsical chorus, every part will make fans want to sway with the music. By the time the final chorus blasts through, listeners will burst into their own personal dance party. Considering how long it has been since clubs and concerts were open, it's a welcomed feeling.
The track "Miss a Thing" doesn't let up on its danceability, but it introduces a sultry, slightly ethereal sound to the table. Remnants of Minogue's playful "Baby, I, Baby, I just don't wanna miss a thing / Don't wanna miss a thing," during the chorus will be stuck in fans' heads even after the first listen, and the urge to replay the song is justified. 
Bridges do not get simpler than that featured on "Miss a Thing," but Minogue's airy vocals on the song and the lighter instrumental suit the transition well and keep the mood going.
The first single released off the album on July 23, "Say Something" is a love song encouraging people to connect and express their feelings. Its anthemic chorus paired with Minogue's mantras of "'Cause love is love, it never ends / Can we all be as one again?" express a beautifully emotional sentiment backed with a righteous instrumental and placing make the song a top contender in the tracklist. 
"I Love It" stands true to its title, I love it. With horns blaring from start to end, the song is upbeat and stands out in an album full of upbeat tracks. 
"Where Does The DJ Go?" is the oddball of the tracklist, featuring references to disco clichés like Gloria Gaynor's "I Will Survive." It's an entertaining track lyrically and instrumentally. Minogue wants to know where DJ goes, just in case she wants to dance after the party is over.
"Disco" is fun at its best tracks and even at its worst. Fans will have a hard time believing that an album with this much freedom, warmth and love came out of a pandemic, but it is a great dose of coming together and enjoying a life that has been absent lately. Minogue has proven herself, yet again, in an industry she has already cemented herself in as an icon, now topped off with a glittery jumper and an '80s perm.