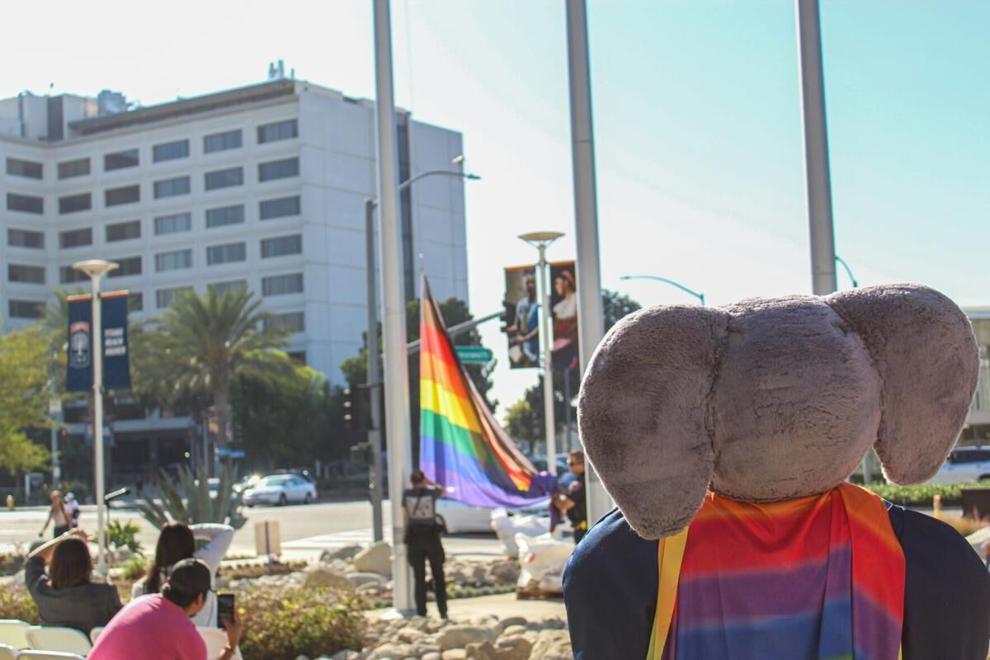 As graduating Titans reach for their stoles, robes and caps, Cal State Fullerton's LGBT Queer Resource Center invites LGBTQ identifying graduates to grab a lavender cord and join them for an annual event that celebrates community. 
After receiving approval from different advisors who manage COVID-19 re-entry planning, Nat Betancourt Arellano, the coordinator for the LGBT Queer Resource Center said that they are happy to announce that the annual Lavender Recogntion Celebration will now feature an optional in-person ceremony as well as a virtual spotlight for graduating members of the LGBTQ community. 
This year marks their 18th annual Lavender Celebration — a tradition that predates the establishment of the resource center in 2012. 
"We've had 18 Lavender celebrations thus far, which is amazing because that goes back even before the history of the LGBTQ Center," Arellano said. "We started in 2012 as an official center on this campus, and so to be able to have our historical Gay Student Union, faculty, staff pride alliance be able to come together and celebrate our LGBTQIA graduating students after all these years is really fantastic."
The color lavender has an extensive history within LGBTQ community. In the 1930s, gay men were ostracized for wearing a "streak" of lavender, but in 1969, the color become a symbol of empowerment worn after the Stonewall Riots. Today, the color embodies confidence and pride for the community. 
According to the LGBT Queer Resource Center website, "Lavender has no definitive origin or meaning, but the most common belief is that purple represents the mixing of gender normative colors such as pink and blue. Pink representing the mixing of cis- gender femininity and blue representing cis- gender masculinity. Combining the two gender assigned colors both blurs the lines between masculine and feminine which challenges society gender norms." 
Traditionally, the resource center's Lavender Celebration encourages LGBTQ Titans to invite friends and family to see them walk across a stage, receive a free lavender cord and speak a few words to the crowd. Arellano said that these events were hosted in the Titan Student Union with food, guest speakers, music and community support before the COVID-19 pandemic.  
"It's a nice ceremony where graduating students can bring their friends, family, peers, whoever it is that they want to invite to really kind of see them walk across the stage, and you know, not the larger commencement stage, but our Lavender Celebration stage and receive their lavender cord," Arellano said. "It's really just a really amazing, beautiful moment to be in community together to celebrate all the academic accomplishments of our students."
Arellano said that the celebration is planned by the Lavender Celebration committee, which consists of LGBTQ identifying students and faculty. Arellano said that the committee is smaller this year, but they are excited to have support from faculty and staff. 
This year, the center will opt for a safe, socially distanced celebration hosted on campus. Arellano said that the staff originally planned to highlight graduating scholars completely online, using their Instagram page to honor graduates with a photo and a snippet of their favorite memories from campus or their future plans. 
However, in response to the new guidelines, the center will now give students the option to pick up their cords in person when they register for the event. Arellano said that the celebration will be hosted on May 14 from 12 p.m. to 4 p.m. The pickup location will feature a photo booth, a photographer and balloon decorations. 
"We're so excited. Myself and the QRC staff and some of the committee are going to be there to help out support and be there to celebrate our students after being over a year apart. It's going to be really good to be back on campus," Arellano said. 
Students who do not wish to visit campus can choose to have their lavender cord mailed to them, and the cord will be delivered in a discrete package. Registering for a lavender cord is open to all students in the LGBTQ community, and interested graduates can register at tinyurl.com/QRC-LavGrad21 . The deadline to register is May 3. 
Arellano said that students can also use that same form to sign up to be highlighted on the LGBT Queer Resource Center's instagram page on May 27. The form will ask students to submit their name, favorite memory from their time at CSUF, post-graduate goals and a photo.
Students can also nominate themselves or someone else for the center's PRISM Award — an accolade reserved for a graduate who is passionate, resilient, insightful, social justice oriented and makes a difference. The nomination form can be found at https://www.fullerton.edu/lgbtq/lav-recognition/. The application will close on May 3, and the Lavender Celebration committee will choose the recipient. Arellano said that they hope to notify the awardee by May 27, so the winner can be featured on the center's Instagram page alongside the other graduates.