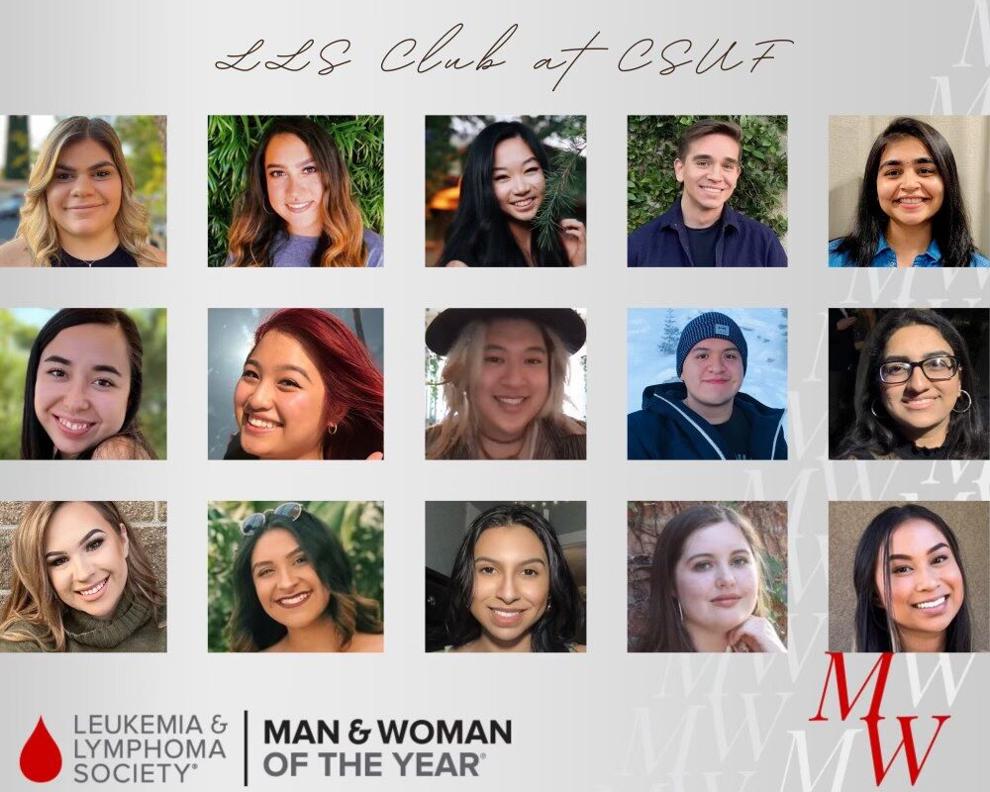 As the spring season spurs new feelings of hope, Cal State Fullerton's Leukemia and Lymphoma Society club kicked off its campaign to raise funds and awareness for blood cancer treatment and research. 
The club, although very new to CSUF, is striving to make a big difference in leukemia and lymphoma research by aiding in the process of providing funds for treatments that go toward oncology and hematology. This semester, the club joined the annual Man and Woman of the Year campaign, which awards the team member who raised the most funds for the club. 
The campaign began on March 31 and will last 10 weeks, ending on June 13. The team that raises over $50,000 is given the opportunity to select a research portfolio to fund and name after a survivor or in memory of someone who has passed away due to leukemia or lymphoma. If they were to win, the club has decided to donate its funds towards the Children's Initiative, which helps children receive the right forms of treatment.
"There are so many kids that get adult treatments and therapies and sometimes it doesn't really help, so if we could fund something that is specifically made for children they may have a better chance of being a survivor," said Arleen Galestanian, the club's president. 
Galestanian founded the club at Fullerton after seeing one at UCLA that has been successfully reaching more people and creating an impact. 
The club's executive board is composed of members who have a strong connection with the mission behind the club's campaign.
"I became very interested because I personally have been impacted in my life in several different instances by leukemia and lymphoma." said Molly Jimenez, the club's vice president. "Looking into the organization they do so much great work to help others, and this was just something right up my alley for joining."  
Fundraising director Frank Osorno stumbled across the Leukemia and Lymphoma Society through a Reddit post stating that the club was looking for members and executive board members, but his connection goes deeper than that -- at the age of two and a half he was diagnosed with leukemia. 
"This was a great opportunity to work with the community. It's something I had never done before, even though I was diagnosed myself, I really wanted to contribute and help make a change in research, the research that helped me," Osorno said.
For Alexis Ruiz, events financial director, her career goal is pediatric hematology oncology, which is specific to blood cancers. She was looking for a way to get involved on campus to something that was associated with that, and the club was the perfect fit when she saw that the foundation funds many of the treatments that are making progress in the hematology and oncology fields. 
"Cancer is one of those things in this world that does not discriminate, anybody and everybody has been touched by it, and I think that's what makes our club so diverse is that everyone has a connection, specifically to blood cancer," Ruiz said. "If we can make it so that people in the future have better chances of not hearing those words, that your kids or you have cancer, and it's not a death sentence and it's treatable and something that LLS can fund, I'm all for it." 
The statistic that 85% of the medications that the clubsupports gets approved by the FDA was the one that caught the attention of club member Amanda D'Ambrosio. D'Ambrosio saw this as the perfect opportunity to get direct practice and experience. 
"I think you can join the club for all different reasons," D'Ambrosio said. "A lot of people are like, 'I'm not a bio major, so i'm not going to join.' But, there is something in it for everyone." 
Every three minutes someone is diagnosed with blood cancer and every nine minutes someone dies of it. Fullerton's student chapter of the Leukemia and Lymphoma Society welcomes anyone who is passionate about educating others and supporting the LLS community to join the team on the Man and Woman of the Year campaign, as well as attend events that fund the campaign or make a donation on their websites to help them exceed their goal of $50,000.