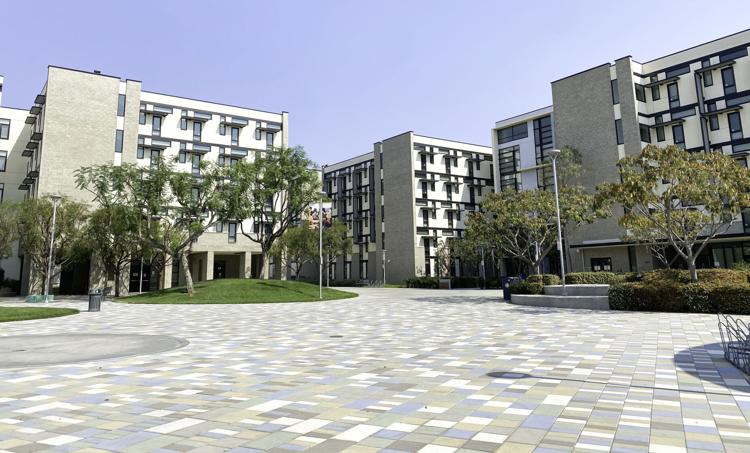 For students who never had the opportunity to live in campus housing before, many of them looked forward to having the experience. However, that chance was cut short this year due to the ongoing COVID-19 pandemic.
Construction for more housing was approved in accordance with Cal State Fullerton's campus master plan, which was updated in July. However, in an email sent to students in June, CSUF President Fram Virjee stated that student housing would be reduced significantly for the fall 2020 semester due to the coronavirus.
Approximately less than 300 students were able to stay on campus this semester, and in-person classes were allotted to only a handful of students.
Dr. Larry Martin, the executive director of Housing and Residential Engagement, said that they have implemented safety guidelines for everyone who is currently living on campus.
"We have a robust safety plan related to COVID-19, including face coverings, social distancing, cleaning and disinfecting of all common areas," Martin said. "Folks were made aware of all of those before they moved in."
Heather Solis, a second-year CSUF student, is one of the few students who are able to live on campus. She is currently a board member for the Resident Student Association, and is serving as the treasurer for fall semester.
The association is a student-run government for the on-campus resident halls and apartments; they are the communication between the school and students, and serve weekly community and campus events.
Facility operations for housing students, such as the Academic Resource Center and the mailroom, have been shut down.
"I think it was too much for them to handle because people would probably be coming in back and forth and because it's a small room, it didn't seem too safe," Solis said.
Martin said that one place which remains open is the Gastronome, an on-campus restaurant. It is open during the week at a reduced capacity, since the school still had to require a meal plan for students.
"(Students) had the option for a lesser plan, because we only have the Gastronome opened during the weekdays, and because we were able to place everyone in our apartment community, where we have full kitchens," Martin said.
Solis, however, said that she has had to go home on the weekends, since the Gastronome is closed on the weekends and the meal plans have been reduced.
"I go back home on the weekends just because I don't have enough," she said. "Yes, I do get help from housing because I have a position here, but it's not a lot of help, it's not much of a difference."
It was highly suggested that Solis and the president of the board both lived on campus, she said.
For her, living on campus this semester did not take a second thought and despite everything, she feels safe even while living through a pandemic, Solis said.
"I lived on campus my first year. I enjoyed it. I liked how independent I was, so I kind of got used to it, and when I heard that I was able to live on campus I'm like for sure, I'm willing to do this," Solis said. "I feel like it's pretty secure."
Martin said he has not had any complaints about the current students living on campus and added that they have all been pretty good at following protocols.
"Folks have been very good at following those while they're in their apartment as well as when they're in the community," Martin said.
Solis said she is comfortable living on campus, since she is in communication with both the school and the housing staff. She said she feels safe knowing that they are keeping students protected.
Nevertheless, one thing that has challenged Solis has been the cancelation of the events her team put together due to the coronavirus, which was one highlight of the housing experience.
"Traditionally we would have a lot of events going on in the Piazza that we have, and all this other stuff, that's just the only thing that I find pretty sad about this whole, one of this whole situation that we have," Solis said.