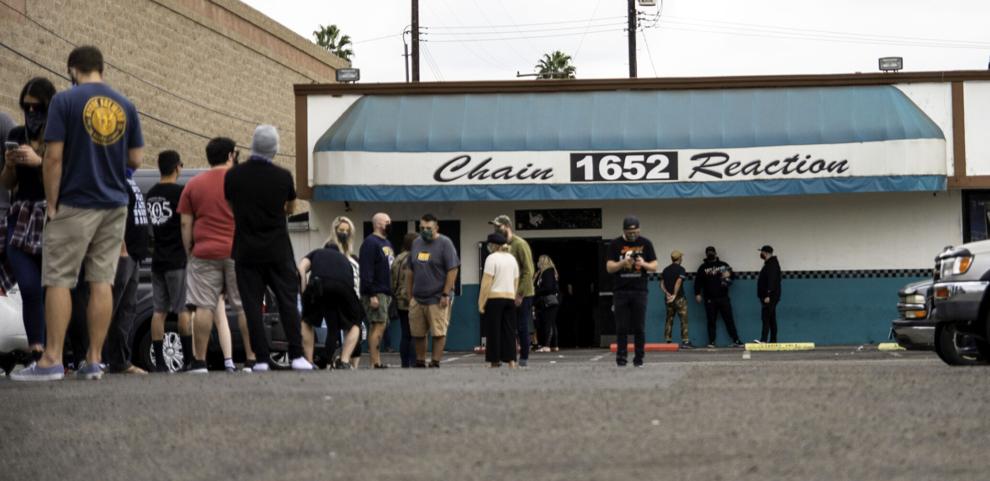 Located in a strip mall next to a thrift store and kids' gallery sits Chain Reaction, a do-it-yourself club that has been home to the Orange County hardcore punk rock music community since 1996. Like many other venues, Chain Reaction is struggling to stay open due to the COVID-19 pandemic, and on Oct. 23, it announced an indefinite closure. 
Within days, local and international bands from the community showed their support and successfully gave the small club a chance to remain open.
Jesse Barnett, vocalist for Orange County-based hardcore band, Stick To Your Guns, received word through his manager that Chain Reaction would be closing. Barnett said in an Instagram video that Chain Reaction cannot close and that he will do everything in his power to keep the club from shutting down. 
From there, other bands began to collaborate with Stick To Your Guns on a shirt made by Costa Mesa's Violent Gentlemen's Hockey Club apparel company, with all proceeds going to the venue. The bands included Terror, Knocked Loose, Rotting Out, Year of the Knife and Counterparts. 
Scott Vogel, vocalist for Los Angeles-based hardcore band, Terror, who has been playing at Chain Reaction since 1998 with his first band, Buried Alive, said Barnett reached out to him personally about the news.
"My phone rang and it was Jesse, which is kind of strange, he doesn't really call me, if anything he'll text message me." Vogel said. "And he went into maybe first panic mode then f---  this mode. He started giving me ideas and I said 'Jesse whatever you need we will do.'" 
But it wasn't just California-based bands that got involved. Counterparts,  from Hamilton, Canada, also jumped on board to help the club.
Brendan Murphy, the vocalist of Counterparts, said they have the same manager as Stick To Your Guns and was asked if they wanted to be a part of the cause. Murphy said Chain Reaction is easily the best venue in North America to play, so it was a no brainer. 
"Everybody has a Chain story." Murphy said. "Everybody has fond memories of Chain. That's why when we all found out that it was on the brink of closing, we're all just like, 'yeah, we have to try and help somehow.'"
The day after the club announced its closure, it had an in-person shop at the venue for people who wanted to buy shirts. Walking around the line, teenagers to 30-year-olds were chatting together about their Chain Reaction memories. 
Eduardo Ponce, Santa Ana local and photographer, said that Chain Reaction helped him get into his career. He said he started attending shows at the club when he was around 14 years old, and after a while, he asked to start shooting photos. 
"I started shooting the local bands, started hanging out with the managers, and then you know booking agents, and then started meeting the labels and then eventually got to tour because I shot so many shows at Chain," Ponce said. "I don't shoot music as much anymore, but I still owe so much to Chain because of it."
Within a week of its closing announcement, Chain Reaction announced that it was able to renegotiate the lease to keep the doors open. 
"Look at us, we're not even from the same country that Chain is in, but I would do anything I can to help because we owe a lot to that f------ building", Murphy said. "That pile of f------ bricks in that strip mall has helped our band so much. I can't imagine just finding out it might shut and be like 'whatever it had a good run.'"
Chain Reaction is one example of a small venue struggling due to the cancelation of live music, but it is also a perfect example of a community brought together. But, this is something that is not only happening in the backyard of Orange County but also across the United States.
"It's just s----- and it's happening all over the country, probably all over the world so anything anyone can do to keep those places alive that really supported the scene, it means a lot," Vogel said. 
Fundraiser shirts are still available for purchase on violentgentlemen.com and for now, the club lives another day.